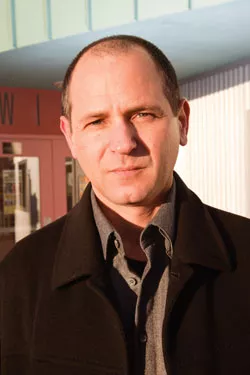 Matthew Thorsen
Shayne Lynn
When the state started issuing licenses to operate medical marijuana dispensaries earlier this year, Rutland, Stowe, Fair Haven and Enosburg Falls responded by enacting zoning ordinances prohibiting dispensaries from opening there. Lyndonville is now mulling a similar ban, driven in part by fears that dispensaries will, in the words of Rutland Police Chief James Baker, become "crime magnets."
But the real threat to Vermont's first-ever legalized marijuana "stores" might not be NIMBYism or crime, but economics. National medical marijuana experts warn that Vermont's dispensaries are likely to encounter the same financial hassles that plague dispensaries in other states, which are struggling to operate as "legitimate" businesses under a federal government that still considers them illegal.
Another big potential problem for Vermont: Dispensaries here face higher licensing fees than in other states and have fewer paying patients to help them recoup the costs.
"There are just a lot of things to put in place that we're learning along the way — as is the state," says Shayne Lynn, 42, who scored one of only four licenses to operate a state-sanctioned dispensary. Lynn intends to open the Champlain Valley Dispensary in Burlington as a nonprofit dispensary serving medical cannabis patients in Chittenden County.
Like all businesses that operate in a heavily regulated environment, Vermont's dispensaries face considerable up-front costs. CVD, along with Patients First, the Montpelier-based nonprofit that received the other state-issued marijuana dispensary license, must pay a $2500 nonrefundable application fee, plus a $20,000 license fee for its first year of operation and $30,000 for each subsequent year — all before they can sell a single bag of "medicine."
"That's a large bill to be paid by a small nonprofit," Lynn admits. "To have $30,000 in cash to give the state is a substantial amount of money." While Lynn emphasizes that he's not complaining about the fees, he notes that these and other start-up costs are not deductible as normal business expenses for one simple reason: The Internal Revenue Service won't recognize his business as legitimate, nor acknowledge its state-approved status as a nonprofit entity.
Stacy Grabowski, dispensary manager and spokesperson for Patients First, also acknowledges the fiscal hurdles before her operation, the primary goal of which is not financial gain.
"We are not in it to make money, rather to provide patients with safe and legal access to a plant-based medicine," Grabowski, who's also a registered nurse, writes in an email. "We aim to provide the highest quality medicine to patients at the lowest possible cost, but we will need to make enough money to sustain the business. Therefore, we are closely following the national issues that other dispensaries are facing and planning our accounting strategy accordingly."
Eighteen states have legalized marijuana for medicinal use. A half dozen of those allow dispensaries and/or "cannabis collectives" to operate. Those dispensaries are now running into a variety of financial headaches, according to Dale Sky Jones, president and executive chancellor of Oaksterdam University, a "cannabis college" based in Oakland, California.
For one, most financial institutions want nothing to do with cannabis-related businesses, medical or otherwise. As Jones explains, major credit-card companies won't allow dispensaries to conduct credit or debit-card transactions, forcing them to accept either cash or checks only.
"It's a great way to force the industry back into the black market," says Jones, noting the unintended consequences of that approach. "If you want to track it, charge it."
Similarly, Jones says that because the federal government doesn't recognize dispensaries as legitimate operations, some banks have begun canceling their business checking accounts under pressure from the Federal Deposit Insurance Corporation and the U.S. Department of the Treasury.
In late 2007, Bank of America cut its business ties with existing dispensaries after it reportedly received a warning from the U.S. Drug Enforcement Administration that it and other banks could face potential legal liabilities for doing business with marijuana distributors.
As a result of such actions, "cannabusinesses" are forced to make all their payments in cash, which creates other problems — having money around invites concerns about crime.
Less obvious hassles: Without a checking account, dispensaries may have trouble paying taxes, some of which must be filed electronically. Paying employees, vendors, contractors and other ancillary businesses with cash creates the impression that they're running money-laundering operations.
"So the cost of doing business for any cannabusiness goes way beyond the normal business risk or social risk," Jones says. "It's political risk and legal risk."
Lynn won't comment on where he plans to bank when CVD opens for business in Burlington next spring. However, he acknowledges that operating as a cash-only business poses real concerns for him, especially from a security point of view.
"We are certainly aware of potential challenges with payroll and taxes," Grabowski says, noting that her organization is consulting with local accountants and lawyers to ensure that everything is kept above board. For the time being, anyway, Patients First is operating with a volunteer-only staff.
Likewise, though Lynn says he hasn't had to deal with the IRS yet, "I'm assuming we're going to be audited." Why? Because marijuana dispensaries in most states are increasingly being targeted for audits, according to Aaron Smith, executive director of the National Cannabis Industry Association, a cannabis trade group based in Washington, D.C.
As Smith explains, the IRS is now using a tax code known as the 280E rule to crack down on dispensaries. Adopted during the Reagan administration, 280E was initially designed to prevent drug traffickers from writing off the cost of their drug-smuggling speedboats and airplanes as legitimate business expenses. But an August U.S. Tax Court decision, Olive v. Commissioner of Internal Revenue, effectively disallowed deductions for a cannabis-related business — ironically, except for the cost of the marijuana itself. Says Jones, "If you can't deduct the cost of your employees, rent, benefits packages and so on, no business can survive in that environment with the IRS. It's frankly impossible."
Even without the legal and financial problems created by the feds, Lynn acknowledges that he'll be operating with a limited client base. His business plan, which the Vermont Department of Public Safety required as part of his license application, was based on projections of 100 patients in the first year, 175 in the second year, and 250 in the third year. However, those estimates were predicated on Vermont having 1000 patients on its registry, the maximum currently allowed by law. As of November 5, there were only 557 registered patients and 85 registered caregivers on the registry.
Despite all the hurdles, Lynn says he plans to forge ahead, with plans to open his dispensary in a location on Burlington's Steele Street, a stone's throw from the bike path and waterfront. He was encouraged by Burlington's Election Day support for a nonbinding ballot initiative to reform Vermont's marijuana laws. And, like Grabowski, he prefers to keep the public's focus on the patients, not the finances.
"I probably get an email a day from people asking questions about the dispensary," Lynn says. "These are people [undergoing] chemo, people with Crohn's [disease], people with MS, and they're waiting … You really do see that there's a need for this."