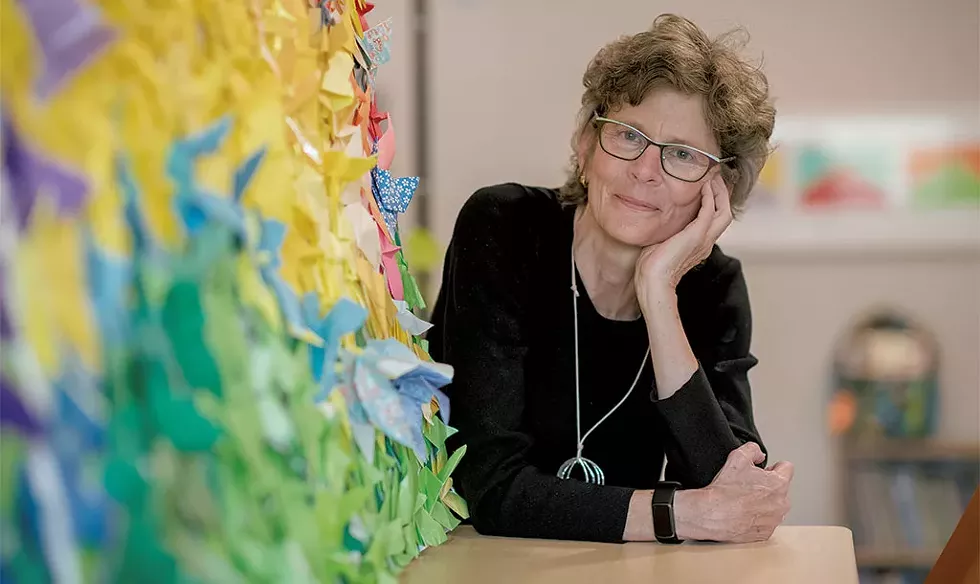 Daria Bishop
Rita Markley at COTS in Burlington
T
he number of people experiencing homelessness in Vermont is higher than ever. According to the state's most recent annual count, there were 2,780 people who lacked stable housing, up from 2,591 last year. Pre-pandemic, the count was typically between 1,000 to 1,500. Included in that number are numerous families and children.
Homelessness is driven by a variety of factors, including a shortage of affordable housing and skyrocketing rental costs. The problem can feel overwhelming.
That hasn't stopped housing advocate Rita Markley from trying to solve it. Markley, 63, is the executive director of the Burlington-based Committee on Temporary Shelter, aka COTS. She got involved with the organization as a volunteer in 1992, became its first development director, then took over the top job in 1996. By the time she retires at the end of the month, she'll have spent most of her adult life working to improve outcomes for those who find themselves without a home.
Founded in 1982, COTS was initially an organization dedicated to keeping people without homes from freezing during Vermont's harsh winters. In its first decade, it began providing some temporary housing and developed a holistic approach to addressing homelessness. Markley inherited that foundation and has built an impressive organization upon it, one with a $3.8 million budget, a staff of 60, a day station where people can get a meal and a shower, nearly 100 units of permanently affordable housing — and a donor base to support it all. She's remained undeterred by the enormity of the problem.
"The sky is always falling," she said. "We have to focus on what we can fix."
COTS communication and development director Rebekah Mott suggested that despite all of Markley's accomplishments, it's her solutions-driven attitude that will be her most important legacy. "Every barrier, every roadblock that she comes across, Rita has created this culture where we focus on the fix," she said.
'I need to move'
Daria Bishop
Rita Markley singing with colleagues Debbie Schlosser, Katherine Long and Tim Coleman at a retirement party for Coleman at COTS.
Driving Markley's focus is her seemingly boundless energy. COTS sponsors an annual walk in May — this year's raised more than $200,000 — but Markley, fit and remarkably enthusiastic, looks like she'd be up for a COTS run. Maybe a COTS marathon. When leading visitors on a tour through the building over the summer, she bounded up the stairs and gestured with her whole body as she talked.
Markley wears a Fitbit and regularly racks up 15,000 to 18,000 steps a day. That adds up to about seven to nine miles. "When there are hard problems, I need to move," she said.
COTS' headquarters at 95 North Avenue, purchased in 2010 and renovated in 2017, provide ample evidence of what the organization has accomplished during Markley's tenure. The first stop on the tour was the Housing Resource Center, located just inside the main door on the first floor. The center, established during the economic downturn in 2008, provides up to $7,000 in emergency assistance to help people retain their housing. In its first year, it kept 351 families housed. In fact, roughly two-thirds of what COTS does today is preventative, keeping people from becoming homeless in the first place.
The Housing Resource Center also helps pay for up-front costs like security deposits, first and last months' rent, and necessities that people need but that often don't come with an apartment — things like shower curtains and dish-drying racks.
When people do end up losing their housing, COTS can sometimes help by sheltering them. The organization operates both an overnight and a daytime drop-in shelter for adults, as well as two shelters for families with children — one of which was purchased and renovated under Markley's leadership when the numbers of unhoused families with children began to skyrocket in the late '90s and early 2000s.
COTS also operates what it categorizes as "deeply" affordable permanent housing. There are 14 apartments on the second floor of its renovated headquarters. The organization also owns and manages several apartment complexes throughout Burlington totalling nearly 100 units.
Recently, while considering how COTS could increase the supply, staff had the idea of adding more housing on an existing property, and a feasibility study proved it was possible. A new 16-unit complex specifically for families who are experiencing homelessness is breaking ground soon. New England Federal Credit Union has pledged $1 million to help build it, and private grants from the Hoehl Family Foundation, the Pomerleau Family Foundation and several other anonymous donors will soon make it a reality.
Treating all with dignity and respect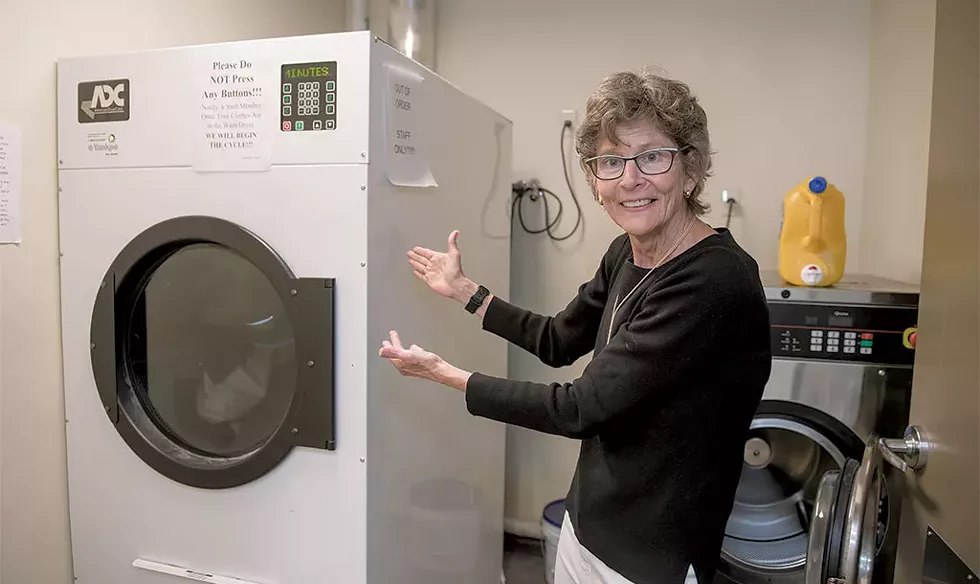 Daria Bishop
Markley showing off the new washer and dryer at COTS
Markley is also committed to making sure the residents and guests who use COTS' services are treated with dignity and respect. Its spaces reflect those values.
The building tour ended at the clean and inviting day station common area, where guests sit to charge their phones, access Wi-Fi, and use computers to search for jobs or housing. Markley pointed out that the architect who designed the room consulted with guests to figure out how they'd use it. That led the organization to purchase comfy chairs instead of couches, so people wouldn't have to share seating, and it led to the installation of sound-dampening panels on the ceiling.
Markley explained that common areas like this can be noisy places, especially with guests unloading bags, jangling water bottles and keys, and talking with each other. The panels noticeably reduce that din. Peace and quiet is a luxury that people who are secure in their housing take for granted.
Another one: the ability to do laundry. Markley enthusiastically showed off the giant washers and dryers capable of laundering a guest's sleeping bag or wet clothes after a rain storm. She also spoke about the machines' effect to Auditi Guha of VTDigger.org. "People put on clean clothes for the first time and they know they smell good and they feel good. And they're willing to think not just about this crisis today, but to look up a little and believe something else might be possible ahead," she said.
Inspiring others to take action
The VTDigger article was one of many that have appeared since Markley announced her departure. This has given Vermonters a chance to learn more about how Markley arrived here in the first place. A Washington, D.C.-area native, she attended the University of Maryland and did graduate work at George Washington University, studying Sino-Soviet relations.
After her father died, she decided to relocate to a place where she could find community and meaningful work. Her search led her to Vermont in 1991. She contacted the United Way, where she connected with longtime human services advocate Dolly Fleming, who later ran Mercy Connections. Fleming sent her to COTS.
Markley reflected on those days when she announced her retirement. "When I first walked through the doors of COTS 30 years ago as a volunteer, I had no idea that this organization would become the greatest love of my life, besides my family," she said.
The release also featured quotes from two of the many Vermont leaders who have recognized her work.
Mark Redmond, director of Spectrum Youth & Family Services, said: "It has been my utmost privilege to work alongside of and collaborate with Rita Markley. Words cannot express the incredible support she has been to me personally and to the many others who are involved in the fight to not only house the homeless but to create a city, state and world built on justice and human dignity."
U.S. Sen. Patrick Leahy called Markley "a steadfast champion" for Vermont's homeless population. "Rita has continuously approached the challenge posed by homelessness with creative solutions centered around the individuals she seeks to serve. Marcelle and I have the deepest respect for her compassion, her spirit and her dedication to her work. We wish her all the very best in her retirement."
Markley's not sure what her next chapter will bring — other than a chance to rest. The last two and a half years have been the most challenging of her career.
At the onset of the pandemic, when the number of families and individuals sheltering in area motels exploded, COTS created a brand-new team to do outreach and housing navigation at more than a dozen of these sites. Often, these staff were the only lifeline people had to the outside world.
COTS connected people with the technology necessary to continue mental health and medical treatment online, and it connected them to food resources. Despite the tightest housing market in recent history, COTS was able to permanently house over 150 households from 2020 to 2021.
Also, while most other service agencies — and the rest of the world — flipped to remote service, Markley insisted that COTS keep a human being at the front desk. She couldn't bear the thought of someone coming to COTS scared and unable to navigate the new online reality, only to meet a locked door with a complicated phone tree. Often, that meant sitting at the front desk herself.
Her plan now? "I'm going to take a long winter's nap," she said at the conclusion of the tour.
No doubt she's earned it.
Tom Stretton, who chairs COTS' board of directors, summed up her tenure in a statement: "Rita is an intrepid leader who has inspired thousands of others to take action to end homelessness. It is no exaggeration to say that through her work, both directly and indirectly, Rita has touched millions of lives."


This article was commissioned and paid for by Pomerleau Real Estate.