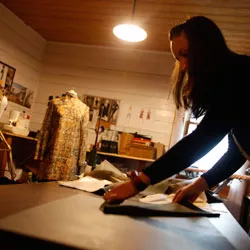 Jordan Silverman
Rosie Grannis in her studio
What do an ice queen, a gold digger and a '60s swinger have in common? Burlington clothing designer Rosie Grannis has created outfits to represent them all.
In her Battery Street studio, Grannis crafts costumes for theater companies and individual clients. Sometimes she whips them up from scratch; occasionally, she assembles vintage pieces unearthed at thrift shops and garage sales. Like a sorceress of cloth, Grannis, 27, can turn dowdy dresses into flirty frocks and saucy skirts to meet a client's needs.
These are ensembles you won't find at local retailers alongside the vampire capes and Snooki poufs. Grannis believes far too many female Halloween revelers opt for sleazy stereotypes — hooker, French maid, naughty nurse — instead of exploring edgier, more creative and unusual alternatives. She's particularly proud of the ice-queen costume she made for one customer. The chilly monarch wore a long white vintage dress and a crown. A faux snow-leopard fur cape and muff completed the frosty look.
Another favorite costume, Grannis says, is one she designed for herself. A couple of years ago, she and a friend attended a Halloween party as Edie Sedgwick and Andy Warhol. To channel the '60s icon and socialite, Grannis shortened a long brocade dress to give it a mod look. Then she added black tights, large hoop earrings and thick black eyeliner.
While Grannis feels Halloween garb needs to get more subtle, her costumes for actors are often about playing up personality traits. For the past three years, Grannis has wrangled wardrobes for Vermont's Green Candle Theatre Company, creating clothing that helps develop the characters in a play. "You can use costume to convey a character's personality or tell their story," she explains. "Sometimes, the costume communicates something about the character's motives or history."
Take Green Candle's 2008 production of Russian satire The Nose. In it, a once-wealthy woman who reminisces about past glories wears her hoop skirt on the outside of her dress to indicate the hollowness of her pretensions. Because the woman is determined to find a rich husband for her daughter, the latter is bedecked in a floor-length white gown with a huge red bow in the back. The message is clear: The girl is a "gift" for the highest bidder.
Having sewn since she was a child makes Grannis an anomaly in her generation. Now that many high schools no longer require, or even offer, home economics, some of her peers can't so much as replace a button or sew a seam. With the exception of fellow indie designers and crafters, she notes, "Nobody sews anymore, so people don't really understand how garments are made. It's such a shame."
Growing up on the coast of Maine, Grannis learned to sew from her mother, who created costumes and worked backstage for regional theater groups. In time, Grannis joined her. The budding designer quickly put her sewing skills to work in the professional world. At 13, she began an apprenticeship at Recollections, a company that creates period clothing and accessories. By the time she was 19, Recollections' owner had promoted her to assistant designer. In her new position, Grannis designed garments and trained new employees. "My employer taught me almost everything I know about sewing and the clothing industry," she says.
Indeed, her tenure at Recollections prepared Grannis for a career in costume design. Because she has created period clothing, she's well versed in fashion history. Perhaps more importantly, Recollections' specialty in detailed Victorian wear, with its ruffles and fitted waists, forced Grannis to work outside her comfort zone. "My normal design sense is very linear and clean, very different than the exaggerations of Victorian dress," she says. "Working in that style helped me become a more versatile designer."
Since moving to Vermont eight years ago, Grannis has launched Rosemary Jayne Design, a custom design and alterations business. In addition to costumes, she creates original tops, dresses, handbags and totes. Her Seven Threads line includes silk, sleeveless blouses and simple, low-backed dresses that wear equally well for business and nights out. Grannis markets and sells her clothing online; her bags are available at Burlington's Alchemy Jewelry Arts Collective, of which her uncle, goldsmith Timothy Grannis, is a member.
Rosie Grannis admits that her everyday pieces, while fashionable, reflect a more conservative sensibility than do her costumes. "With my own designs, I usually make clothing I would like to wear," she says. At her interview, she's effortlessly stylish in a fitted turtleneck sweater, jeans and chunky heels. Still, she says, "Through costume design I have learned to take more risks and be more daring."
Costume and couture intersect when Grannis gets a bridal commission. "In a sense, wedding gowns are costumes, since the woman who is getting married dresses up as a bride for the day," she suggests. And she enjoys the challenge: "It's that person's big day, so you want to make it perfect."
Most of her bridal customers contact Grannis after they've exhausted the resources of formal-wear and bridal shops, she says. By that point, brides usually have a sense of which styles and fabrics suit them and can articulate what they want.
Transforming a client's vision into reality requires careful listening, Grannis says. She encourages prospective clients to bring their own inspirations to their first appointment — pieces of fabric, swatches of color or pictures of garments they like. "It's hard to translate visual design into words, since we all describe colors and styles differently," Grannis explains. "If they admire some elements of one garment and some of another, we can incorporate those diverse elements into the design." She suggests that costume seekers provide an image of the character they'd like to portray.
After her initial consultation with a client, Grannis produces a few sketches of the desired costume or gown. She considers hemline, neckline and fit, then color and texture. The first drawing is simply what the customer ordered, but Grannis later makes some adjustments and suggestions of her own. Usually, she says, clients prefer the altered plan.
While Grannis plans to expand her Seven Threads label and sell more original clothing online, she's also busy with theater work. Currently she's creating costumes for Green Candle's Concrete Kingdom, a new play by Josh Bridgman that opens at Burlington's Off Center for the Dramatic Arts next month. The play's setting is a bunker in which the main character has isolated herself. "The dresses are '50s-inspired, with lots of A-line skirts," Grannis reveals, "but they're in camouflage and worn with combat boots."
Whether her creations are for a Halloween party, the stage, marching down the aisle or going to work, "Clothing is a costume," Grannis declares. "You get dressed every day to be the person you wish the world saw you as."