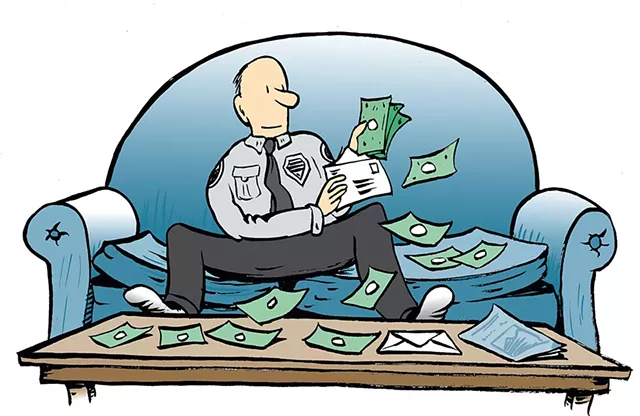 After an inmate at Vermont's women's prison complained last April that a guard had called her a derogatory name, the state launched a formal investigation and placed him on leave.
He waited. And waited. And waited. Finally, eight months later, the guard learned that he had been fired.
"You would think an investigation would take a month — maybe two if it was serious," said the Chittenden Regional Correctional Facility guard, who requested anonymity to discuss his experience without damaging future job prospects. "Shit, if you're gonna fire somebody, why would you drag it out over months and months and months?"
As the guard sat at home, the state continued paying his $31,000-a-year salary. "My own tax money has been blown and wasted," he complained.
The state's approach to employee misconduct has come under scrutiny since Seven Days published an investigation last month of alleged wrongdoing by officers at the South Burlington women's prison. Critics of the system complain that it's too opaque and sometimes simply shuffles problem employees from one state job to the next.
It's also expensive.
Ninety-five Vermont state employees were put on paid leave during misconduct probes in the year before December 4, 2019, according to state records. On that day, as Seven Days published its story about Chittenden Regional, 29 state workers were out on investigative leave, including 14 from the Department of Corrections. (As of this week, according to the state, 15 Corrections staffers are out.)
In that same year, those under investigation were paid for 46,069 hours in which they did no work, according to the Department of Human Resources. The bill to taxpayers? More than $1.25 million in base pay alone.
The department could not easily calculate the total compensation such staffers received as they were investigated, but a Seven Days analysis found that benefits earned by executive-branch employees average about 50 percent of their base pay. That suggests that the state doled out close to $1.9 million in pay and benefits that year to the absent workers.
And that's not the only cost, according to Doug Racine, who led the Agency of Human Services from 2011 to 2014. When state employees are out on investigation, their colleagues have to pick up the slack — leading to significant overtime expenses and low morale. "It's really frustrating for the people who are left behind to see that somebody — maybe a bad actor — is getting a six-month or 12-month paid vacation."
Employees of certain departments are particularly prone to coming under misconduct investigations. Corrections' 965 employees make up less than 12 percent of the state's 8,304-member workforce. But in the year ending in early December, according to Human Resources, 35 of the 95 workers on paid investigative leave — or more than a third — hailed from Corrections.
In total, those Corrections employees accounted for 18,780 lost hours and $475,000 in base pay.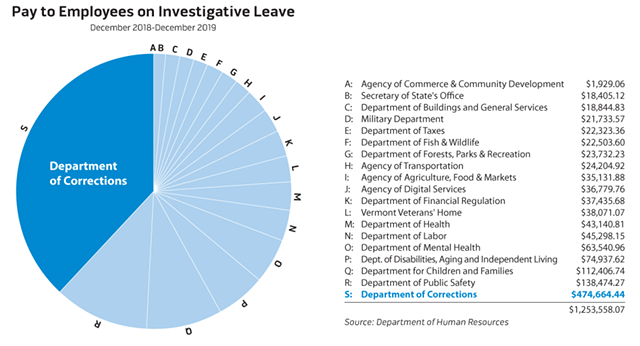 The department's high rate of misconduct allegations could be related to the stressful nature of working with inmates, who frequently file grievances, and the long hours they work keeping the state's six prisons open 24 hours a day. The Department of Public Safety, which includes the Vermont State Police, faces similar challenges. It had the second-highest number of employees out on paid investigative leave that year: 12, at a cost of $138,000 in base pay, according to Human Resources.
Despite the disproportionate number of Corrections officers under investigation, the department's critics say it often fails to crack down appropriately on employee misconduct.
As Seven Days reported last month, inmates and guards alike suspected for years that Daniel Zorzi, a shift supervisor at Chittenden Regional, was using drugs while overseeing the women's prison. Though records show that several of them reported his alleged misconduct to prison officials, Zorzi remained on duty until October, when an inmate accused him of having sex with two women under Corrections supervision.
Zorzi has been on paid leave ever since and is the subject of a Vermont State Police investigation. He has refused to comment.
Subsequent reporting by Seven Days found that state officials apparently failed to address allegations that a senior Corrections employee physically abused, illicitly photographed and stalked a junior Corrections employee he was dating. Another Seven Days report found that a female supervisor at Springfield's Southern State Correctional Facility was accused of groping a subordinate; after a six-month investigation, the supervisor was demoted to another state job but continued to receive the same pay.
Human Services Secretary Mike Smith, who has led Gov. Phil Scott's response to the scandal, took aim at the state's disciplinary procedures in a report last month to the governor. Smith leveled particularly harsh criticism at the state's use of "stipulated agreements" to resolve allegations of employee misconduct.
Similar to a settlement in a civil lawsuit, the confidential accords allow the state and an accused worker to bypass the formal disciplinary process and agree to a resolution — be it an oral reprimand or even a quiet resignation with a promise not to provide a bad reference to a future potential employer.
"We should no longer agree to confidential, stipulated agreements or move people to different positions while maintaining higher rates of pay," Smith wrote in his report to Scott. "While a settlement may be more expedient or limit financial liability to the state, there are clearly deeper repercussions. This practice needs to stop."
Smith isn't waiting for the governor to take action. Last week, he instructed leaders of the six departments within his agency — including Corrections — to refrain from signing stipulated agreements when wrongdoing is substantiated.
"If we've got a problem with misconduct, then let's deal with the problem and let's either terminate or reprimand [the employee] or do something that isn't confidential," Smith said in an interview. "We're just moving the problem around, and I don't think that's good for the State of Vermont."
In one such case, a high-profile Corrections official appears to have been transferred three times in the past three years — each time after facing employee complaints about his behavior.
The official, Edward Adams, was the subject of a sexual harassment lawsuit settled by the state relating to his tenure as superintendent of Chittenden Regional. He was moved to Southern State, where he was accused of additional, unspecified misconduct, according to VTDigger.org, prompting him to sign a stipulated agreement.
Records show that he agreed to a demotion without admitting guilt and was transferred to a probation and parole office in Rutland, where he earned $93,600 a year. That's less than his $102,554 superintendent salary but far more than other probation officers earn. After yet another employee complaint, according to VTDigger, he was sent to a White River Junction probation office.
Human Resources records show that the state frequently deploys stipulated agreements. Thirty-four of the 98 investigations concluded in the year ending December 4 were resolved with the secret compacts. Fifteen of them involved Corrections employees.
The 98 investigations also resulted in 24 resignations, 19 suspensions, six terminations and two demotions. Five employees received supervisory feedback. Eight were cleared.
Smith's crusade against stipulated agreements may meet resistance from labor and management alike.
Steve Howard, executive director of the Vermont State Employees' Association, argues that they're a useful tool to reach compromise and avoid expensive litigation. Doing away with them, he said, would be like telling a prosecutor, "No more plea deals. Everybody's going to trial."
The agreements also allow for fair and progressive discipline for state workers, Howard added. "You can't have a second-chance agenda for all the criminals in the state and say there's no second chance for anybody who works for the state," he said. "That's just inconsistent."
Deputy Human Resources Commissioner Dan Pouliot, who is often on the other end of the bargaining table from Howard, agrees. "What a stipulated agreement provides to the state and the employee and the union is finality," he said, arguing that without them, employees would remain on paid leave even longer — and appeal their cases to the Vermont Labor Relations Board and the state Supreme Court.
As for whether the confidential agreements could result in continued wrongdoing, including sexual misconduct? "There are [stipulated agreements] that include reassignment — no doubt about that — but in no cases that I'm aware of has that been done in order to shield a repeat offender," Pouliot said.
In his report to the governor, Smith also argued that the state shields too much information from those who file complaints, supervisors, the public and the press. He suggested that when misconduct is substantiated — particularly when it involves those in leadership positions — the public should know.
"The system has not transformed to the modern era of transparency," the secretary wrote.
Howard and Pouliot disagree with Smith on that point, too.
"Confidentiality protects the due process of his employees, and he should support that if he's a good employer," Howard said of Smith. "That's an American value."
Pouliot worries that greater transparency could discourage those who witness misconduct or are victims of it from coming forward for fear that their own identity could be exposed.
But at the direction of Secretary of Administration Susanne Young, Human Resources is conducting a review of several related policies. During a meeting last month, according to an email she provided Seven Days, Young instructed department leaders to determine whether they could make more disciplinary records public, including stipulated agreements.
Seemingly everyone in state government agrees on one thing: that employee investigations should be completed more quickly. Smith said he has instructed interim Corrections Commissioner Jim Baker to determine what's holding them up within his department.
Most serious investigations are conducted by a six-person team within Human Resources. Its goal is to interview witnesses, collect physical evidence and issue an investigative report within 90 days, according to Pouliot. But department data show that, in some years, that goal is often not reached. In 2018, only 35 percent of investigations were completed within 90 days. The next year, 93 percent were.
It's not a new problem. In a pair of reports issued in June 2017, State Auditor Doug Hoffer found that lengthy investigations were costing the state dearly in paid leave.
"Discipline needs to be certain, and it needs to be quick," said Racine, the former Human Services secretary. "It was anything but in my tenure."
Racine described a "Kafkaesque" process in which one investigation would lead to another — and would sometimes result in an investigation of the original complainant. He recalled one instance in which an employee failed to report denting a state car and was put on investigative leave for two months. "If they could spend two months investigating a dented vehicle, you could understand why it would take a year to investigate a serious complaint," Racine said.
In the nine years in which Secretary of State Jim Condos has overseen an office of roughly 75 state employees, he's perceived that investigations have dragged on longer and longer. "I believe that HR is understaffed and not able to deal with the human resources issues that need to be addressed in a timely manner," he said.
Pouliot says he has enough investigators to get the job done, though he attributes the 2018 slowdown to a long-running vacancy within the unit. Other factors are out of his control. If alleged misconduct has a criminal component, he said, his department must halt its investigation until law enforcement agencies have completed their job.
Pouliot isn't exactly thrilled that the state paid 95 people last year to sit home while they were investigated. "I'm a conservative who believes that people who come to work should be doing their jobs," he said. "I think anything more than zero is high." But, he added, "In the grand scope of payroll costs per year for the State of Vermont ... I'm not sure that that's a number I'm uncomfortable with."
The Chittenden Regional guard who spent April to December on leave also described a "Kafkaesque" investigation. He said that state officials kept piling on new alleged infractions while he was waiting for a verdict on the first. They ultimately fired him for something entirely different, he said: misleading investigators about a minor detail he claims to have misremembered.
Corrections officials declined to comment on the man's case.
Though he wasn't supposed to find outside employment, the guard eventually got a job while he was awaiting resolution. "If you're an adult with a mortgage, what do you do? Sit at home without a job and wait for them to fire you?" he asked. "It's absolutely nuts, man."