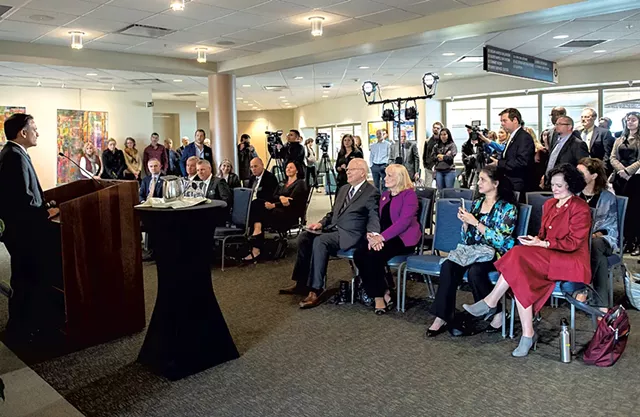 Courtesy Of Sally Mccay/uvm
Sen. Patrick Leahy holding wife Marcelle's hand at the announcement of the scholarship
As they announced a new scholarship honoring Sen. Patrick Leahy (D-Vt.) and his wife, Marcelle, a parade of University of Vermont officials made sure to thank the corporations and foundations that had contributed to the $3.4 million fund.
"We have very generous lead donors that have made this happen in honor of Sen. Leahy and Marcelle," UVM president Suresh Garimella said during the ceremony, which was held late last month at the Davis Center.
Among those Garimella singled out by name was Boeing, the Chicago-based aerospace manufacturer that has faced scrutiny since a pair of its 737 Max airliners crashed, killing all 346 people aboard.
Boeing has long supported Leahy, whose powerful perch on the Senate Appropriations Committee gives him outsize influence over government spending. According to Federal Election Commission records, the company's political action committee has contributed $68,500 to the senator's campaign account and his PAC over the last decade. In the past year alone, 54 Boeing employees — most of them executives and lobbyists — have donated more than $24,000 to Leahy's campaign coffers, even though he's not up for reelection until 2022.
But Boeing's contribution to the scholarship bearing Leahy's name was an order of magnitude greater. According to UVM, the company donated an eye-popping $1 million to the Patrick and Marcelle Leahy Scholars Initiative in April — a month after its 737 Max planes were grounded.
Boeing wasn't the only corporation with a newfound interest in Vermont's state university. Seattle's Microsoft and California's Walt Disney Company each donated $100,000 to the scholarship program, while a foundation run by former Warner Bros. chair and CEO Barry Meyer gave $1 million.
"This is the swamp," said Meredith McGehee, executive director of the campaign finance reform group Issue One.
According to McGehee, corporations that lobby Congress have for decades made an end run around campaign contribution limits by donating to nonprofits associated with lawmakers "to get in the good graces of powerful politicians." She thinks the practice should be prohibited.
"It's not a level playing field," McGehee said. "It's a system that favors those interests that can bring large sums of money to the table."
In a statement to Seven Days, Boeing spokesperson Bryan Watt said the contribution to the Leahy initiative was part of its philanthropic commitment to higher education.
"Through global partnerships with universities like UVM, Boeing is helping to inspire and cultivate a global aerospace workforce by increasing access to education, accelerating skills development and enriching the educational experience for students," Watt said.
Craig Holman, a lobbyist for the consumer advocacy group Public Citizen, doesn't buy that explanation. He noted that, as vice chair of the Appropriations Committee and its most senior member, Leahy has the opportunity to steer billions of dollars in federal spending to programs that benefit Boeing.
"They don't care about a scholarship fund," Holman said. "All they care about is Patrick Leahy and currying favor with Patrick Leahy."
Though Boeing is best known for its commercial airliners, it's also a major defense contractor. The company builds fighter jets, helicopters, bombers, missiles, drones and satellite systems. That makes Congress' annual defense authorization legislation, which sets levels of spending for the military, particularly important to the company. Leahy's committee helps write the bill.
According to federal data compiled by the Center for Responsive Politics, Boeing spent more than $15.1 million directly lobbying members of Congress last year and paid an army of 98 lobbyists. Its PAC spent another $4.3 million during the 2018 election cycle on political contributions.
But there are limits to how much a company's PAC and its employees can donate to a politician, and federal law prohibits corporations from contributing directly to a candidate. That's not the case when it comes to donating to the nonprofits those politicians favor, Holman noted.
"So this is a golden opportunity for influence peddling," he said.
From May 2014 through May 2016, Boeing's lobbyists included Ed Pagano and the high-powered firm for which he works, Akin Gump Strauss Hauer & Feld. A graduate of UVM, Pagano spent nearly two decades working for Leahy, including as his chief of staff, before becoming president Barack Obama's liaison to the Senate — and then a corporate lobbyist.
Pagano is also a UVM trustee. In recent years, he and Carolyn Dwyer, Leahy's longtime campaign manager and herself a UVM grad and trustee, began working with the university's then-president, Tom Sullivan, on a project to honor the veteran politician, who has brought millions of dollars of federal funding to the school.
"Sen. Leahy thinks about who's next and who will step up and serve in leadership roles in Vermont and nationally," Dwyer said. "So the idea of a scholarship fund to recognize the next generation of leaders was very appealing."
Sullivan, Pagano and Dwyer determined that the Leahy initiative would provide funding to undergraduates at the UVM Honors College and to doctoral and postdoctoral students at the Gund Institute for Environment. "To me, it made sense to try to help more students afford education at the University of Vermont," Pagano said.
According to Shane Jacobson, president and CEO of the UVM Foundation, the school's fundraising affiliate, Pagano and Dwyer provided the names of roughly a dozen potential donors "who might have the greatest affinity to the senator." Among them were Boeing, Microsoft and Disney. "Ed and Carolyn would give us a sense for who they thought we should call," Jacobson said.
In some cases, Pagano would give potential donors a heads-up. He said he mentioned the scholarship to fellow Akin Gump lobbyist Joel Jankowsky, prompting a $10,000 donation from the Joel and Carol Jankowsky Foundation.
Pagano said he also contacted National Association of Broadcasters lobbyist Curtis LeGeyt, who once served as Leahy's senior counsel on the Senate Judiciary Committee. Seven Days has twice spotted LeGeyt at Leahy fundraisers in Vermont, including a 2013 "fall foliage retreat" and a 2015 Lake Champlain cruise on the Northern Lights.
LeGeyt's organization frequently lobbies the Judiciary Committee, on which Leahy serves and which he used to chair. The broadcasters went on to donate $10,000 to the Leahy scholarship. Neither he nor Jankowsky responded to requests for comment. Aside from Boeing, the other major donors either did not respond to inquiries about their donations or could not be reached.
In many cases, according to Dwyer, Leahy himself called the prospective donors to let them know about the initiative. "He did not make any financial asks. Those were done by the UVM Foundation," she said. "He did make them aware of his relationship with the University of Vermont."
Leahy joked about the fundraising process during last month's event at the Davis Center. "I would say gentle things to people, and then they would get a call from Shane, who would fill in the details," he said.
According to Jacobson, he and Sullivan spoke directly with Disney chair and CEO Bob Iger, Boeing lobbyist Tim Keating and Microsoft lobbyist Fred Humphries, among others.
"It's the wink and the nod," McGehee, the campaign finance reformer, said of Leahy's warm-up call to prospective donors. "A little bit of Kabuki theater."
At the Davis Center event, Leahy alluded to one donor in particular as a person "who I knew from the days of another part-time career of mine, playing in Batman movies." That would be Meyer, the retired Warner Bros. chief whose family foundation made the $1 million donation.
In the past decade, PACs controlled by the movie studio's parent companies — Time Warner, WarnerMedia and AT&T — have donated $48,000 to Leahy, according to the Federal Election Commission. Meyer and his wife, Wendy, coughed up $17,800 in that period and cohosted a 2014 fundraiser for Leahy at a Los Angeles mansion owned by Iger, the Disney CEO.
Warner Bros. has also given Leahy a gift whose value is hard to calculate: cameo appearances in five Batman films. When one of them, The Dark Knight Rises, debuted at Williston's Majestic 10 cinema in 2012, Meyer and two other top Time Warner execs joined Leahy for the screening, as Seven Days reported at the time.
As the most senior Democrat on the Judiciary Committee, Leahy has had enormous influence over laws governing intellectual property, privacy, net neutrality and other issues vital to Warner Bros., Disney and Microsoft. The senator also has family ties to the entertainment industry: His daughter, Alicia Leahy, is the lead lobbyist for the Motion Picture Association of America.
Asked whether any corporate donors to the Leahy initiative had lobbied the senator or his staff in the past year, Leahy spokesperson David Carle said, "Nothing specific that I know of," adding, "Of course, most large organizations have ongoing concerns of one kind or another."
According to Dwyer, there's a simple explanation for the $1 million donation Meyer made: He's an old friend of Leahy's. Dwyer said the same is true of Roger Sant, who cofounded the AES Corporation, a Virginia-based Fortune 500 company that generates and distributes electricity. Sant's family foundation donated $1.15 million to the Leahy initiative at UVM, making it the largest single gift thus far.
As for Boeing? "They've had a long history with Sen. Leahy and support his long record of public service," Dwyer said. She repeatedly declined to say what that "long history" entailed. Watt, the Boeing spokesperson, would not say whether the company had recently sought legislative action from Leahy or his committees.
Asked whether it was possible that the corporate donors might be seeking to influence the senator, Dwyer said, "I think that's an inappropriate question, from my perspective. You're welcome to speculate as you see fit."
According to Jacobson, the UVM Foundation will continue raising money for the Leahy initiative so that it can provide even more support to students. And Garimella, the UVM president, hopes that Leahy will continue to be a rainmaker for the university.
"We will be partners for many more years," Garimella said at the Davis Center last month before cracking a joke about Leahy's electoral future. "He will run for another term. It's an announcement, people. You can record that. And we hope to partner with you, sir, for many years to come."
Friends With Benefits
Eight lead donors contributed a collective $3.4 million to the University of Vermont's Patrick and Marcelle Leahy Scholars Initiative. They are:
Roger & Victoria Sant Trust
$1,150,000
Barry and Wendy Meyer Charitable Foundation
$1,000,000
The Boeing Company
$1,000,000
Walt Disney Company
$100,000
The Microsoft Corporation
$100,000
National Association of Broadcasters
$20,000
Joel and Carol Jankowsky Foundation
$10,000
Brightwater Fund
$5,000