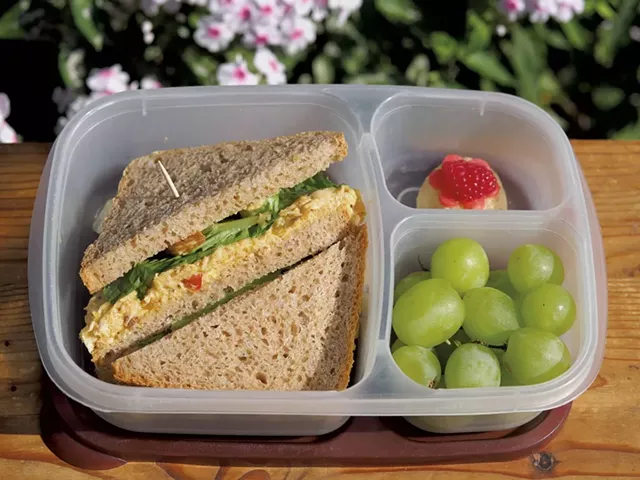 Andy Brumbaugh
Coronation Chicken leftovers can be used in a school lunch
Three years ago, when the world was simpler and international travel was still possible, my mother brought my family on a whirlwind weeklong trip to the United Kingdom. We drove roughly 1,000 miles that week, from London to Edinburgh and back, with many stops at wonderful places along the way.
One of the most memorable experiences was afternoon tea at Edinburgh Castle. With an assortment of finger sandwiches, tiny cakes and cookies, scones with clotted cream and the most amazing honey-sweetened strawberry jam, and Earl Grey and peppermint tea, it was a quintessential British experience. Other than that amazing jam (which I've since discovered Smucker's makes a pretty good version of), a favorite was the Coronation Chicken sandwiches.
The original Coronation Chicken was created for — you guessed it! — the Coronation of Queen Elizabeth II in 1953. Essentially a curried chicken salad, the version we had as part of our tea was lightly spicy and a little sweet from the addition of golden raisins and chunks of mango that seemed to be part of a chutney. When we returned stateside, it was one of the first recipes I re-created.
Andy Brumbaugh
A tiered tray holding cookies, scones and finger sandwiches
Recently, we were celebrating a birthday at my mother's house and trying to think of a way to have a socially distant meal for three groups of people. Mom has three tables and a large deck, so that part was easy enough. We have had meals like this before, but it is always hard to serve everyone while keeping physically distant. Then an idea hit me: How about afternoon tea? It was perfect. I even made tiered tea trays for each table using secondhand china plates and small wine glasses glued together (thanks, Pinterest!). We had treats on the top tier (store-bought macarons and shortbread, and homemade almond-lemon tea cakes), homemade scones on the second tier (with clotted cream my mom made in her slow cooker), and finger sandwiches on the bottom tier. For sandwiches, we had cucumber with Boursin cheese; smoked salmon and avocado; and, finally, Coronation Chicken. By thinking a little outside the box, we were able to have a wonderful, safe get-together.
Not only is this chicken salad simple, it also keeps well. Whip up a big batch on the weekend, and your kids can enjoy it in packed school lunches or for a meal at home on remote learning days during this unconventional school year.
I made this batch with fresh chicken, but in the past, I have also made it with canned chicken, and no one was any wiser. I used mango-ginger chutney from Trader Joe's and a nice curry powder from Penzeys Spices, but you could substitute another sweet mango chutney and your favorite curry powder. I do recommend that you use a sweet curry powder, not a spicy one, as it's more in line with the traditional flavor and more universally kid-friendly. My son and daughter both absolutely adore this recipe, so our leftovers don't last long.
Ingredients:
2 pounds boneless, skinless chicken breast
2-2¼ cups mango chutney, to taste
1 cup mayonnaise
1-2 tablespoons curry powder, to taste
½ cup golden raisins
Directions:
Cook chicken fully. (I used my Instant Pot on high pressure for 15 minutes with 1 1/2 cups water, followed by a 10-minute natural pressure release, but you could poach or bake the chicken until it reaches 165 degrees, or even throw it in a slow cooker on low for 6-8 hours). Cool to at least room temperature. Shred the chicken. (If you have one, a stand mixer with the paddle attachment is the quickest way to shred chicken.)
Combine the chicken with the other ingredients, mixing well. Chill for at least one hour, allowing flavors to meld.
Enjoy as a sandwich filling or over a bed of greens.