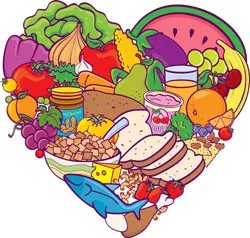 Sometimes, a little tough love is the best thing for a person's heart. When cardiologist Dr. Phil Ades, a medical consultant for EatingWell, is counseling a patient at risk for heart disease, he might say something like this: "There's a ton of stuff people can do to prevent heart disease. Do you want to do this now, before your heart attack, or do you wanna do it after?"
Now, thanks to a new book that Ades has written in collaboration with the Charlotte-based mag, folks at risk for coronary disease can find his lifesaving medical info and dietary tips alongside tasty recipes and colorful photographs. The tome is entitled Eating Well for a Healthy Heart Cookbook: A Cardiologist's Guide to Adding Years to Your Life.
What are some of Ades' suggestions? Using lowfat buttermilk to keep meats moist, and keeping tempting ingredients such as butter and mayonnaise out of the house. "You can't have chocolate chip cookies on the table, 'cause eventually you're going to eat them," he opines. "Some people think I'm kind of a nut, but this is how I live.
Why is the doctor so strict? "There's a lot of heart disease in my family," he admits, mentioning that his father had a heart attack and passed away at age 50.
"The book is meant to be kind of like a handbook," Ades explains. "Most people rotate seven dinners and eat them over and over again. We meant to take what people eat, meatloaf, fried chicken and waffles and render it quite healthy." But are the foods satisfying? Ades thinks so: "It can be unbelievably tasty to eat this way."