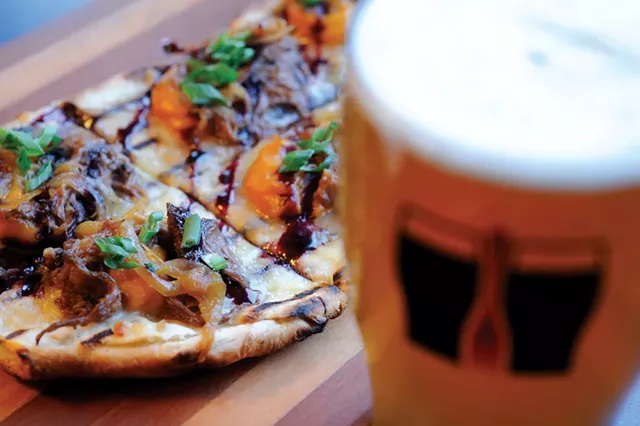 jeb wallace-brodeur
Cornerstone Pub & Kitchen
The city of Barre has had its ups and downs, and it was certainly down during Keith Paxman and Rich McSheffrey's youth there. At the time, the bustling burg that built the Barre Opera House and Hope Cemetery had an ominous nickname: "scary Barre."

47 N. Main St.
Barre/Montpelier
Barre, VT
802-476-2121
Gastropub
Lucky for the Granite City, Paxman and McSheffrey went from being childhood buddies to partners in a restaurant business. In 2012, the pair opened Cornerstone Pub & Kitchen as part of one of Barre's more successful downtown revitalization efforts. Smack dab on Main Street, the eatery is living up to its name.
Locals of all stripes come for comforting pub grub that is both ingenious and affordable. The pot roast is more elegant than it sounds. It tastes like a deconstructed short-rib dinner, complete with tender meat, silky blobs of mashed sweet potatoes and a sticky red-wine reduction. One section of the menu is devoted to fire-kissed grilled flatbreads.
jeb wallace-brodeur
Cornerstone Pub & Kitchen
The food isn't necessarily aimed at blue-collar palates, but the portions are. The barbecue braised pork shank looks like it was created for Fred Flintstone. The caveman would surely "Yabba dabba doo!" for the juicy meat braised in beer and honey. It rests atop big leaves of collard greens and a nest of trotolle pasta covered in sharp, two-year-old Grafton Village Cheese cheddar mixed with smoky bacon and jalapeños.
Dessert is served with an uncommon side of community. Jam-jar trifles come courtesy of students in the culinary arts program at Barre Technical Center. Flavors change daily, but most are mousse-and-cookie interpretations of sweets such as Almond Joy bars or Thin Mint cookies.
Once trained, those young chefs will need jobs. Paxman and McSheffrey's follow-up Barre restaurant, a fast-casual burrito place called Two Loco Guys, created a few more. At this rate, Barre's foodie future could turn out to be as bright as its polished-granite past.