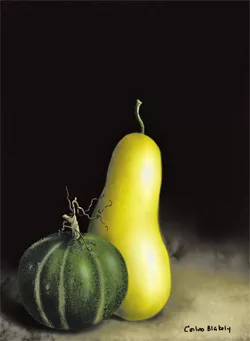 An iPad painting by Corliss Blakely
For 25 years, Corliss Blakely painted strictly in watercolor. Then, one day in 1990, she recalls, "I woke up and said, 'I'm doing oils,'" and she never looked back.
The 60-year-old artist, who spends time each year in St. Albans and on Butler Island, Vt., and in Nicaragua, is prone to shifts in medium. Last year, when Apple debuted the first iPad, Blakely was quick to buy one. She had been noodling around on her iPod touch enough to know she could "paint" on a tablet. After one day, Blakely says, she felt like a pro. She hasn't used a traditional paintbrush since.
Blakely's iPad-painting technique is the focus of the North Hero House Inn & Restaurant's upcoming Art Studio Weekend. On Friday, she'll hook her tablet up to a big screen in the dining room and paint still lifes while onlookers indulge in a three-course dinner. The next morning, she'll lead iPad owners in a three-hour tablet-painting workshop.
The event is close to owner Walt Blasberg's heart: He grew up with Blakely. Well, he was raised in New Jersey, but his family had a vacation home on Butler Island, where Blakely also spent summers. When he left a job on Wall Street to buy and renovate the North Hero House in 1997, he reconnected with Blakely — and bought several of her prints. "We designed the dining room around her paintings," Blasberg says. "I wanted it to feel a little like an art gallery."
It certainly feels arty on a recent afternoon. Blasburg has set out an art-opening-worthy cheese plate, from which Blakely nibbles while setting up her iPad on a small easel. She arranges a little orange-and-green gourd on the white tablecloth and begins to create.
At first glance, what she's doing looks just like "painting" on the clunky old Microsoft Paint program from the 1990s. But as she works — quickly — the gourd's subtle textures begin to emerge. Blakely uses a small stylus as a brush. Some iPad artists use their fingers, she notes, but "because I'm a painter, I like something in my hand."
Her finished iPad works — which she prints as giclées on canvas with a large-format archival printer — looks strikingly similar to her oil paintings. Her work is inspired by a childhood spent on her family's Fairfax farm and inside her mother's antique shop: a yellow pear on a marble surface; several jars of pickles arranged on a chipped white cupboard; a red pepper cut in half and floating in space.
Blakely uses two apps, Procreate and ArtStudio, and wrote the manual for the latter after impressing its developer with one of the paintings she made with it.
Painting on an iPad has some major advantages over traditional painting. For one, it's cheaper. Blakely paid $499 for her iPad; the apps were $4.99 and 99 cents. She could spend that much on oil paints for a single painting, she says.
Blakely loves that she can change the size and opacity of her brush with the touch of a button. She can zoom in to perfect minuscule details. And painting is quicker, too: While an oil might take three weeks, an iPad work is done in three hours. The only drawback, says Blakely, is that the screen is difficult to see outdoors. That's why she sticks to still lifes these days.
"Every once in a while, I do miss mixing color," Blakely concedes. But the best part of working on the iPad, she offers, is this: "If you don't like something, you just hit the back button."
Art Studio Weekend, at the North Hero House Inn & Restaurant: three-course dinner with iPad-painting demonstration by Corliss Blakely, Friday, October 28, at 7 p.m., $42 per person; iPad art class taught by Blakely on Saturday, October 29, 9 a.m. to noon, $25. Info, 372-4732, northherohouse.com