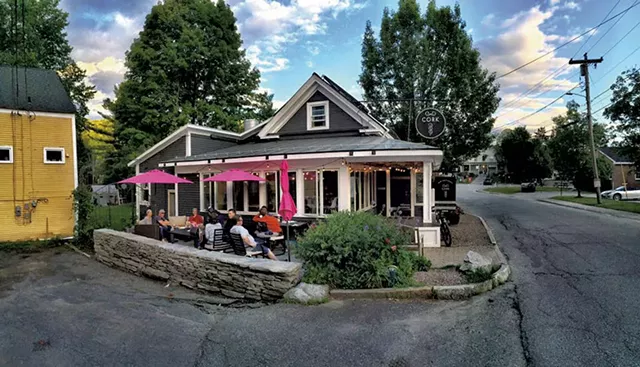 Cork Wine Bar & Market in Waterbury is on the move. It will close after service this Friday and reopen the following Friday, permits permitting, in a new home at 40 Foundry Street. The move continues the brand's expansion and growth: Last year, owner Danielle Nichols opened a second location in Stowe.
Nichols says her five-year lease on the original location had expired, and she was ready to put a fresh face on the business. The new spot will have 20 seats and a dedicated room for the wine store, separated from the bar by a hallway.
Foundry Street also offers more in the way of kitchen facilities, though it lacks an oven or hood. "I think we could do some really cool stuff there," says Nichols. "I'm interested in finding somebody who could take that on, think outside the box, and use induction burners and toaster ovens."
The food at the Stowe location — which has a full kitchen — has been a big draw for locals and tourists alike. There, a 20-dish menu complements the wines with choices such as white-grape gazpacho, smoked-salmon chowder, chicken and waffles with chile maple syrup, and lobster rolls.
"As far as everybody is concerned, we're a restaurant," Nichols says. The Stowe spot even hosts monthly wine dinners, except in summer when the tourist trade precludes it. October will bring an Oktoberfest theme, with German food and libations.
Given the uptick in beer-based tourism, Nichols is excited that the new Waterbury location will allow her to carry seven or eight brews on draft, along with three wines on tap.
With the updated décor, the inclusion of beer and expanded food offerings down the line, "It'll be a whole new look and feel," Nichols says.
Elsewhere in Vermont's wine world, Lincoln Peak Vineyard in New Haven is racking up good press. Last week, at the International Cold Climate Wine Competition, it won 10 medals plus a best in show — the most of any of the 64 wineries in competition. It was also named Winery of the Year.
Want to try the goods? You can buy bottles, of course, but the winery's tasting room also offers growlers — and hosts concerts.