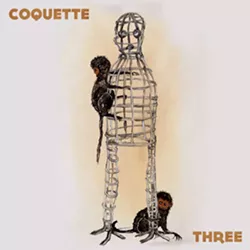 (Green Mountain Records, digital download)
In November 2014, the Seven Days reviewer of Coquette's sophomore EP, Separatio, begged for more. Now, the quirky central Vermont rock trio has obliged, but with a catch. The new seven-track EP, Three, is the band's last. Its members, singer/guitarist Cobalt Tolbert, bassist Angus Davis and drummer Titien Tolbert are doing what everyone eventually does: growing up and moving on. When Coquette first started, the fellas were all in their teens. Now in their early twenties, life is pulling them in different directions, for study or travel or work. (You can still see the guys play in Guano Loco, their other band with Jason Merrihew.)
If one word comes to mind while listening to Three, it's "deliberate." The twisting, polymorphic rhythms, strobing time signatures and interpolative vocal bursts feel wholly strategic and calculated. Otherwise, there's no easy label for Coquette's spasmodic repertoire. The EP variously crackles with power-pop energy ("Man Provides"), floats with serene, acoustic charm ("Wire Mother") and tromps through the murky depths of metal ("Lotus Eaters").
"Man Provides" begins the EP with an exercise in polyphony. Two voices vie for the listener's attention by disjointedly ping-ponging toward a full-force surge of guitar riffs and four-on-the-floor skins.
On "Great Leap in the Dark," a singed guitar riff gives way to light-speed hi-hat and snare, then doubles down on electric and acoustic guitar as the verse begins. The song hints at the existential uncertainty of life, a recurrent theme throughout the EP. On the chorus, Cobalt Tolbert sings, "Bound by choice / Aiding the illusion of will / But we're not going anywhere."
Bitter irony and self-doubt abound on "Before This Ends Well," one of the EP's most laid-back cuts. A basic barroom beat thumps underneath Tolbert's cheeky message to a lover: "Leave me alone / Bid me farewell / Just let me go / Before this ends well." Rather than the typical sentiment of wanting to break up before things end badly, Tolbert averts the cliché by fearing that he may get exactly what he's always wanted.
"Nona" plays with complexity and simplicity. Its arpeggiated guitar lick meets full-stop snares after every pass, creating a herky-jerky rhythm. As the chorus progresses, relief hits with a wall of "Whoa-oh-ohs."
Listening to the last of a band's work is always bittersweet. But if I have to choose between a vibrant last hurrah and an unceremonious end, I'd choose the last hurrah every time.
Three by Coquette is available at bandnamedcoquette.bandcamp.com.