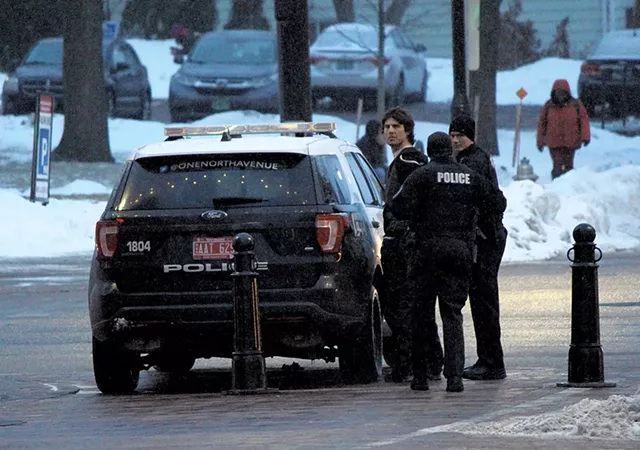 Paul Heintz
Good Times owner Derek Spilman being detained by Burlington Police
Updated January 29, 2019 at 8:50 p.m.

Authorities on Tuesday raided a Church Street business that had been selling marijuana for months in the shadow of Burlington City Hall. They arrested Derek Spilman, the longtime owner of Good Times Gallery, on unspecified charges.
Roughly 20 federal, state and local law enforcement officers participated in the bust, which unfolded at dusk under a light snowfall on the Church Street Marketplace. As Burlington Police Department officers led Spilman away in handcuffs, plainclothes agents poured out of city hall, where the raid had been staged, and into Good Times to assist with a search.
Burlington Lt. Jim Trieb said that the officers were executing a sealed federal warrant. City cops were joined by agents from the state Division of Liquor Control, the federal Drug Enforcement Administration, and the federal Bureau of Alcohol, Tobacco, Firearms and Explosives, Trieb said.
Authorities took action shortly after Seven Days published an earlier version of this story online. It noted that law enforcement officials had known for at least three months that Spilman was dealing drugs out of his store.
Last week, a Seven Days reporter witnessed him selling buds over the counter and heard him say that the edibles for sale in his shop were infused with THC, the psychoactive chemical in marijuana. At least one customer appeared to be a teenager.
Though Vermont legalized the adult use, possession and cultivation of pot last summer, it remains illegal to sell it under state and federal law.
Those advocating for full legalization in Vermont said they worried that Good Times' actions might jeopardize their push for a regulated cannabis market — and they wondered why they had to abide by the law when Good Times did not. They also questioned what took authorities so long to crack down on the joint, given its prominent location between Red Square and Honey Road.
"This has been going on since July," Timothy Fair, a Burlington attorney and advocate who specializes in cannabis laws, said before the raid. "We have office-pool bets every month about when they're going to be shut down, and they keep going. Honestly, it drives me crazy."
After receiving a tip last year "involving the sale of cannabis," a plainclothes liquor control officer conducted a sting on the shop in late December, according to DLC enforcement chief Skyler Genest. (The division has jurisdiction over Good Times because the establishment holds a license to sell smoking paraphernalia.)
The investigator seized evidence from the store, Genest said, and the DLC had been using forensic testing to determine "what, in fact, was for sale at this licensed premises." He said Monday that he expected "tangible results ... by the end of the week."
The Burlington Police Department had been conducting its own investigation, though it didn't appear to have been a priority until recently. Asked about it last Friday, Chief Brandon del Pozo said his department had heard "in the last few weeks" that Good Times was selling pot.
At first, the chief downplayed the situation, noting that the state might soon legalize the sale of cannabis. "There are some places that look like they're getting into the commercial marijuana business a little early," he said.
In the midst of an opioid epidemic, del Pozo argued, the city had bigger problems on its hands. "In the context of limited resources, if we had to choose between conducting a fentanyl investigation and a marijuana investigation, we would prioritize investigating the product that has clearly killed people," he said.
In subsequent interviews, del Pozo suggested that the Good Times probe had become a higher priority. He said he was particularly concerned that the store might be selling pot to minors. On Monday, the chief revised his timeline. He said the BPD had received a tip as far back as last October that Good Times was selling marijuana and Adderall, a commonly abused prescription stimulant.
According to Mayor Miro Weinberger, the cops picked up the pace of their investigation after learning that Seven Days was looking into the matter. "Your reporting on the specific retailer caused them to accelerate some actions, because they realized they were going to lose their window to act before your story," the mayor said. He added that investigations of other suspected dealers in the area were "well along."
Weinberger called selling pot from a storefront "a more brazen act" than doing so in private spaces.
"If they're selling certain edible products, I do have concerns about that, because a lot of those could be marketed toward youths or kids," said Justin Jiron, Chittenden County's chief deputy state's attorney.
A spokesperson for the U.S. Attorney for the District of Vermont declined to comment.
Spilman's arrest Tuesday wasn't his first. In 2004, according to court records, he was charged with unlawful restraint after apprehending a group of suspected shoplifters and tying them up in the back of his store. Police alleged at the time that he and an associate had menaced them with pit bulls and a skill saw — and wrote "thief" on their foreheads in magic marker.
Spilman pled down to simple assault and was given a year of probation and 200 hours of community service.
In recent months, Good Times wasn't exactly subtle about its business practices. The head shop, which has existed in various locations on Church Street for more than 15 years, no longer focused on selling bongs and T-shirts, and it no longer maintained conventional business hours. Its doors were locked into the late afternoon, when it opened — by appointment only — for an hour or two at a time.
In recent weeks, the store's windows were covered with black curtains. Handwritten signs taped to the door instructed would-be customers to "send a text for info" — but otherwise steer clear.
"DON'T (Do NoT) KNOCK!!!" one sign read. Just below it, another note clarified, "If YOU CAN'T READ, We CAN'T HEAR YOU!! Don't Be An ASSHOLE!!"
Last week, a Seven Days reporter stood outside the store until Spilman unlocked the door and gestured for a young man in a red parka to enter. When the reporter followed them inside, Spilman — a tall, skinny man in his mid-forties with shoulder-length brown hair tucked under a wide-brimmed hat — handed the reporter a business card, told him to make an appointment and ushered him back out the door.
The card was decorated with pot leaves and advertised "Headies" and "Eddies." "Enjoy & Celebrate Your Freedom," it read.
Ten minutes after the reporter texted the number on the card, Spilman responded, "Swing in ASAP."
Inside the store, which reeked of weed, a man and a woman leaned against a counter and admired a glass pipe. The woman asked Spilman how much a quarter-ounce of pot would cost. A third customer crossed the room to withdraw a wad of cash from an ATM. Hip-hop music played on a sound system.
Spilman rang up the couple, let them out, locked the door and returned to the counter. "Do you guys have any bud right now?" the third customer asked. The proprietor said he had a quarter-ounce each of three strains. He reached under the counter to pull out three bags and described their contents.
"OK, I'll stick with these two," the customer said.
"That gonna be it?" Spilman asked.
After letting him out the door and locking it again, Spilman slipped back behind the counter and showed the reporter — who had not identified himself as such — his wares. "We have sour deezy," he said, placing a bag of sour diesel on the counter. "You can look at it." The buds glimmered under the store lights. "That's LSD," he continued, referring to another strain of marijuana in another bag.
"And what about the edibles?" asked the reporter.
"Those are all right there," Spilman said, gesturing toward a pizza box propped open on the counter. Neatly arranged inside was an array of chocolates, candies and pastries.
Asked about another set of treats displayed under the counter, Spilman clarified that those were cannabidiol, or CBD, products, which are legal to sell in Vermont. "And this," he said, pointing to the contents of the pizza box, "is, uh, THC."
Spilman recommended the largest candy bar in the pizza box. "Yeah, it's 350 — 300 milligrams," he said, correcting himself. "I like it because a couple pieces — you can take two at a time, no problem." He pointed to a pastry. "This is good, if you can portion it yourself. Cut that into four, and you'll be good."
The THC, he said, was "pretty well evenly distributed" throughout each of the edibles. "Anything that we've gotten that doesn't work well or that's inferior, we don't reorder. We just basically deal with reputable people, reputable farmers," he said. "And if we didn't make the edibles, it's someone [who's] basically family."
All but two of the treats were produced in Vermont, Spilman said. The others came from Maine and Massachusetts, where retail sales are legal. Prices, scrawled in magic marker, ranged from $20 to $30.
"And how about the bud?" the reporter asked. "How much is that going for?"
A quarter-ounce of two strains cost $90, Spilman said. A quarter of a single strain was $80.
When the reporter asked if he could think about it and return later, Spilman warned that he was running low on supplies. "Yeah, text. We're gonna be out," he said, noting that it was 5:19 p.m. "We'll close at 6:15. We're not gonna have enough to last that long."
On most afternoons, Spilman added, he sold out in an hour. "I can't believe it's lasted this long," he said of that day's supply.
Fair, the cannabis attorney, can't believe that Good Times has lasted this long.
"The Church Street Marketplace association wouldn't let buskers play if they didn't audition, and this has been going on for six months," Fair said. "It's kind of mind-boggling on some level."
Some appear to have been oblivious to the commerce. Weinberger, whose office is across the street, said he hadn't noticed a thing. "I have a lot going on," he explained.
Church Street Marketplace executive director Ron Redmond said he was equally unaware, adding that it "would be horrible" if a marketplace business were, in fact, dealing behind the counter.
Others may have preferred to look the other way. Employees of neighboring businesses mostly declined to comment, though Benjamin Higgins, a manager at Quarterstaff Games, which is in the same building as Good Times, said he'd complained to property manager Kevin Day about the chronic smell of pot. Day did not respond to requests for comment; building owner Christine Farrell could not be reached.
But for much of Burlington's cannabis community, Good Times was the worst-kept secret around.
Shayne Lynn, executive director of the Champlain Valley Dispensary, said he learned about it from a friend a month ago. "When I started asking around, I felt like I was the last to know!" he said.
Attorney General T.J. Donovan said he was "definitely aware of rumors" that Vermont retailers were selling pot. "I am not naïve enough to think that the market has completely closed down," he said.
Donovan argued that the only way to address the problem was to legalize the sale of marijuana.
"We can't tell Vermonters you can possess it and then be silent on how you obtain it," he said. "Because capitalism is going to continue to grow in this area."
Said Fair, "They're going to close down Good Times, and then somebody else will pop up. It's whack-a-mole. So why not have regulation to be able to control this?