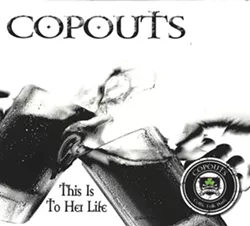 COPOUTS, This Is to Her Life
(Self-released, CD, digital download)
There's an art to accepting and immersing your music within the confines of a genre. With careful refinement, even rote recitation can become a celebration of the best kind — you can make even a well-worn path your own. On their new album This Is to Her Life, central Vermont's COPOUTS do just that, taking artistic ownership of their Celtic-punk roots.
If you've ever listened to Flogging Molly or the Dropkick Murphys, you know exactly what the COPOUTS are going for as a band. Every hallmark of the genre is on display here, from fist-pumping drinking anthems to soulful tributes to Ireland to songs about some drunken asshole who punches people in pubs.
Sure, the album runs the danger of collapsing into cliché at times. It's not hard to envision someone at a COPOUTS show turning to their friend and muttering, "10 bucks says the next song is about being drunk." But the beauty of Celtic punk is that it glories in being exactly what you want it to be. So does this band.
At their best, COPOUTS convey that specific sort of joy the Irish famously — if stereotypically — have for drinking a pint and singing a song. Consider "All for Me Grog," which begins with a lovely fiddle figure played by Matt Bean before the rest of the band rides in. Lead singer and songwriter Jay Knecht cuts right to the chase, singing, "It's all for me grog, me jolly, jolly grog / It's all for me beer and tobacco." Meanwhile, his bandmates throw in the time-honored pub chorus "Hey! Hey!" in accompaniment.
Fortunately, the COPOUTS have more up their sleeves than just drinking tales. Too many bands going for an Irish-punk sound simply devolve into party music. A key component of Celtic music is having one foot firmly planted in melancholy. The COPOUTS understand this.
"Star of the County Down" is a rocker, with the rhythm section of Jordan Brown and bassist Dan Dodd staying rock-steady. But the song also possesses a minor-key sadness throughout. On "Ireland," the band puts forth its creed: "We may not be from Ireland, but the whiskey, beer and soul are deep within."
The COPOUTS, as a whole, are sharp throughout. Producer Andre Maquera expertly captures their live sound — which is really what you want from a punk album. This Is to Her Life has that live energy in spades. And, yes, it will probably inspire you to get drunk.
This Is to Her Life is available on iTunes and Spotify. The COPOUTS play a CD release party on Saturday, December 10, at the Rusty Nail in Stowe.