Logan Huysman shown in the police body-cam video
Before last month, there was nothing out of the ordinary about Logan Huysman's Facebook page: The 18-year-old South Burlington High School grad posted the usual sultry selfies, plus a baby shot, a fishing snap and lots of photos with friends. But that changed on June 22, when she used the social media platform to publicly accuse the Burlington police of brutality during an altercation. Huysman claimed the cops touched her inappropriately as they shoved her into the back seat of a cruiser, and she included photos of her bruised arms for evidence.
"I would consider that sexual assault, especially coming from 'authority,'" she wrote on her Facebook page. She did not file a formal charge against any of the officers.
Within a day, Chief Brandon del Pozo took her to task. He used his personal Facebook account to comment on hers — specifically, he posted a detailed police press release refuting her version of events. He also sent the communication to the news media.
According to the official narrative, which contained more detail than a standard police report, the Burlington cops had found three women asleep in a running car at the Cumberland Farms on Pine Street at 2:37 a.m. It took them more than four minutes to rouse Huysman. They found a bong, marijuana and alcohol in the vehicle.
The release went on to describe a scene in which Huysman threatened suicide, performed cartwheels in the parking lot, ripped up paperwork, threw a bottle, and kicked and screamed at officers. It went on, "She reached into her waistband and simulated producing a gun with her hand, pointing it at officers." The police communiqué said a friend of Huysman's asked officers to be careful, because she was anemic. That created an opportunity to explain her Facebook photos: "People suffering from anemia can bruise easily."
The conclusion: "Huysman's allegations of sexual assault are unfounded and do not bear comment or investigation." The missive also noted that her behavior had been captured on police body cams.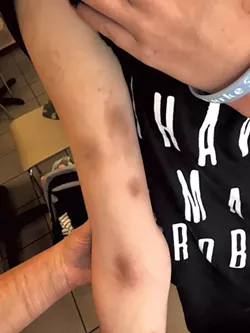 Courtesy Of Logan Huysman
Bruises on Logan Huysman's arm
Huysman was charged with disorderly conduct, resisting arrest and simple assault on a law enforcement officer.
The chief's post started a lively discussion on the teen's Facebook page. Many of the commenters were strangers to Huysman.
"Some people need to be put into a psych ward... just sayin," wrote one poster.
"Look, another privelleged white person acting out towards police because she knows they won't do shit," chimed in another.
When Huysman saw del Pozo's response and the outrage it generated, she deleted the entire thread.
Del Pozo maintained that his post was necessary to quell the spread of false accusations. But it also triggered critiques from people who see his approach to social media as an abuse of power and a violation of individual privacy.
"There's a fine line between engaging the community, which is something we want our law enforcement officers to do, and doing what some might see as trying to shut down conversations," said Jay Diaz, an attorney for the American Civil Liberties Union of Vermont. "Affirmatively posting on a citizen's Facebook page, especially in a sensitive situation, seems fairly inappropriate and would be understandably chilling."
But, he added, it's not a cut-and-dry issue.
"One thing I love about Vermont is how much we can engage with public officials," Diaz said, noting that he has public online discussions with del Pozo. "I don't know of a lot of other chiefs of police responding to tweets and Facebook posts."
Del Pozo speaks out frequently on social media, describing family outings, life on the job, and his take on local and national issues. His recent posts include one about the police department's community barbecue, photos of a hike with his son and news articles about the opiate crisis. In May, he posted body-cam footage from an officer who drew his gun but didn't fire after a robbery suspect nearly ran him over. He praised the cop's restraint.
Del Pozo is also largely responsible for the tweets from the department's @OneNorthAve Twitter feed. He uses social media to engage with the community — "to go where the conversation is," he said. The police department has no existing social media policy, though the city is creating one for all city employees. It will be published soon, according to Mayor Miro Weinberger.
For now, del Pozo said he responds as the situation demands. Police conducted a half-day investigation into Huysman's claims, according to the chief, after a member of the public alerted him to her Facebook post. It called for a "detailed accounting," he said.
"In general, we receive overwhelmingly positive feedback about Chief del Pozo's use of social media and general accessibility to the public," Weinberger wrote in an email to Seven Days. "In the few cases where we have received complaints, we have addressed them with the chief."
Diaz also said he'd received complaints — two of them — about del Pozo's social media activity since May 2016.
Former Burlington Progressive Party chair Charles Winkleman said he's communicated with del Pozo on behalf of an individual from a minority community who was uncomfortable when the chief reached out to her via Facebook or Twitter.
Last August, Haik Bedrosian, a 44-year-old New North End resident and former city councilor, took offense when the chief commented on one of his Facebook posts. Bedrosian had written about the design for the new police badge, saying that it "belongs on a robot soldier in a dystopian future police state."
Del Pozo, writing from the @OneNorthAve police Twitter account, messaged Bedrosian privately.
"Writing it off ... is your prerogative and your opinion, but you should also take seriously the months of careful work a lot of people put into it," del Pozo wrote. "They were not robocops, but nearly all born Vermonters who have a deep affinity for the city and its police."
"Sorry, it's Chief del Pozo," he added below.
Del Pozo's message, Bedrosian said, "came as a shock."
Bedrosian deleted the post and blocked del Pozo. "I remain intimidated by Brandon del Pozo to this day," he said.
After the Huysman posts, Bedrosian voiced his concern at a city council meeting last week.
"By personally commenting on an individual's Facebook post, the chief sends a message that he is personally watching you," Bedrosian said. "And when he visits your page and argues against you, the asymmetrical power dynamic tends to result in the post itself being taken down."
After the meeting, Council President Jane Knodell said it was the first complaint she'd heard about del Pozo's social media practices. Councilor Kurt Wright seconded that, but they both agreed that Bedrosian had a point. Knodell said she'd refer the matter to the police commission.
Rep. Selene Colburn (P/D-Burlington), a former city councilor, had more to say about how the Burlington Police Department communicates online. "I've heard concerns, and a lot of positivity, about how active they are on social media — how accessible they seem, how connected they seem to be to the community," she said.
But she recommended "rules of engagement" for the digital space. "Is it akin to overhearing a conversation? Is it akin to responding to a published work? It's a little of both, I think," she said.
The internet is uncharted territory for police, said Christine Kemp Longmore, who serves on the Burlington Police Commission and founded the nonprofit Community Council of Accountability With Law Enforcement Officials.
"We're in the middle of redefining policing, how we interact with the public and how social media tools are used is a part of those conversations," Kemp Longmore said. "It's important for us to consider the long-term impact of ... anything he does as the chief."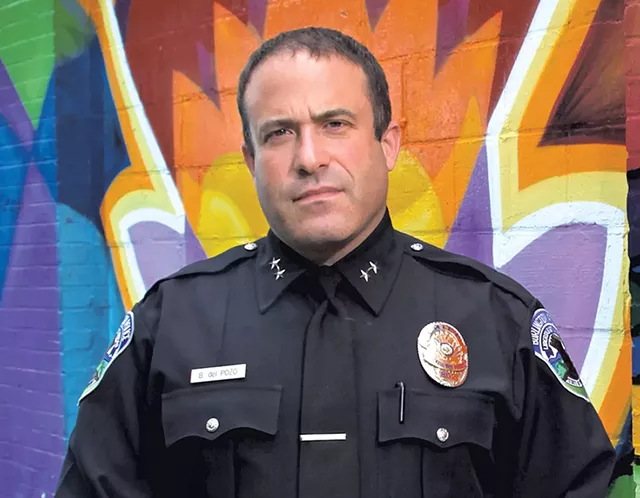 Matthew Thorsen
Burlington police chief Brandon del Pozo
Sometimes, del Pozo said, social media posts can halt spurious allegations before they go viral or damage the department's reputation.
Last year, he recalled, he was at a concert with his wife when he learned that someone was alleging that a Burlington police officer had pepper-sprayed an elderly black man in the back of a police cruiser.
The chief went online to correct the record — the man was 51, Hispanic, drunk and violent, he said. He ended up personally messaging several concerned social media users.
"These allegations are serious. How do you respond? It's what we're wrestling with, and it's what everyone's wrestling with," he said.
Now more than ever, he added, an online presence is part of the job.
Fewer than 12 hours after the Minnesota officer who fatally shot Philando Castile was found not guilty last month, a Burlington woman called out del Pozo on Facebook for staying silent.
"There's an expectation in an active online community that police weigh in on a range of issues," del Pozo said.
The chief is not the first Vermont cop to present his unvarnished opinion. In 2015, after a Hinesburg teen crashed his car into a bicyclist and both were killed, Hinesburg Police Chief Frank Koss wrote a column in the Hinesburg Record blasting the driver for "gross careless and negligent driving."
"If you think that the chief of police should always be limited to political correctness and sensitivity, you should stop reading now," he wrote.
The letter drew wide attention.
"It was to put it in perspective," Koss told Seven Days last week. "The public has to be answerable to the truth."
Koss praised del Pozo's handling of the Huysman incident. Speaking for the police, he said, "We are not going to sit back and not say anything. We're at least going to tell our side of the story."
Huysman said the post and subsequent backlash has left her stressed and anxious. It was meant to be "a wake-up call" on police misconduct, she said. "Now I regret it."
Huysman didn't show up in court for her arraignment last Thursday — though her father was there. Greg Huysman had gone to police headquarters the previous day to see the body-cam footage and, after viewing the video, said he sided with the police account of events.
"She was resisting arrest, and she had to be forcefully put in the police car," Huysman said as he waited outside the courtroom. "The police showed more patience than I would have.
"She's a kid in crisis," Huysman continued. "She made a stupid mistake."
Del Pozo, too, said he's learned his lesson. He'll continue to express himself on his own social media accounts, but he's done posting on the individual Facebook pages of others.
"It may well have sufficed to put it on my own page or our own Twitter feed," he conceded.
Some of that may now be someone else's job. Last week, Constance Crisp started in a new position at the Burlington Police Department — training and special projects coordinator — that includes managing its social media accounts.
The medium poses challenges that aren't going away, del Pozo said. "I lament being in a situation where everything has to be resolved so quickly, or it spirals out of control so quickly," he said. "Policing's headed this way, because it's on the heels of where society's headed."
Correction, July 5, 2017: Charles Winkleman communicated with Chief Brandon del Pozo on behalf of one person who had concerns about the chief reaching out to her on social media. A previous version of this story contained an error.