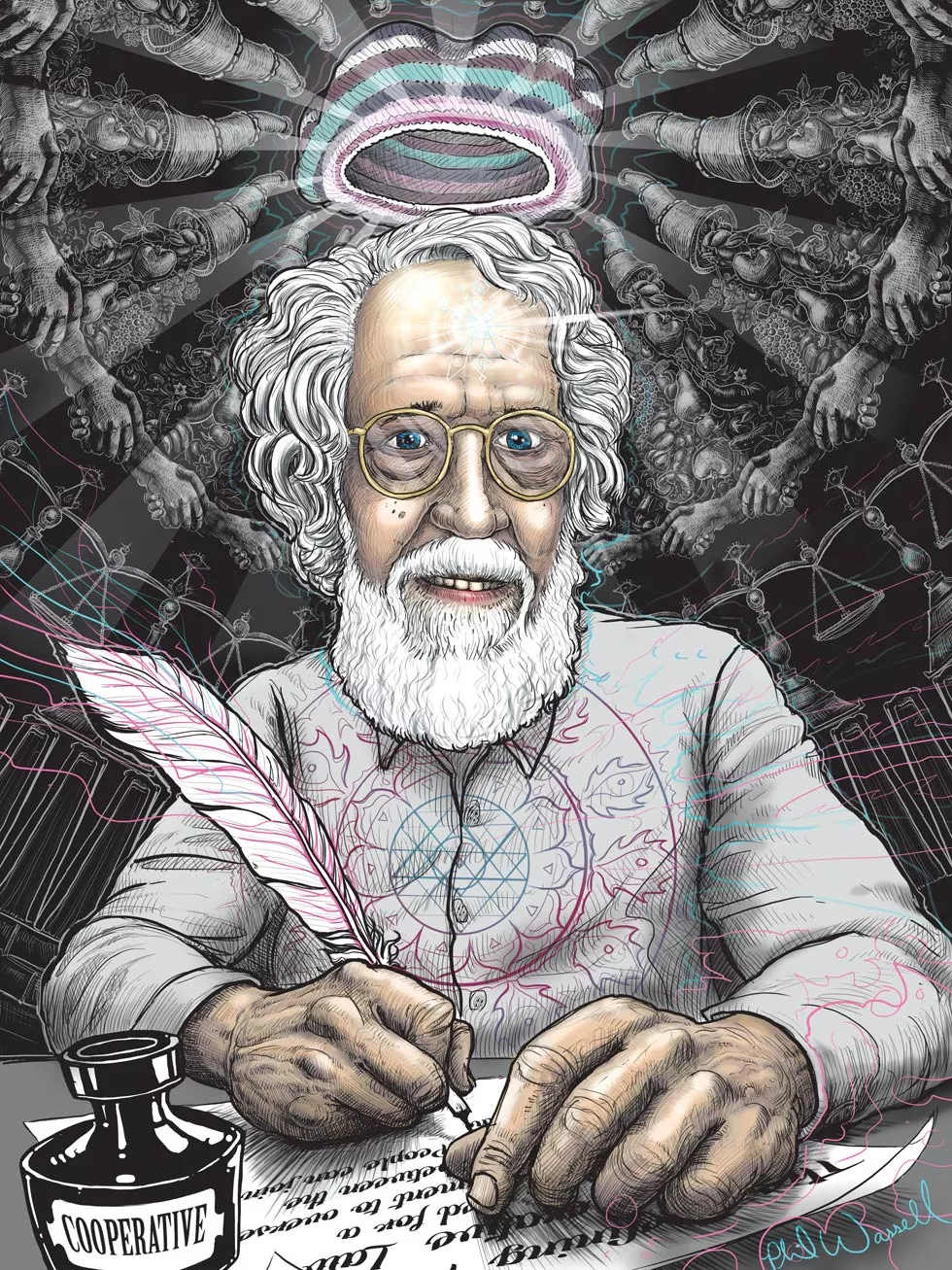 Attorney Laddie Lushin has never advertised his services. Nor does he try headline-grabbing cases or drive a glossy sedan. He is, in sum, far removed from his sharply tailored peers. But Lushin's area of specialization also distinguishes him from most other attorneys: cooperative law.
A Braintree resident, Lushin (pronounced "LOO-shin"; "Laddie" is short for Ladislaus) moved to Vermont from Chicago in the late 1970s. He chose a new home where cooperatively run businesses have a strong foothold: Groceries, utilities, even ski resorts operate as co-ops in Vermont. Yet the great majority of his business comes from out of state, Lushin says, as few other U.S. lawyers share his bailiwick.
Lushin's local clients have enthusiastic praise for him and his work. Without his help, "We would have been struggling for years to get good legal bylaws," says Dan MacArthur, chair of the board of the Marlboro Cooperative grocery store. "He just said, 'Here's what you should be doing.' Everything he suggested was just right."
John Quinney, general manager of Colchester-based Energy Co-op of Vermont, describes Lushin as "someone who's obviously got really strong values," and even calls him "an unsung hero" — phrases seldom used to describe lawyers.
SEVEN DAYS: How did you arrive at your legal specialty?
LADDIE LUSHIN: I left my job [giving legal aid to Illinois prisoners] when we moved to Vermont. Then I had to decide: What was I going to do with my life? In addition to having a law degree [from the University of Chicago], I have a CPA certificate. The thing that came to my attention was cooperatives, which need both legal and accounting assistance. It's turned out that I use both of those skills almost every day.
I discovered that the area of practice I had gotten myself into was undeveloped. There were lawyers around for co-ops, but these were things like huge agricultural co-ops in the Midwest. But for smaller organizations like consumer co-ops, there wasn't any development of how the law applied. I saw myself immersed in issues that no one had worked out. Things like federal income-tax law, securities law, consumer protection laws. I had to essentially develop the law of cooperatives in order to function in that field.
SD: Some of your clients say they feel you have a personal investment in cooperative principles. Is that so?
LL: Definitely. I was mainly interested in doing public-service kinds of things, not just in helping the people with the most bucks. I was looking for something different, and cooperatives certainly fit that scheme, because their business operations are organized on completely different principles than the prevailing model.
SD: Why do you think your clients seem so appreciative of your services?
LL: Up until very recently, there weren't any other cooperative specialists, other than myself, in the whole country. Without me, [clients'] only choice was to go to a local lawyer who had no idea what the problems and solutions are for co-ops. It turns out that a good part of my time is spent correcting inappropriate legal advice from someone who didn't know enough about the subject.
SD: Why is it so important for a co-op's bylaws to be legally sound?
LL: Bylaws provide guidance for operational decision making, and the framework for resolving problems easily and favorably. For example: Access to books and records should be available to any interested co-op member, since they have ownership stakes in the co-op. But this can be used in ways that are disadvantageous for the co-op. With a food co-op, the manager of the competing store down the road can acquire an ownership interest in the co-op, but it's not appropriate for that person to be given access to books and records ... You have to have provisions on that subject in your organizing documents.
SD: You've made it a point to avoid legalese in your writing. Why is that?
LL: Bylaws serve as guidance for proper governance and practice of the organization, so they've got to be usable, readable and accessible to members. That's why I like to write in plain English — so people can find the answers they're looking for without having to read a 10-page document.
SD: Why do you think cooperatives have been so successful in Vermont?
LL: I think it's because of the progressive character of the state and the people in it. There's a bigger percentage of cooperatives that pop up in such places than in most other states. But cooperatives aren't a left-wing phenomenon at all. They transcend left or right, Democrats or Republicans. Everyone can get into it because it's a mutually beneficial thing.
SD: I read that you describe yourself as an anarchist. True?
LL: I do consider myself an anarchist.
SD: You don't hear a lot of lawyers say that.
LL: No, you don't. It's a philosophical position, and it's one reason I do the kind of work that I do. It's consistent with my value structure. I guess it tends to manifest itself in a lifestyle that is not typical of a lawyer.
INFO
Work is a monthly interview feature showcasing a Vermonter with an interesting occupation. Suggest a job you would like to know more about: news@sevendaysvt.com.
Name: Laddie Lushin
Town: Braintree
Job: Expert in cooperative law
The original print version of this article was headlined "Cooperative Counsel"