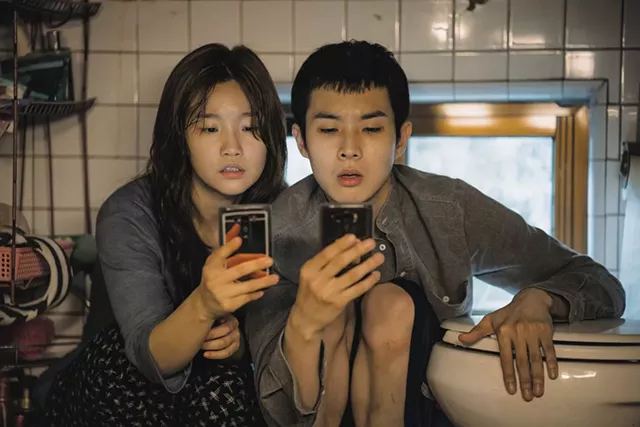 Courtesy Photo
A still from Parasite
It's time again for the Vermont International Film Festival, which kicks off on October 16, to bring an exciting slice of international cinema to Burlington. But Chittenden County isn't the only place to catch cool screenings this month, thanks to the ongoing programming of the Middlebury New Filmmakers Festival on the one hand, and a new partnership between VTIFF, Vermont PBS and White River Indie Films on the other. We've picked out five films not to miss; for many more options, check out the fest and series programs.
Parasite
If you ate up Snowpiercer on Netflix, you'll want to catch the latest from South Korean director Bong Joon-ho, screening on October 19 at VTIFF. This time the director's setting isn't futuristic, but his class-conscious satire is even more wicked, according to advance reviews of this winner of the Palme d'Or at the Cannes Film Festival. The plot concerns a family of down-on-their-luck con artists who attach themselves to a wealthy household and proceed to squeeze the 1 percent for all it's worth. The A.V. Club called the result a "genre-bending gut-punch."
And VTIFF has plenty more narrative films that grapple with meaty subjects, such as Clemency, in which Alfre Woodard gives an acclaimed performance as a prison warden tasked with carrying out the death penalty.
Miles Davis: The Birth of the Cool
The Middlebury New Filmmakers Festival proper takes place in August, but programming continues year-round with a monthly screening series now called MNFF Selects. This year's focus is biography, or "Fabulous Films About Fascinating People," starting on October 17 with Stanley Nelson's documentary portrait of the jazz icon. In Variety, Owen Gleiberman calls The Birth of the Cool "a tantalizing portrait: rich, probing, mournful, romantic, triumphant, tragic, exhilarating, and blisteringly honest."
MNFF Selects will continue through May 2020 and include both docs and narratives, such as the highly anticipated Kasi Lemmons Harriet Tubman biopic, Harriet. The "fascinating people" under the microscope range from David Crosby to Aretha Franklin to the late muckraking journalist Molly Ivins.
Mr. Toilet: The World's #2 Man
Sure, you're giggling. But the lack of sanitation facilities is a very real global problem, and Jack Sim, Singapore-born founder of the World Toilet Association, is out to solve it. Lily Zepeda's documentary, screening October 22 and 24 at VTIFF, explores what happens when the passionate poop-disposal advocate takes on the challenge of bringing six million new toilets to India.
Not all the docs at VTIFF are as, um, crap-focused, but several broach uncomfortable subjects. When Lambs Become Lions, for instance, examines the conflict between conservationists and poor Kenyans fighting to maintain their livelihood — the ivory trade. In the doc/fiction hybrid The Infiltrators, two undocumented immigrants expose the inner workings of a detention center.
Noyana: Singing at the End of Life
Champlain College prof Keith Oppenheim made this 28-minute doc about the Noyana Singers, a Burlington chorus that sings to patients in hospice care. According to one interviewee, noyana is a South African word that means "we're going there." The film's life-affirming message? "We all are on that journey."
Noyana is one of 27 regionally made films in this year's Made Here Showcase, the aforementioned partnership of VTIFF, WRIF and Vermont PBS. (It's the evolution of last year's NEQ Regional Film Showcase.) A six-person jury chose the program from 61 submissions by filmmakers from northern New England and Québec, some of whom will receive cash awards in various categories on October 18.
The selection is as varied as the region, with narratives such as internationally award-winning Major Arcana and the deliciously eccentric "Little Beery's March" mixing with documentaries on subjects such as the opioid epidemic, a Buddhist master and the phenomenon of Canadian "snowbirds." Made Here will screen at VTIFF over three days, October 16 to 18, then travel to the Upper Valley for November 1 to 3 screenings in White River Junction, courtesy of WRIF.
Diamantino
"An inspired blast of lunacy, with giant puppies." That's the headline the Los Angeles Times gave to its review of this unclassifiable film from Portugal, screening October 21 and 23 at VTIFF. Diamantino (Carloto Cotta) is a none-too-bright beefcake soccer star with a good heart. After his compassion for refugees leads to the loss of the World Cup, he becomes the target of a right-wing conspiracy involving cross-dressing, mad scientists and more. Critic Justin Chang calls Diamantino "the funniest gender-bending, human-cloning refugee-crisis soccer comedy I've ever seen, and also the most thoughtful." In short, exactly the kind of inspired oddity that film festivals were put on Earth to offer us.