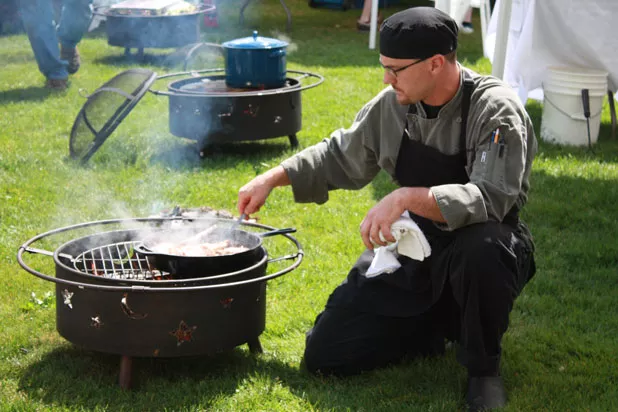 Participants in the 2010 Adirondacks are Cookin' Out event
Where can you witness top chefs competing in a campfire cook-off and take a workshop on making s'mores? These are just a few of the items on the menu at the Adirondack Museum's second annual the Adirondacks Are Cookin' Out event this Thursday. Activities at the daylong festival cater both to foodies and families. Demos, walks, talks and hands-on workshops run from 10 a.m. to 5 p.m. on the museum's grounds in Blue Mountain Lake.
Five chefs from the region's popular restaurants and resorts duke it out for the informal title of "hottest chef in the Adirondacks." They prepare their choice of dishes, but have to cook 'em the really old-fashioned way: over an open campfire.
Competitors include chefs Richard Brosseau from Lake Placid's Whiteface Club & Resort and John Vargo of the Eat 'n Meet Grill in Saranac Lake. A prestigious panel of palates will judge the results, including Indian cuisine maestro Suvir Saran, who competed in the most recent season of Bravo's "Top Chef Masters."
Visitors can watch the cooks sweat onions (and bullets) or choose from a dozen other things to do. Naturalist Edward Kanze leads walking tours of edible plants around the museum grounds. Demos include techniques for smoking and grilling fish and cooking with fresh herbs. Among the can't-miss kid-friendly workshops: grilling pizza and — mmm — preparing gourmet campfire s'mores.
The idea for the celebration grew from a special exhibit that opened last year, "Let's Eat! Adirondack Food Traditions." Chief curator Laura Rice recalls that the recent vogue for all things gustatory helped inspire the museum to produce an exhibit on eating. "We wanted to do something here that would give people an outlet for their foodie inclinations," Rice explains. "And even if you're not really into food and cooking, you do eat."
"Let's Eat!" also showcases the museum's own collection. Rice continues, "This is an exhibit with very few loans ... maybe five or six objects." Everything else — from dainty hotel china to hulking cast-iron stoves — comes from the museum's staggering archive of more than 30,000 artifacts and 100,000 photographs. "We have a great collection with a lot of breadth and depth to it," Rice reflects. "This was a way to get some of that out there and share it with audiences."
The displays reflect the region's incredible variety of eating habits. "Because of the diversity of people here ... there really isn't a single Adirondack food tradition," Rice explains. "The great camp owner or a settler somewhere in the middle of nowhere ... came for different reasons and lived in very different ways from each other."
The display remains through the end of the 2012 season. Artifacts are organized around distinct themes; "Family Traditions," for instance, features dozens of home cooking implements. The rustic gizmos include unfamiliar objects such as a raisin seeder. Some appear downright dangerous. The corn husker looks like a wooden shiv!
Before Chinet, there was the eminently more elegant disposable dinnerware of Tupper Lake's Oval Wood Dish Company. Between 1916 and 1964, it made dishes and utensils from thin wood veneer. The exhibit includes a stylish, fluted-edge plate and a chic box of Riteforks, a three-prong protospork.
A neon sign from the Island Snack Bar in Long Lake has no lettering; just a coffee mug with two bright red flames rising from the lip. 'Nuff said on a chilly day in the 'dacks.
The "Let's Eat! Adirondack Food Traditions" exhibit is open daily through October 17.