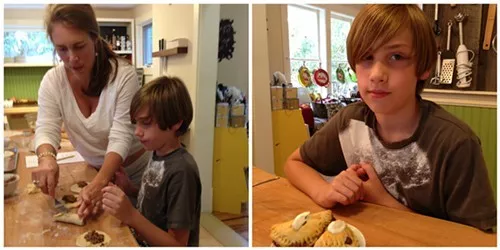 My foot was barely in the door of Chef Contos Kitchen & Store in Shelburne, and my inner foodie was already aflutter. Warmth and character filled the quaint store, where Chef Courtney Contos sells a lovely variety of kitchen must-haves and local wares. My son, Charlie, and I walked to the back of the store to a kitchen, ready for a culinary adventure.
"Today we are making empanadas!" enthused Chef Contos. "Does anyone know what country empanadas are from?"
Cooking together has become a new hobby for Charlie and me. For our latest escapade, we spent an afternoon at one of Chef Contos' kids cooking classes. Contos is a highly trained chef with lots of impressive teaching experience — she was executive chef/instructor for Cook Academy at the Essex Resort & Spa. I would have been happy just to watch and learn myself, but I tried to remember that this lesson was for the kids.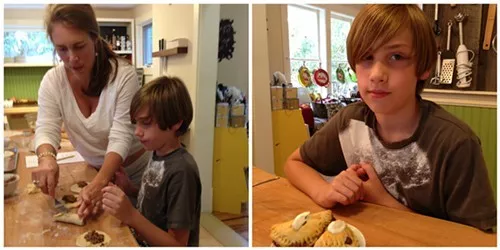 Making empanadas was a fully hands-on endeavor for them. Covered in flour and sporting smiles, the kids were clearly having fun. Chef Contos taught her students how to make the dough and stuff it full — but not too full — with a variety of local, organic ingredients (which pleased this locavore-loving mom).
First, the group made savory bean-and-cheese empanadas. Next, Chef Contos announced, "We're going to fill our sweet empanadas with these local apples! What should we add to them?"
"Cinnamon!" Charlie suggested eagerly. As those empanadas baked, the kids shook up fresh whipped cream in chilled glass jars.
On the drive home, Charlie informed me that our afternoon with Chef Contos was "the best cooking class I've ever been to." As a mere drooling bystander, I may need to sign up for one of her adult cooking classes so I can see for myself.
Chef Contos offers a variety of classes for kids and adults. Find out more at chefcontos.com or stop by the store at 65 Falls Rd. in Shelburne.
Tasha Lehman is a regular contributor to Kids VT. She lives in Vermont with her husband, Matt, and their three sons.