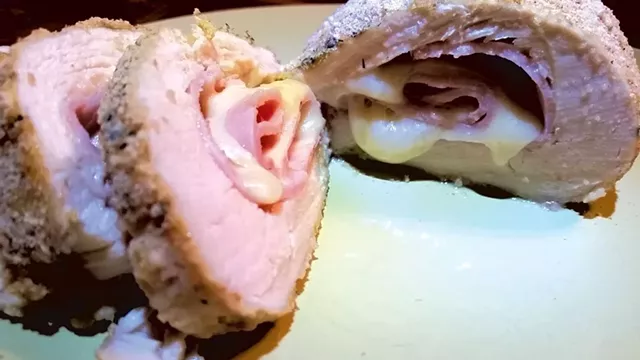 In the cold, dark winter comes Valentine's Day, a perfect time to show your family you love them with something delicious. When I think about romance, French food always springs to mind. And, while it may not be traditionally French, chicken cordon bleu, in all of its ooey-gooey glory, is perfect for the occasion.
Many people think that "bleu" refers to blue cheese. False! Cordon bleu simply means "blue ribbon" — because the dish is so dang good it's deserving of one. I've read that the original recipe was a veal cordon bleu, and that it may have been inspired by chicken Kiev (a butter- and herb-stuffed breaded chicken dish). According to my internet search, the first mention of chicken cordon bleu was in the New York Times in 1967.
Regardless of its provenance, the dish certainly feels French to me. Plus, stuffing anything with cheese is always a win in my family.
I used a very mild Swiss cheese when preparing this recipe because no one in my family, except me, really loves a good, strong Swiss. A three-step breading process — using flour, egg and breadcrumbs — ensures a super-crispy coating that doesn't fall off of the chicken.
A key to this recipe is getting the chicken nice and flat. If you don't have a meat tenderizer, you can pound the chicken with a heavy cast-iron pan — it's really fun! Think of it as a way to take out your pent-up aggression on the bird — not your loved ones.
I served the finished dish alongside rice pilaf and spinach, and it was divine! Add candles and voilà: a romantic dinner.
Chicken Cordon Bleu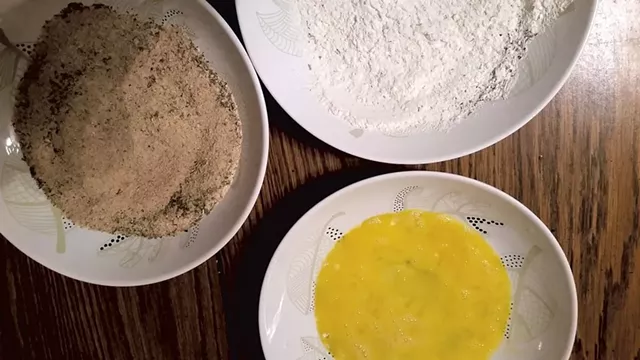 Ingredients:
4 boneless, skinless chicken breasts
4 tablespoons Dijon mustard
About ½ pound sliced smoked ham
About ½ pound sliced Swiss cheese
In the flour bowl:
½ cup flour
1 teaspoon pepper
1 teaspoon salt
1 teaspoon Herbes de Provence (or a mixture of dried savory, rosemary, thyme and marjoram)
In the egg bowl:
In the breadcrumb bowl:
½ cup plain breadcrumbs
1 tablespoon Herbes de Provence
Directions:
Put the chicken on a cutting board and cover with waxed or parchment paper. Flatten the chicken breasts using a meat tenderizer or a heavy cast-iron pan until they are very thin but not broken. You want to be able to roll them up.
Spread 1 tablespoon Dijon mustard on each flattened chicken breast. Lay a few slices of ham on the chicken breast, followed by a few slices of cheese, then top with ham again. Roll each piece of chicken tightly around the filling and secure with toothpicks.
Repeat with the remaining chicken.
In three wide, flat bowls, prepare the breading station. In the first bowl, add flour and seasoning. In the second, beat the eggs. In the final bowl, add the breadcrumbs and seasoning.
Carefully dip each chicken roulade in flour, then egg and, finally, breadcrumbs. Place on a baking sheet lined with parchment paper and chill in the refrigerator for at least 20 minutes, or as long as overnight. (Cover if it's going to be in the fridge for a long period of time.) This chilling helps to keep the filling from leaking out while cooking.
Preheat the oven to 350 degrees. Bake the chicken for about 35 minutes, or until the internal temperature is 165 degrees. Remove from the oven and let rest for about five minutes. Slice into rounds and serve with your favorite sides.