Hannah Palmer Egan
Chef Brad's CrazySide
A pastel-painted school bus was parked on the hill that rises behind the shops at Fat Hat Corner in Quechee. On a warm and muggy June night, the steep bank bloomed with Sweet William and lupine; fragrant yarrow was just starting to bud. Inside the bus, a handful of people sat on plastic lawn chairs in a makeshift dinette. They sipped beers, which were sweating in cardboard six-packs, and snacked on burgers and burritos. A lazy cross-breeze passed through the narrow sliding windows.
From there, a path descended to a gravel parking lot, where Brad Pirkey and Stefani Duin dished out fish tacos and other laid-back cuisine. As chef-owner and hostess, respectively, at Chef Brad's CrazySide, the pair often serves 100 or more guests per night. Their kitchen? A bright-yellow Top Hat camper — vintage 1986 — with a striped awning and raffia fringe below the service window. Depending on the weather, visitors sit on picnic tables in the parking lot, on the bus or in a small dining area in one of the wooden storefronts on-site.
Pirkey first opened CrazySide as a summer stop in 2012. After 15 years running the Corners Inn in Bridgewater Corners (new owners redubbed it Z Corners Inn a few years ago) and a year traveling America's Atlantic, Gulf and Pacific coasts, the Killington-Woodstock native was short on cash. But he wanted to make some creative work for himself back in the Upper Valley.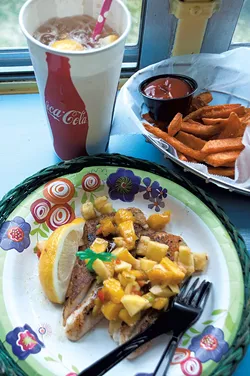 So he "offered this guy on Craigslist half of what he wanted for a food truck," Pirkey recalled. He parked it at a friend's farm in Bridgewater and served burgers, tacos, fish and chips. After a drunk driver smashed into the truck in May 2014, Pirkey said, "some really wonderful people" hooked him up with the camper. They helped him outfit it as a tiny "dream kitchen," and he reopened CrazySide in Hartland that August.
Over the years, the food evolved. Recently, Pirkey said, he's been into fish. Along with his usual falafel burgers and pulled-pork sandwiches, last week's menu featured jumbo shrimp and chips and blackened New England redfish fillets, which were flaky and mild beneath diced mango and pineapple.
In October 2016, Pirkey rented a small storefront at the intersection of Quechee Main Street and Route 4, a few miles north of Quechee village. With limited kitchen equipment, he served lunches of quiche and Reubens and pork tamales through Easter Sunday. This spring, he suspended lunch service, parked the camper outside the storefront and relit its burners. Despite the camper's small size, the chef said, the mobile galley is better equipped than the café kitchen for cooking supper. Guests can still eat in the café if they choose.
For drinks, it's BYOB, which means you could stop at Route 4 Country Store for a six-pack of beer on your way in. But for those who can abide a dinner without booze, Brad's "crazy" root beer is brewed and bottled by Private Label Specialties in Goffstown, N.H. Lemonade and sodas are on offer, too.
Last week, I sat between canary-yellow walls on the bus with four friends, nursing a cool and lemony Arnold Palmer and daydreaming about Tom Wolfe's ride-along with Ken Kesey and the Merry Pranksters, circa 1964. Simultaneously, I tried to figure out just how many crisp and creamy sweet potato fries would fit in my mouth at once.
I also kept stealing bites of my husband's Indian butter chicken burrito. It swaddled tender hunks of coconut-curried chicken laced with ginger and chile, along with long-grain rice, black beans and Jack cheese. It was somehow complex and comforting.
Hannah Palmer Egan
Inside the bus
The bus — bench seats removed — can accommodate maybe 15 people if they squeeze. During my visit, an old Bose tuner radio played a mix of oldies, 1970s pop and mainstream disco. Behind us, a little kid in tractor-print pajamas sat in the bus' big bucket seat playing driver. He looked back at us and giggled in the long rearview mirror as his parents enjoyed a quiet dinner at a picnic table near the bus.
Hostess Duin, with her cropped mop of blond curls, red lips and pale-blue eye shadow, appeared at the back door of the bus to check in. "How is everything?" she asked, radiating a smile that warmed everyone present. We all nodded, smiling awkwardly with mouths full, unable to answer. Satisfied, Duin turned and ran back down the path. Her green floral dress, with blue floral apron atop it, swayed as she descended the hill.
Meanwhile, Pirkey flipped burgers and fried fish inside the camper. "Order up!" he shouted, as Duin opened the camper door to bring dinner to another guest. Outside, a small handwritten sign near the grill advised, "Brad Can't Hear You." That's probably for the best, the chef said, noting that things go better if he just keeps quiet and cooks.
"The hotter and busier it is," he said, "the happier [Duin] is. She makes me look good."