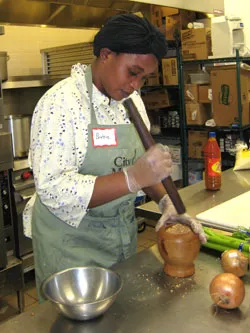 As we arrive for her cooking class, Beatrice* is pounding peanuts with a wooden mortar and pestle and simmering minced cassava leaves on the stove. Their pungent, grassy aroma fills the room. The steel work table is littered with empty peanut shells, two clear bags of cassava flour and a plastic bottle of red palm oil.
Inside the fluorescent-lit kitchen of the Sustainability Academy on North Street in Burlington, Beatrice is prepping to show a dozen onlookers the basics of a Congolese meal. Her menu includes ugali, a polenta-like dish made by adding cassava-root flour to hot water. The ugali, in turn, will sop up the juices of Congolese cassava leaves with chicken. These are the dishes we are here to learn, and Caroline Homan, the food education coordinator at City Market, has printed out copies of each recipe.
But Beatrice, 40, has quietly altered the plan already. She's unexpectedly brought along peanuts, and her husband and translator, Etienne*, has disappeared to find some more. After he returns, he dashes out again to grab a can of sardines and a huge tub of peeled plum tomatoes. None of these ingredients are included in the printed recipe.
The class organizers, from City Market and the Vermont Refugee Resettlement Project, take it all in stride. Despite her language challenges and the gawking visitors, Beatrice moves calmly through her prep, her gentle face nearly expressionless as she sets up a few people to chop onions and examines the Misty Knoll chicken parts provided by Homan. Like any exacting chef, Beatrice studies them with raised eyebrows. I wait with bated breath to see if the wrong meat will sink the meal, but she eventually deems the chicken OK, and participants begin chopping it into smaller pieces. Beatrice may not speak English, but this meal is under her total command.
Beatrice and Etienne arrived in Burlington in 2010, one of several Congolese families resettled here in recent years. As some of their nine children began school, the couple found jobs at City Market, where both work in prepared foods. They jumped at the chance to teach others about their native cuisine.
"People who come here always feel like they're getting more than they're giving. They're so gracious," says Laurie Stavrand, VRRP's community partnership coordinator, as she watches Beatrice cook. "Yet they bring so many gifts with them."
Including their stories, full of twists and turns that most Vermonters might find unfathomable. As Beatrice chops, pounds, sautés and stirs over the next two and a half hours, Etienne, 55 — who speaks four languages, including English — pieces together the journey that brought his family here.
In 1999, Beatrice, Etienne and five of their then-six children fled their hometown of Kalemie, a Congolese city on the shores of Lake Tanganyika. The brutal, ongoing wars in the Democratic Republic of the Congo had claimed millions of lives, and hundreds of thousands more had fled the violence. In the chaos of violent insurgencies and sudden departures, many families were split up. When the family abruptly left their home, they lost their 4-year-old daughter, and they wouldn't learn what had become of her for another seven years.
The family ended up in refugee camps in neighboring Tanzania. In my notebook, Etienne carefully writes down the names of the camps where his family spent 11 numbing years: Lugufu, Mkugwa, Nduta, Kanembwa. Here, each person was given a ration of two kilograms of food — cassava flour, beans, salt and oil — that was to last for two weeks. "You eat once a day. If you eat two times a day in a refugee camp, you would use all of your food," he says.
Still, they were luckier than most. In Kalemie, Etienne had taught chemistry and biology to high school students; in the camps, he earned extra money by teaching French. Beatrice earned some as well, by cooking in what they both call "a restaurant" in the camp. Like most Congolese women, Beatrice had been taught to cook in childhood. "In Africa, if a girl doesn't know how to cook, she won't get married," Etienne explains. He'd married Beatrice when she was 17. They had three more children in the camps.
As Beatrice browns the chicken in canola oil, Etienne explains how, in 2006, they found out from a friend that their daughter was alive and living in Dar es Salaam, the Tanzanian capital, hundreds of miles away. A few months later, the family had a joyous reunion with her, then 11, in the Mkugwa camp where they were living.
There are more than 10.5 million refugees around the world, according to the United Nations High Commissioner for Refugees, but only 160,000 or so get resettled each year in a handful of countries. Despite the odds, in 2009 Etienne began the immigration process, filling out an application and undergoing background checks. He wouldn't be able to choose his family's destination, he knew, but refugee agencies try to cluster people from the same countries. In Burlington, the VRRP is building communities of Somali Bantu, Iraqi, Bhutanese and Congolese refugees, among others.
Beatrice and Etienne arrived in Vermont last year with most of their children — the oldest is 24 — and now all of them are in the United States. In this strange, cold place, speaking Swahili and eating Congolese food were the only connections to their former lives. In the morning, the family has mandazi, a fried bread similar to doughnuts; later in the day, Beatrice might combine meat and vegetables purchased at Costco with cassava and palm oil from an African market on North Street.
In the class, Beatrice puts the finishing touches on this meal, adding canned sardines, oil, garlic and minced celery to the boiling cassava leaves. At her right hand is Caroline Grace Casey, a University of Vermont student who has traveled in Ghana and interned at VRRP this summer.
Casey has become intrigued with the culinary culture refugees bring to Vermont. This summer, she visited many in their homes, taking notes and pictures of 40 dishes for an upcoming cookbook, A Mosaic of Flavors: New Americans Adding Spice to Life in Vermont.
The project hasn't been without its challenges. "Nobody cooks from a recipe. They've just learned to make these recipes handed down to them over generations," says Casey. "The whole idea of written recipes is foreign to them." For her book, Casey tried to judge cooking times and ingredient amounts, and tested each recipe at home. "[Beatrice will] just pour the oil, and I'll say, 'That looks like a half-cup,'" she notes. When the cookbook comes out this spring, profits from sales will go toward purchasing pots, pans and other cooking implements for refugees.
About an hour past the class' official end time, Beatrice is still sprinkling cassava flour into a pot of boiling water. Suddenly she breaks into a vigorous stir, and then turns out the mound of ugali into a bowl. It resembles sticky mashed potatoes. We break off pieces into our bowls, spooning the chicken and its sauce, as well as soupy cassava leaves, on top.
The ugali is squishy and smells vaguely of maize. The chicken is falling-off-the-bone tender, and its sauce is vaguely fishy and warming. All of the pungent components — sardines, celery, garlic, peanuts, even the grassy cassava — blend so that none overpowers another. The meal is nutty and salty, vegetal and savory, all at the same time. I fold the ugali with my hands to scoop up every last bit of sauce.
Going back for seconds, I ask Beatrice how she feels when she cooks: Does she see it more as work or as a pleasure? A flurry of Swahili passes between her and her husband. "Happy," he says. "It makes her feel happy."
* Last names withheld by request.
Chicken with Tomato Sauce
1/2 cup vegetable oil (divided)
2 pounds chicken thighs and breasts
1 onion, chopped small
1/2 cup canned whole tomatoes with sauce
1 teaspoon salt
1/2 cup water
Heat 1/4 cup of oil in a large pot over medium-high heat. Once the oil is hot, add chicken and brown on both sides until the chicken is done.
In a separate pot on medium-high heat, add the rest of the oil. Once the oil is hot, add onion and simmer until tender. Add tomatoes and cook for 10 minutes; add salt and chicken. Add 1/2 cup water and let boil for another 10 minutes. Serve. Serves 4.
Ugali
4 cups water
3 cups cornmeal
Boil water in large saucepan. Pour cornmeal into water very slowly while stirring to avoid clumps. Constantly stir for about five minutes until it is very thick, almost solid, and begins to pull away from the sides of the pot (add more cornmeal if needed). Serves 4.
Sombe Cassava Leaves
1 gallon water
1 package cassava leaves
3/4 cup zomi sauce (palm oil)
1 onion, sliced
2 tablespoons minced garlic
4 ribs celery, sliced
1 tablespoon salt
1 cup peanuts
Boil 3 liters (4/5 gallon) of water in a large saucepan. Put frozen cassava leaves in and simmer for an hour on low.
Add zomi, onion, garlic, celery and salt to pot. Cover and cook for about 20 minutes. While it is cooking, mash peanuts into a paste with a mortar and pestle and add to the cassava leaves once they are done. Serves 6.