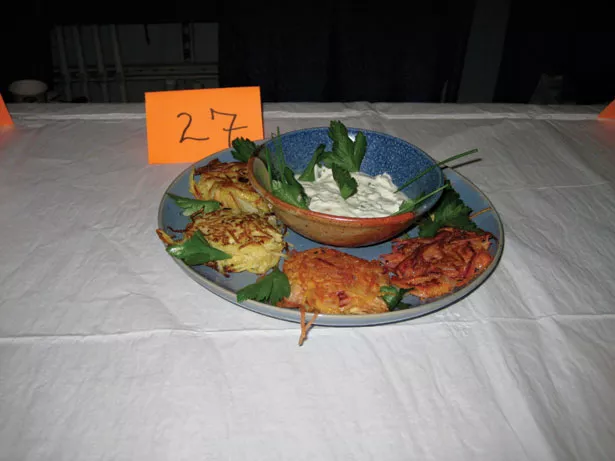 It didn't make the Food Network, but the heat was on last Saturday when 12 groups of high school students showed up for Vermont's first annual Jr. Iron Chef competition at "Kitchen Stadium," a.k.a. the "Blue Ribbon" building at the Champlain Valley Expo. The budding cooks competed for a trio of prizes: "Most Creative Dish," "Most-Best Use of Local Ingredients" and "Best in Show." Earlier in the day, 23 teams of middle-school students went head to head for the same honors.
The culinary competition - which asked students to create recipes that used five or more local ingredients and could easily be replicated in a school cafeteria - was a benefit for VT Feed and the Burlington School Food Project. It capped nearly eight months of planning and organizing. "I think it was an astonishingly successful event," boasts Stephanie Clark of the Burlington Legacy Project. "A lot of people came out to support it, and I was really happy with the enthusiasm and the energy of the participants."
Participants in the Intervale Center's Healthy City program, won "Best in Show" for their trio of colorful veggie tater tots with a creamy dipping sauce.
For observers, it was a chance to learn about Healthy City, which Director Jenn McGowan calls a program for "kids who want to make a difference in their community." The youngsters work 25 hours per week all summer, learning how to grow vegetables for a CSA and three farmers' markets, as well as for Fletcher Allen and the Chittenden Emergency Food Shelf.
Currently, Healthy City is still accepting applications for youth who are interested in the program, as well as for prospective CSA members. This year, 75 shares are on offer.