Caleb Kenna
Food writer Andrea Chesman at her home in Ripton
When cookbook author Andrea Chesman was very young, her grandmother Esther Lewin lived with the family in Troy, N.Y. Lewin often cooked with poultry fat, known as schmaltz in Yiddish. After she'd rendered the schmaltz from chicken skin, tantalizing crisp nuggets remained, Chesman explained. These "gribenes," as they were called, cooled on a plate on the counter, the rich aroma drawing little Andrea toward them.
"I remember being this high," Chesman said, holding a hand at counter height in her Ripton kitchen on a recent morning. "I would say to myself, They won't notice if I take just one," she recalled with a smile. "I don't ever remember them making it to the table. I think the adults ate them all."
Courtesy Of Storey Publishing
The Fat Kitchen: How to Render, Cure & Cook With Lard, Tallow & Poultry Fat, by Andrea Chesman, Storey Publishing, 304 pages. $24.95.
Over the last few years, Chesman, 66, has had ample opportunity to make up for all the gribenes she missed as a child. The prolific author of more than two dozen cookbooks has been working hard on her latest, The Fat Kitchen: How to Render, Cure & Cook With Lard, Tallow & Poultry Fat, released November 13 by Storey Publishing.
The book celebrates the kind of cooking fats that were standard ingredients for cooks of Esther Lewin's generation until public health and nutrition guidelines — combined with the rise of processed seed oils such as soybean and corn — pushed them out of most kitchens.
The idea for The Fat Kitchen was seeded by Chesman's previous book The Backyard Homestead Book of Kitchen Know-How: Field-to-Table Cooking Skills, which included a section on rendering fat from backyard-raised animals. "But it took a year to convince my publisher," she said. "They were worried nobody would buy it because animal fats had been demonized for so long."
Recently, though, a movement to bring animal fats back into America's culinary repertoire has gathered momentum. Advocates such as Chesman believe that fat from animals raised in specific ways can and should be part of a balanced diet, even delivering health benefits from good fats known as omega-3 fatty acids.
"The picture has never been nuanced enough," she said, referring to scientific studies that blamed animal fats for public health crises such as obesity and diabetes. While mainstream nutritionists and public health experts have not done a complete about-face, many now acknowledge that the increase in diet-related disease involves a more complex web of factors, including significantly higher consumption of processed foods containing refined carbohydrates and sugars.
Caleb Kenna
Chicken fat
As Michael Ruhlman, renowned writer on food and cooking, observes in his foreword to Chesman's book, "We live in a time of widespread confusion about food." Fat, he states firmly, "isn't bad; stupid is bad. Healthful cooking and eating is about balance, not avoidance."
Chesman also argues that using the fat of animals helps reduce food waste and supports local, small-scale farmers by valuing more parts of the animals they raise. In addition, she said, "The point is that it all tastes really good." Crusts are flakier with fat, fried foods are crispier without greasiness, and cookies rise higher, she noted. Overall, through her years of testing recipes from savory to sweet, she found that "taste and texture are so improved."
Chesman set out to prove her point by cooking a parade of dishes using various animal fats, starting with local popcorn popped in duck fat. But first she had to take a cast-iron skillet of apples cooked with cinnamon, brown sugar and duck fat out to her "auxiliary fridge," aka her screened porch. The apples would later be encased in a lard crust.
Walking through the dining room, Chesman noted that the original part of the farmhouse, where her family has lived for more than two decades, dates back to the 1860s. Across the street, visible through the front windows, stands a little white cottage where Robert Frost once lived. On the wall beside a built-in curio cabinet hangs a framed photo of the poet having tea in that very room. It appeared in Life magazine in the early 1960s.
In one corner of the room, red kuri squashes sat curing beside baskets of green tomatoes from the family's extensive gardens. A bookshelf was stacked with pickles, jams, canned tomatoes and beets, and maple syrup.
Chesman returned from the porch with a tray of canning jars and a glass baking dish filled with fats. Normally, she clarified, cooks would keep these in the fridge, or in the freezer for longest preservation. All had been through the rendering process, which involves chopping chunks of fat cut from the animal into small pieces and slowly melting them until liquid. Then any impurities, such as connective tissue and blood, are strained out, she explained. The resulting fat varies in texture and color from solid, sliceable white beef tallow to spreadable golden chicken fat.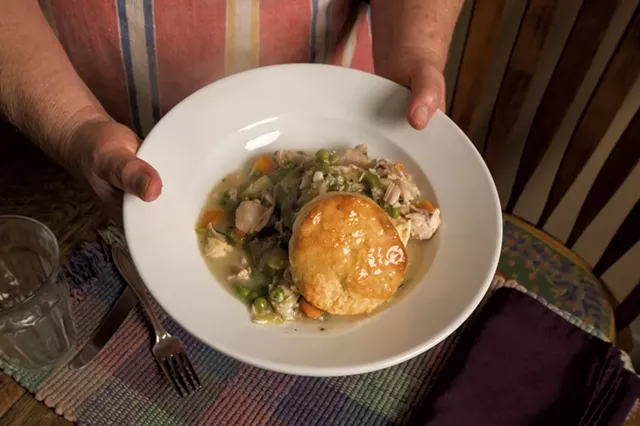 Caleb Kenna
Chicken and biscuits
Properly rendered, Chesman said, fat should be mostly neutral in aroma and flavor, although her collection offered a few exceptions. The bear fat, for example, smelled slightly nutty. Chesman's 28-year-old son had hunted the animal a few weeks earlier. Bear fat has a mixed reputation, she acknowledged, but as long as the animal is chilled immediately and butchered promptly, "the fat is delicious."
A trio of jars containing pork leaf lard demonstrated the different stages at which each had been pulled from the same pot of melting fat. The whitest had been removed earliest in the rendering process. Two other jars labeled "porky lard" were poured off as the cracklings, or impurities, browned in the rendering fat and flavored it. One of them held the fat from the final minutes of rendering; it was the color of aged parchment and offered a whiff of roasted ham.
Although bear fat wasn't on her planned menu, Chesman graciously agreed to sauté some cauliflower florets in it for a taste. They were delicious, the nutty vegetable complemented by the light, clean nuttiness of the fat without a hint of gaminess. While she cooked, Chesman explained why animal fats have been given a bad rap.
"People conflated all animal fats with exclusively saturated fat, but they're not," she said. "They're anywhere from 50 to 60 percent monounsaturated fat." There is increasing scientific evidence, Chesman claims, that in the fight against diet-related diseases, "It's more than likely the medical, public health and nutrition community focused on the wrong villain."
According to Chesman's research, which she details in her cookbook, chemically extracted vegetable seed oils actually present the greater risk to human health. She does note that cold-pressed olive oil is a traditional source of fat and an exception.
"Human beings evolved eating animal fats," Chesman pointed out, until vegetable oils were mass-marketed and largely took their place in American kitchens in the mid-20th century. "It was the thing to do. We thought it was for health reasons," she said.
Chesman cautioned that she is not advocating consuming supermarket lard or rendering your own fat from conventionally raised meats. She buys most of her fat from Vermont farmers who raise their animals on pasture, which delivers meat and fat with beneficial omega-3 fatty acids.
Working some of that local, pastured lard into the crust for an apple tart, Chesman explained the culinary benefits. The pastry would be flakier because the fat has a higher melting point than butter, she said, "so the pastry has more time to set up and form its structure before the fat melts."
The pastry went out on the porch to chill, and Chesman turned her attention to the chicken-fat-and-buttermilk biscuits that would top chicken-and-vegetable pot pie filling.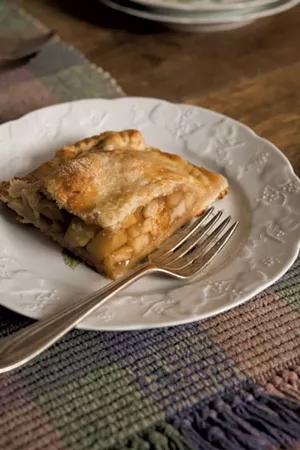 Caleb Kenna
Duck-fat caramelized apple tart
That filling, which she had already made, started with bone-in, skin-on chicken thighs. "I never buy boneless, skinless chicken," Chesman said. "Chicken tastes so much better cooked on the bone, and I just pull off the skin [before cooking] to freeze it for rendering later." She also collects fat from all the whole chickens and chicken parts she buys and adds it to containers in the freezer until she has enough to render efficiently.
The topic prompted her to pull out a container of gribenes from the fridge to warm in a small cast-iron pan for another prelunch snack: "a little Jewish treat," she said happily. Finished with some diced onion and cooked until mahogany, the crisp morsels would not only make the best bar snack ever but could crown a salad, add crunch and flavor to a turkey sandwich, or sub beautifully for fried onions on the Thanksgiving green bean casserole.
The animal-fats tasting menu continued with lunch around the table in what Chesman called "the Robert Frost memorial dining room."
The biscuits had baked up tall and fluffy, kept separate from their bubbling filling so they wouldn't get soggy, she explained. The lard crust of the duck-fat apple tart achieved the simultaneously tender and flaky ideal, complemented by the slightly savory fruit filling. After the meal, Chesman beamed and readied to attack the big pile of dishes. "I have a compulsion to feed people," she said.
Duck Fat-Roasted Brussels Sprouts with Pomegranate-Mustard Drizzle
Adapted slightly from The Fat Kitchen: How to Render, Cure & Cook With Lard, Tallow & Poultry Fat by Andrea Chesman
Roasting is the very best way to prepare Brussels sprouts — with any animal fat. Do not overcrowd the pan, or the lovely sprouts will steam rather than sear.
Ingredients
¼ cup (1.7 ounces or 50 grams) duck fat or any poultry fat
2 pounds Brussels sprouts, halved (or quartered, if large)
2 apples, peeled and diced
½ cup walnut pieces
2 garlic cloves, minced
Drizzle
2 teaspoons pomegranate molasses or apple cider syrup
2 teaspoons balsamic or apple cider vinegar
1 teaspoon Dijon mustard
1 teaspoon maple syrup
Directions
Preheat the oven to 425°F. Place a half sheet pan in the oven to preheat at the same time.
Put the duck fat on the hot sheet pan and turn and tilt until the fat evenly coats it. Add the Brussels sprouts and toss to coat with the fat. Spread out in a single layer on the pan.
Roast for about 10 minutes, until the sprouts are mostly tender and lightly colored. Add the apples, walnuts and garlic and continue roasting for another five minutes, until the sprouts are lightly browned and tender. Stir or shake the pan once for even cooking.
While the Brussels sprouts roast, combine the molasses, vinegar, mustard and maple syrup in a small bowl and whisk to blend. Drizzle over the hot Brussels sprouts and apples and serve immediately. Serves four.