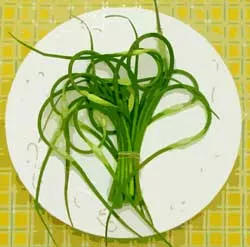 Carol Egbert's garlic scapes
Many food blogs are liberally sprinkled with so-called "food porn" — sensual, close-up shots of plump, colorful pieces of fruit, moist slices of sashimi and carefully composed salads. But Carol Egbert of Quechee puts a different twist on hers at carolegbert.blogspot.com. The local artist intersperses photographs with paintings done in watercolors or oil.
"I have lots of images of food," Egbert explains. "For a long time I've had the idea of creating a cookbook, and I have an art blog, so it seemed clear that a food blog was exactly what I needed to do."
Although some of Egbert's posts include musings on ingredients and her community, many are recipes, written in an intimate style and illustrated with her paintings and photographs. "I sent two sons out into this world as capable cooks," she explains. "I would write recipes for them in the style used on my blog … Not so much uptight, precise, exact, but so they would know that you could substitute lemon peel for lemon grass if you have to.
Her paintings range from a loose, fun picture of a coconut cake with birthday candles to detailed and lifelike depictions. A June 27 post about garlic scapes features the alliums atop a white plate on a yellow tablecloth. It's evocative enough that a viewer might need to look twice to determine that the picture is indeed a painting. Her description is just as lovely: "Garlic scapes, the curly stems of hard neck garlic, appeared for the first time this season … When young, tender and bright green, each scape is topped with an immature seed pod that looks like the beginning of a byzantine dome."
Working on the blog has one unintended consequence: delayed dinner plans. The other night, Egbert says, laughing, "Once I figured out what to do, we ended up having dinner at 9:45."