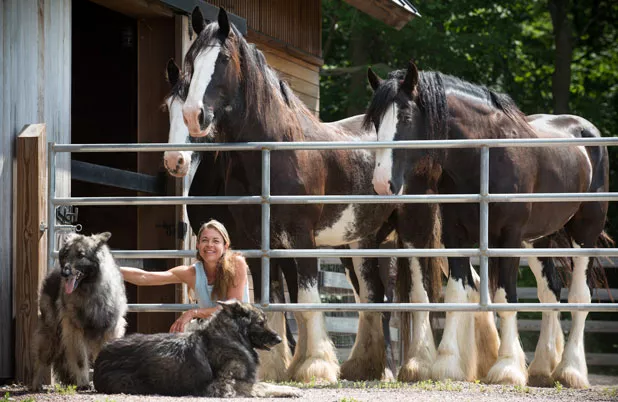 Can animals talk? Or, more to the point: Can we hear what they're saying? Absolutely, according to a contingent of animal communicators — sometimes called pet psychics — who claim to intuit and interpret animals' inner voices. And we're not talking about interpreting a bark that means "I want to go out" or "I'd like some dinner, please" — we're talking about "vibrational frequencies" and "telepathic communication" and "spirit guides."
Sounds crazy, right?
To preface this story, let me explain that I'm a common-sense kind of girl — and yet, in spite of that, there's a part of me that sort of wants to believe in the occult. Maybe I read too many fantasy novels growing up. Maybe I'm just open minded.
Either way, when a no-nonsense acquaintance told me she's contacted an animal communicator, I was curious. This friend and her husband were heading off on a months-long backpacking adventure and were leaving their dog with her parents. They wanted to let their pet know, somehow, that they weren't abandoning him for good. To hear her tell it, the psychic passed along messages from the dog such as "The man with the ponytail is nice" — that being the woman's father — but the family's golden retriever "doesn't like to play with me." How could the psychic have known such eerily specific details?
So I set out to survey a few of Vermont's animal communicators about their work, their "gift" and, just for curiosity's sake, the inner workings of one dog's mind.
I enlisted an unwitting accomplice: my puppy Sally, a 5-month-old wirehaired pointing griffon. In my preliminary conversation with the first animal communicator — Cathy Wells of Shelburne — I slipped up and gave away a few details of Sally's life on our Shoreham farm, including her energetic nature and her run-ins with our resident goats and cattle. I tried to be more circumspect with the other psychics, sharing only her breed, name and age.
Most animal communicators work from a distance. Typically, clients will email a few photos of their animal. Wells, for instance, asks for at least one head shot with a good look at the dog's eyes, so she can make a better connection. Some ask for specific questions they can explore while conversing — telepathically — with the animal. Wells isn't really interested in general stuff such as "Is my dog happy?" or "What kind of dog food does he like best?" She compares herself to a doctor — the person you seek out when there's a bigger issue to address.
Here's the thing about Sally, though: It's not too hard to guess what's going on inside her mind at any given moment. She's an extremely happy (and fairly typical) puppy. I was skeptical that the animal communicators would give me any startling insight into her psyche. Would her biggest complaint be that she's not allowed on the furniture?
Every communicator I contacted has a different way of working. Burlington resident Jeanne Miller, the 59-year-old author of the self-published The Pet Psychic Diaries, will perform a reading for $35. She works by email — her clients send along a photograph and some questions, and Miller writes back with a detailed explanation of the "conversation" she's had with the pet. Miller was raised Catholic and, though she's no longer practicing, she says she's found certain prayers useful in establishing a connection in the spirit world. She uses the rosary as a form of meditation and then says she enters a sort of sacred space, where a "spirit guide" will lead her to the right animal. The animals communicate with her verbally — "I try not to question it too much," she explains. She says she's connected with all kinds of animals: dogs, cats, a rabbit, horses. "They yack," she says with a chuckle, referring to the horses. "Oh, my God, are they talkers."
Barbara Molloy, 61, of Johnson, likens her work as a communicator to "tuning in a radio channel." (When Molloy isn't working as an animal communicator, she teaches art at Johnson State College.) You figure out where the channel is, she says, and "you consistently go back there." She'll receive readings by way of pictures, or sometimes a particular smell or sound. Other times she'll pick up on an intense emotional signal.
Molloy adds that it's not just companion animals that can communicate on that channel, though those are her most frequent clients. "Once you accept the premise that you can communicate, you can really communicate with any species, anywhere, at any time," she says, adding that animals are often shocked to encounter a human who can "hear" them. "I've had wonderful experiences with yellow jackets. I've worked with grasshoppers," Molloy notes. She even claims to have communicated with stones — which she says were none too happy about being constrained in a rock wall.
Wells — who manages a team of four draft horses at Shelburne Farms — starts her animal communications by meditating. She'll spend time looking at the photograph a pet owner has provided, writing down any "instantaneous impulses" she receives, and then she'll "consciously connect with them vibrationally, from heart to heart. That takes practice."
Naturally, animal communicators deal with their share of skeptics.
"You have to try to remember how you felt before you got into this work. It sounds so out there," says Miller. More distressing than the skeptics, she says, are those who decry her work as "evil" or "the devil's work."
Molloy, for one, knows something about skeptics because, as she puts it, she's a "natural born" one.
"My first instinct is, 'Stop, this can't be,'" she says. "I don't feel like I'm really gullible. I'm a New Yorker; you gotta prove something to me first."
Wells, meanwhile, flat-out won't work with detractors. "If the person is putting out the energetic vibration of mistrust and disbelief, it totally messes up my connection with the animal," she says. "It's a self-fulfilling prophecy."
Of course, it's hard to prove (or disprove) something as intangible as animal communication. There's a devoted contingent of believers, and many of Vermont's animal communicators have studied under or reference one of the field's superstars: Penelope Smith, the author of Animal Talk. They also all point to success stories — heartwarming tales of passing on a comforting message from a dead pet, for instance, or easing tensions by opening up the lines of communication between pet and person. Ultimately, pet psychics like Molloy, Miller and Wells say they're dealing as much with human concerns as animal ones.
"I'm really working with people, and helping people through their animals," Wells says.
So what did I learn about Sally? All three pet psychics called her either a "sweetie" or a "sweetheart." This is true.
Miller's reading, which she emailed (with a blue clip-art background), mentioned that Sally has a ladylike demeanor, that she's dignified and polite — and that, unlike a lot of dogs her age, she's mature and didn't "jump around a lot" when Miller met her in the spirit world. Unfortunately, this maturity hasn't yet developed in the physical one; Sally practically levitates when excited.
Miller's reading, which included direct quotes from Sally, referred only to "Mom." My husband was quite disappointed that Sally apparently made no mention of him in her conversation.
Wells' reading ended up being more like a conversation. She asked where we acquired Sally — from a breeder in Québec — and exclaimed delightedly, "I knew it!" Wells also told me that "[Sally] is a bit of an old soul, and she's also a very young soul right now" — which made perfect sense. The psychic asked more questions of me than I did of her, and the reading felt like a useful consultation with an animal behaviorist.
In Sally's final reading, Molloy said that she's a "typical puppy" and didn't have any "great pearls of wisdom yet." But Molloy also told me that Sally "really tries to be good and do her best to listen." Her mother, before she left the litter, allegedly told the pup, "Do your best to please them and they will take care of you."
Was I convinced? Not really. The parts of Sally's "readings" that resonated the most were fairly generic: The dog likes shoes. She needs a "job." She's trying hard to please me. She's not keen on having her nails clipped.
That said, I have to admit that I enjoyed these readings immensely. All skepticism aside, there's something heartwarming about hearing your dog — allegedly — tell you how she feels. It's one thing to have her plunk her muzzle down on your knee and gaze up at you affectionately. It's another to hear, in plain English, that your dog loves you and wants to make you happy. Plus, it was surprisingly fun. I laughed out loud when Molloy told me that Sally sent her an image of herself "gnashing her teeth like a land shark" — a perfect visualization of Sally's puppy "mouthiness."
A few of Vermont's animal communicators told me that their skills — while practiced — aren't that uncommon.
"People say, 'Oh, I'd love to do that,'" Molloy says. "Well, you can. We all have the ability. It's just that I've chosen to hone those skills."
It's a lovely concept. But I, for one, won't be "tuning in" anytime soon: Sally and I have enough work cut out for us communicating "sit," "stay" and "come."