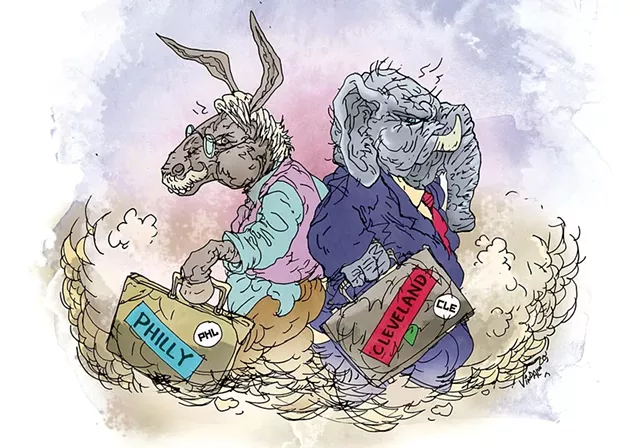 Brian Pine has never been to the Democratic National Convention. Then again, the politician he most reveres, Sen. Bernie Sanders (I-Vt.), has never been a presidential candidate. Pine is angling for a coveted delegate spot at the late-July convention in Philadelphia.
"My entire adult political life has been inspired by Bernie," said Pine, who came to Vermont to attend college the same year Sanders was elected mayor of Burlington. Post-grad, Pine served as a city councilor for two terms before becoming the city's housing director — a post he held for 17 years. "Finally, we have a national stage for Bernie to articulate his message."
Unorthodox candidates are also motivating people on the other side of the aisle. Nicole Citro has never been to her party's national convention but finds herself working to win a delegate slot at the mid-July Republican convention in Cleveland.
"I think this is probably the most interesting election cycle in my life," said the 46-year-old co-owner of an insurance agency, even as she admits the presumed Republican presidential nominee, Donald Trump, is flawed: "I can't say I necessarily like him."
Given how unpredictable the presidential campaign has been thus far, neither party's convention is expected to be, well, conventional: Can Sanders pull off the ultimate come-from-behind victory? Does the GOP find a way to shun the bombastic Trump?
Presidential candidates accrue "pledged delegates" according to election results in individual state primaries and caucuses. Knowing those numbers translate to bodies at the convention, they strive to reach a total — 2,383 for the Democratic nomination; 1,237 for the Republican nomination — that will assure a victorious floor vote. Failure to win a majority can lead to a "contested" convention. That's because, after the first round of voting, delegates can change their allegiance.
Pine and Citro both know they could end up supporting a candidate they don't particularly like. So, apparently, does everyone else vying for a ticket to the convention. Nonetheless, competition remains keen for delegate seats, particularly among Vermont Democrats energized by their home-state candidate.
Pine is one of 117 candidates seeking 11 pledged delegate slots. The chosen will join 10 "superdelegates" who can vote however they want; five more — to be selected in June — add up to a 26-member Vermont delegation in Philly.
Citro is one of 39 Republican candidates in the running for 13 delegate and 13 alternate seats in Cleveland.
This weekend, both parties select who gets to go. Vermont Republicans convene Saturday at the Sheraton Burlington Hotel & Conference Center, where 600 state delegates, previously chosen at town caucuses, will vote. Democrats do the same Sunday at the Barre Opera House.
Attending the national summit is no glamorous gig. Delegates pay their own way to the weeklong event, which can cost anywhere from $1,200 to $2,500, according to Republican national committeeman Jay Shepard of Essex Junction. There, inside a packed arena, they get to listen to countless, mostly sleep-inducing speeches knowing they're unlikely to have any impact on the outcome.
"The truth is, it's not a very substantive event. It's a big, weeklong party," said Rich Cassidy, the Democratic national committeeman from South Burlington who's been to more conventions than he can remember.
He conceded, "This could be the year that becomes the exception." Cassidy is going to Philadelphia as a superdelegate supporting Sanders.
"It's the energy," said Shepard, a veteran of three previous GOP conventions. "It's being part of something very important. There's a lot that goes on behind the scenes."
"You meet such interesting people," said Billi Gosh, the Democratic national committeewoman headed to her ninth national convention, this time as a superdelegate supporting Clinton. "And you bring your vision back home."
For Ds, the process starts around 11:30 a.m. Sunday in Barre and will likely take hours, said Conor Casey, executive director of the Vermont Democratic Party. Sandwiched between two rounds of speeches — from seemingly every elected, campaigning and retiring Vermont politician — each wannabe delegate gets the microphone for 30 seconds.
Cassidy, who will chair this year's state convention, recalled a similar large field of delegate candidates in 2008, as Democrats were eager to see Barack Obama become the first major-party black presidential nominee. "It was a long, hot, hard day," he said.
Democratic delegate candidates likely won't rely solely on the half minute of stage time to woo the 600 state delegates who vote. Most of them have been campaigning for a week or two. Delegate candidates have to network, send emails and post social-media messages, said Gosh, who attended her first convention in 1980 as a page before earning delegate status at later conventions.
Pine, 53, has enlisted friends and family to make phone calls on his behalf, reminding people of his long history as a Sanderista. He was a freshman at the University of Vermont in 1981, the year Sanders won election by 10 votes, and was immediately taken by the fiery progressive.
He's worked on every one of his campaigns since, including the current presidential one. In addition to knocking on doors and working phone banks, Pine helped on a Sanders campaign commercial. He offered his house and corralled coworkers to participate in the shoot.
What will Pine do at the convention if Clinton wins? Sanders won all 11 of Vermont's delegate votes in the primary election, but those results will be thrown out the window if Clinton has wrapped up the nomination by convention time.
Pine goes in knowing that's a possibility. If Sanders loses, he said, his goal is to make sure the Vermont senator's message becomes part of the Democratic Party platform. The hope is, Sanders will have enough leverage to influence policy positions in exchange for his support. Pine's pitch is that he knows Sanders well enough to represent his interests.
Then he'd vote for Clinton.
"Hillary is no Bernie, but she is a whole lot better than Donald Trump," he said. "If Bernie is unable to win enough delegates to secure the nomination, I will certainly support Hillary."
Making the transition from passionately backing one candidate to supporting that candidate's rival isn't easy, Cassidy said. He worked on the campaign of former New Jersey senator Bill Bradley in 2000, when then-vice president Al Gore won the nomination. "It wasn't a lot of fun for me. I didn't have a lot of faith he was going to win," he said of Gore.
Cassidy has the same worry this year. "I believe Bernie's going to win. My hopes are dimming, but I still have hope," he said. "It will worry me a lot to see Hillary get the nomination, but she's not just a hundred times better than Donald Trump, she's a thousand times better."
Both parties expect such loyalty. That's why former governor Jim Douglas isn't going to the Republican convention this year.
Douglas is not a big fan of Trump, and he acknowledged he's no revolutionary. Convention delegates aren't expected to be. "There's a sense of not stirring up trouble for the sake of stirring up trouble," he said.
He was planning to go to Cleveland "when I thought there would be an opportunity ... that might lead to a [John] Kasich nomination," Douglas said of the Ohio governor who has suspended his campaign. "Now it looks almost certain the Donald will have a majority by convention time."
Douglas isn't the only Vermonter sitting out the Republican convention because Trump is likely to be the nominee. Party executive director Jeff Bartley said 10 candidates dropped out of the running in recent weeks.
Still, Republicans have more candidates than delegate seats. Citro is competing for one, excited about the convention even if she isn't thrilled about Trump.
Conceding she worries about "his lack of knowledge as a politician," Citro tried to sound optimistic. "I'm hoping that he does have good people that fall in around him. Maybe that's what it takes to have someone who's from the outside."
Although she describes herself as a lifelong committed Republican, Citro is newly engaged in party politics. The Essex Junction resident got involved by speaking out in support of the Air Force's plans to bring F-35 fighter jets to Burlington. She has a blog, the Pretty Republican, titled after a comment she said she once received.
When it comes to casting a vote for Trump, Citro said she believes in the system and the party. "I don't think introducing a white knight at the convention is fair," she said. "I feel like, 'Say what you will or feel what you will about Trump, the process got us here.' ... I'm not in the camp that says he's the worst thing that's going to happen in the country."
Based on Vermont's primary election results, the state's Republican delegation will cast eight votes for Trump and eight for Kasich at the convention. But if Trump is the only nominee, that vote becomes moot, and the Donald gets all 16.
Darcie Johnston, a political consultant who lives in Colchester, is a Republican delegate candidate and Trump's state director. She remains worried about attempts to overthrow the nomination and has been contacting other delegate candidates seeking assurance they'll back her man. "I'm cautiously suspicious," she said.
Shepard, one of three automatic delegates this year, suggested they'll fall in line. And he's convinced Trump would be better than the Democratic Party's alternatives, even if he's "not 100 percent sure" the New York business mogul would be a good president.
"Regardless of what you think of Donald Trump, he's better than Obama. He's better than Bernie, better than Hillary," Shepard said. "There's no position he could take on any issue that is worse than Obama or Hillary or Bernie."
Shepard put Gov. Peter Shumlin on that list, too, even though he's not running for president.