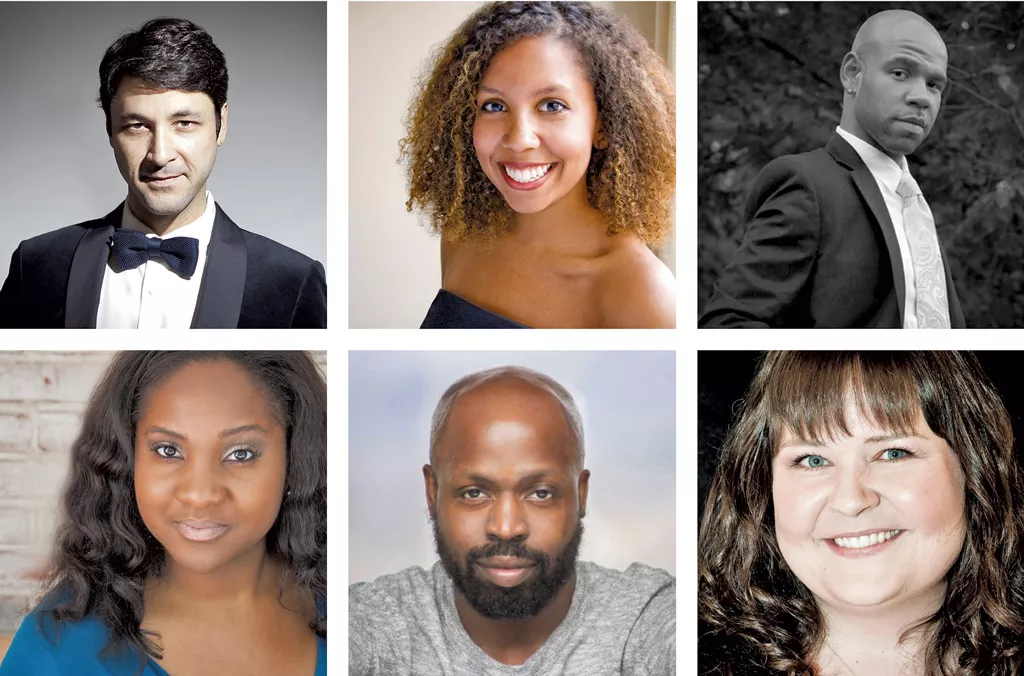 Courtesy of Jarvis Green
Contare Con Spirito
Earlier this year, ArtisTree Community Arts Center & Gallery in Woodstock inaugurated its new theater arts program, with 33-year-old Jarvis Green as director. In a phone call, Green waxes enthusiastic about the events he's organizing for the remainder of his first year with the nonprofit, including plays by Neil Simon and Shakespeare. But the entertainment he has planned for this coming weekend is his own creation: concerts by Cantare Con Spirito, a group of singers that includes Green, who acts as artistic director. He founded Cantare with three friends in 2014; it now numbers eight, plus a pianist.
Cantare Con Spirito will sing two programs, neither of a type often heard in Vermont. "An Evening of Opera and Spirituals," on Friday and Saturday nights, will combine highlights of both musical traditions. On Sunday, "An Afternoon of Art Songs" will feature solos by Cantare tenor Marco Jordao, who is a newly minted member of the Metropolitan Opera Chorus in New York. That famed group has won admiring praise in several recent New York Times and New Yorker articles. Its members, it's safe to say, rarely sing in Vermont.
Green's idea for the first program — opera arias in the first half and African American spirituals in the second — came from his own dual singing background. He's from South Carolina, where he "grew up in the church," he says, listening to and singing spirituals. Green trained as a baritone at Anderson University, then came to New York City, where he sang classically and performed in theatrical productions until moving to Vermont in 2011.
Putting the two traditions together in one concert isn't typical, but it works, Green says. "I think with opera in general, there's this emotional connection, even without knowing the text. I feel the same way with spirituals, but you get to understand the words. The emotional connection is the same."
New Jersey-based accompanist and music director Michael Caldwell finds thematic connections, too. Caldwell, who is also a baritone and will join the group on two a cappella songs, points out that the program's "Chorus of the Hebrew Slaves," from Verdi's Nabucco, resonates with the African American tradition. (Spirituals originated with slaves.) Both pieces refer to crossing the River Jordan, though in the African American tradition, that river is a metaphor for the Mason-Dixon line. "If you crossed, you could become free," says Caldwell.
Most of the other Cantare singers are classically trained African Americans with burgeoning careers in New York. But not every member of the group grew up "with that music in my ear," as soprano Alexandra Smith, 29, puts it.
Speaking from Manhattan, the Kentucky-born Smith says she didn't hear spirituals until college, when she began researching the tradition on her own. "I was always curious about the power of these songs, because they're really simple, but they have a rich history," says the singer, who earned a graduate degree at the Manhattan School of Music.
Plus, Smith adds, "People really expect it [of African American singers]. And that doesn't bother me. My friends who aren't African American go, 'God, I wish I could do those in recital.'"
Smith says one particularly inspiring discovery was a recording of Jessye Norman and Kathleen Battle's electrifying 1990 Carnegie Hall concert (available on YouTube), in which the duo sang spirituals with a full chorus and orchestra conducted by James Levine. This weekend's program includes two arrangements from the Norman-Battle concert, Smith says. One she'll be singing is "Scandalize My Name," which she describes as "two little church ladies gossiping."
"It's really fun to sing spirituals," says Smith.
The soprano is equally enthused about the operatic half of the program, which is packed with familiar greats such as "Soave il vento" from Mozart's Così fan tutte and "Bella figlia dell'amore" from Verdi's Rigoletto. Though she will sing in the New York company dell'Arte Opera Ensemble's production of Le nozze di Figaro in the fall, Smith says she doesn't get much opportunity to perform operatic hits in New York's more specialized recital scene.
Green admits the selections are "the top 10 in my book of opera arias," and many of the spirituals — including "Swing Low, Sweet Chariot" — will be familiar to audiences as well. He's heard several performances of spirituals since moving to Vermont, Green adds. But, he notes, "There's a different sound than the sound of where I came from." The latter, he says, is "not so perfect; it's kind of growly."
Green has posted numerous YouTube and SoundCloud clips that attest to Cantare members' impassioned delivery of spirituals as well as their high level of opera singing. But perhaps the best indicator of these concerts' promise is the way Green speaks of the group itself. He didn't sit down and organize it in any formal way, he says. "Ultimately, it's just a bunch of friends singing music that we love to sing."