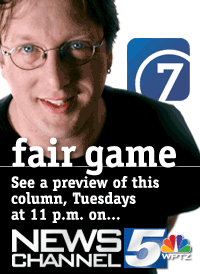 As officials scurry to find the source of a radioactive leak contaminating groundwater along the Connecticut River, one can't help but wonder: Shouldn't regulators have noticed this sooner?
Short answer: yes.
John Dillon spelled it out last week on Vermont Public Radio: Nuclear engineer Arnie Gundersen alerted the Public Service Department last summer that Entergy had likely lied to a special legislative oversight panel and state regulators about the existence of underground pipes — pipes that could be the source of previously undisclosed contamination.
Public Service Commissioner David O'Brien told VPR he's not sure if Gundersen's information was clear at the time.
"To my knowledge, Mr. Gundersen never came forward and said there are underground pipes carrying radionuclides, and here's the information that clearly supports that," O'Brien told VPR.
Oh, really?
On July 24, Gundersen copied O'Brien on an email that explained, "I have since become aware that there may be underground pipes that do indeed carry radioactivity at VY and am trying to understand this apparent discrepancy between published [Entergy Nuclear Vermont Yankee] reports indicating radioactive underground piping and what we said in the [legislative] report." In subsequent emails, he further detailed his evidence.
The source of Gundersen's evidence was a report from ENVY to the Nuclear Regulatory Commission dated May 14, 2009.
The report, posted on the NRC's website, makes it clear that ENVY found tritium and other radionuclides in on-site storm drains connected via underground pipes to the plant's operations.
The NRC report is dated just one week before Entergy officials Jay Thayer and Michael Colomb "misled" regulators under oath. Colomb signed the May 14 NRC report.
Whoops.
Both hemmed and hawed when regulators asked if VY had underground pipes that carried radionuclides, giving the impression there were none. They outright denied the existence of these pipes to a legislative oversight panel and a consultant hired by DPS. On Monday ENVY filed a report with the state confirming the plant has close to 50 underground pipes.
Why so much obfuscation?
Simple. Cleaning up the mess caused by leaking pipes can easily double the cost of decommissioning, as it did at nuke plants in Connecticut and Maine.
As of December 31, the value of ENVY's decommissioning fund was $428,369,568, down slightly from November 30, when it was $428,451,492. Before the recession, in September 2007, the fund was valued at roughly $440 million. It could cost $1 billion to decommission VY.
To answer Gundersen's claim, DPS turned to Entergy's state regulatory engineer, David McElwee. On August 13, McElwee responded by repeating the company line: Hear no pipe, see no pipe, speak no pipe. McElwee punctuated the final line of his email with "We consider this issue closed."
DPS considered it closed, too, until the tritium leak was detected. Doh!
In the NRC report, ENVY claimed the tritium levels were due to past problems at the plant, not new ones. Gundersen doesn't buy it.
"It is quite likely that the tritium in the storm drains was not old tritium but in fact an early warning of a leaky pipe," Gundersen told "Fair Game." "Vermont Yankee was not at all curious to explore the reason tritium kept occurring in the storm drains."
Apparently DPS regulators weren't all that curious, either.
Comforting.
Ignore the Messenger
This isn't the first time the head of Vermont's Public Service Department has chosen to ignore Gundersen. In fact, O'Brien and senior DPS staff routinely dismiss the Legislature-appointed independent analyst as an "antinuclear" critic, and therefore biased.
For the record, Gundersen isn't opposed to nuclear as a power source. But he does think VY deserves closer scrutiny because of the age of its reactor.
And for the record, he's been right more often than has DPS.
He accurately predicted that if VY boosted its power output, cooling towers would weaken and cracks would develop in the reactor's steam dryer. He also warned of a shortfall in the decommissioning fund, and alerted the feds that ENVY had gone several years without properly inspecting the thickness of key pipes in the plant. As a result, VY had to beef up its pipe inspection program.
Guess they missed the underground ones.
Toxic Assets
Gov. Jim Douglas noted at his weekly press conference that lying Entergy officials reminded him of another toxic utility.
"A lot of folks are drawing parallels between this and the Burlington Telecom controversy," said Douglas. "For example, where information apparently wasn't presented clearly."
The way the Public Service Department treats the two entities, however, is a study in contrasts.
While O'Brien is happy to trust Entergy to do DPS' homework, O'Brien's shop is the one schooling BT. It asked 124 questions in its first round of interrogation last November, and a new round just hit — closing in on 300 questions. A forensic audit is also underway.
And, while O'Brien ignores VY experts like Gundersen, he's happy to take advice from a top Douglas advisor when it comes to BT.
Last month "Fair Game" got hold of a fax that had been marked up by Harlan Sylvester, the behind-the-scenes political kingmaker. It was a draft copy of Burlington's request-for-proposal seeking new financing for BT. Sylvester sent it directly to O'Brien with a simple, "from Harlan."
When Sylvester talks, O'Brien listens.
"Mr. Sylvester brought this RFP to my attention. He indicated that as a city resident and one who has a long career in public finance, that he was concerned about the effect that the proposed financing would have on the credit standing of the city," O'Brien told "Fair Game." "This is a core concern of a cadre of citizens in Burlington who have financial experience or knowledge."
Though retired, Sylvester still maintains an office at Morgan Stanley Smith Barney in South Burlington — one of the firms being considered as a source of BT financing, as listed on the RFP. Only a few city officials and members of the Burlington City Council were privy to that RFP, a confidential document. Sylvester is known as a quiet but determined critic of the Progressive-controlled Burlington City Hall.
Guess one man's "bias" is another man's "experience."
Familiar Faces
After months of proclaiming he intended to run for reelection, two-term Progressive City Councilor Clarence Davis decided to not seek a third term.
A familiar Progressive face has stepped up to run in his stead: former councilor Emma Mulvaney-Stanak, who until mid-December was a Ward 2 city councilor. She resigned her seat only eight months into her term because she bought a house in Ward 3. Mulvaney-Stanak will run unchallenged.
As recently as January 18, Davis said he was more than likely seeking reelection. Then he had a change of heart: "I mulled it over and talked it over at home, and I want to spend a little bit more time with my wife," said Davis.
Another surprise electoral development: With just 10 minutes before the deadline, Republican Kurt Wright strode into City Hall Monday to get his name on the March ballot. He'll face off against Ward 4 Democrat Russ Ellis.
"I had a lot of people coming up to me and asking me to run," said Wright, who serves in the Vermont House. They outnumbered the people, including lawmakers and his wife, who urged him not to run.
Though he's held the councilor job before, for a total four terms, Wright is not taking the contest for granted. "It is not going to be an easy race. Russ is a popular guy," he concedes.
Democrats plan to make it as tough as possible for Wright. "We're going to give him a strong fight for that council seat," said David Cain, chairman of the city Democrats. "I think between the run for council and the IRV petition, that Kurt is simply engineering a run for mayor in 2012."
Ya think?
Down on the Farm
Last week, WCAX's senior reporter Kristin Carlson picked up a prestigious DuPont Award from the Columbia University School of Journalism. That's the broadcast equivalent of a Pulitzer Prize in print journalism.
Carlson won for the station's series "Foreigners on the Farm," a three-part series focused on Vermont's reliance on immigrant farm workers.
Also basking in the glow was photographer Joe Carroll, producer Kristin Kelly and news directors Anson Tebbetts and Marselis Parsons.
Carlson and crew were in heady company: National Public Radio, Katie Couric of CBS News, and the PBS investigative news program "Frontline" also won awards. PBS' Gwen Ifill emceed the event.
"For me, it was really humbling. I got to see these 13 other stories that people had done, and they were amazing stories," said Carlson. She also had a chance to hang out with one of her journalistic heroes — reporter Byron Pitts of "60 Minutes."
Carlson isn't letting the fame go to her head.
"The people in the story is what made it," Carlson said. "They were the ones who were willing to talk and who were willing to take the risk."
Classy.
Got a news tip? Email Shay at shay@sevendaysvt.com
Click here to follow Shay on Twitter.