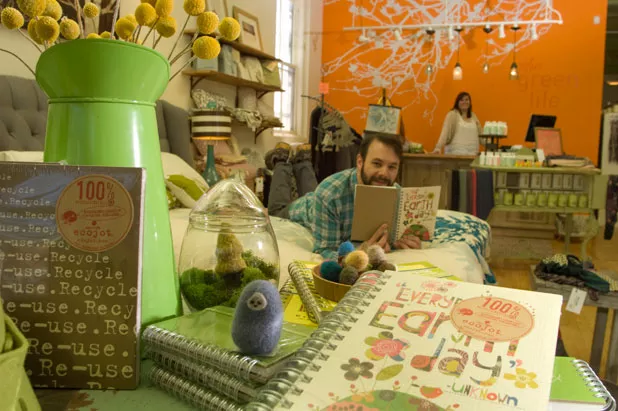 Matthew Thorsen
Mike and Shannon Hassenberg
Becoming a green-themed merchant was clearly a matter of kismet for Mike Hassenberg. The co-owner of The Green Life on lower Main Street in Burlington was born on the first Earth Day in 1970.
A more immediate catalyst for Hassenberg's eco-entrepreneurship was his desire to get out of both New Jersey and his job there as a financial advisor with Smith Barney. He and his wife and business partner, Shannon, fled to Vermont last year after "the market crashed and [the investment firm] started cutting back on my payout," Hassenberg relates. It made me look in the mirror and ask, Is this really what you want to be doing the rest of your life?"
Shannon Hassenberg, for her part, had always wanted to open a boutique, and the couple's longstanding environmental concerns had taken on a more personal passion with the birth of their three daughters, now ages 6, 4 and 2. "We wanted to make our home healthy and safe for them," Mike explains.
The Hassenbergs started selling "urban eco styles for the home, body and child" directly across the street from the Salvation Army just before last Christmas. Burlington was their choice for familiar reasons: the combination of cultural opportunities and easy access to outdoor activities; the availability of a retail space with architectural character; promising demographics for a shop selling a variety of recycled, organic and nontoxic goods.
The Green Life isn't the first store of its kind in the area, though, and it likely won't be the last. Home Ecology, formerly known as Waste Free Living, opened in Shelburne last July after a move from Pine Street in Burlington. Both businesses reflect, and seek to capitalize on, an accelerating trend toward more mindful shopping.
The Wall Street Journal reported in January that nationwide sales of "ethical" household products continued growing last year even as a fierce recession forced many consumers to postpone purchases or choose cheaper items. Sales of household wares pitched as environmentally benign have nearly tripled since 2004, reaching about $1.6 billion last year, according to Packaged Facts, a market-research firm cited by the Journal.
Catching a whiff of the profit potential, mass retailers have begun devoting segments of their selling space to goods labeled "green." As Mike Hassenberg observes, "Even Kmart's got a green section these days." And he identifies Bed Bath & Beyond as one of the Green Life's big competitors.
Despite the heft of such retail rivals and the inauspicious location of his own store, Hassenberg expresses confidence that the Green Life will provide a living for his family.
Home Ecology co-owner Anne Taylor is similarly optimistic. "I think we're going to be very successful. People are ready to buy what we sell," she says from behind the cash register of the roughly 1000-square-foot store situated between the Flying Pig Bookstore and The Bearded Frog restaurant. (Perhaps Home Ecology should change its name to that of some imaginary animal, say, the Blue-Binned Platypus?)
Taylor's store — co-owned with Holly Rae Taylor (no relation) — relocated from an obscure locale in the rear of an art gallery to a prominent spot next to the busy Route 7 intersection in Shelburne. "Business was great at the holidays; it slowed a lot after that, and now we're getting busier and busier as the weather warms up," Anne Taylor says. Indeed, about half a dozen shoppers made purchases at Home Ecology during one midday hour last Saturday.
Roger and Betsy Howland, for example, bought a wooden soap dish and a cheese board made of recycled materials. Green products such as these "last longer, look better and are nicer to use," Betsy explained.
The action was slower at the Green Life on a rainy Friday afternoon. Although Skirack is just one block to the east, the stretch of Main between Battery and Church streets has long been challenging for retail operations — though a smattering of new stores in the past year suggests that might be changing. Mike Hassenberg hopes drive-bys who see the wheatgrass growing in his storefront window will park somewhere and browse his merchandise. Tourists and locals walking to the waterfront in the warm months should be another source of business, he suggests.
"A lot of folks were telling us we should be on Route 7 in Shelburne," Hassenberg acknowledges. But he and Shannon liked the look of the 2300-square-foot space on Main Street, which has an embossed tin ceiling. They outfitted it with shelves made of wood reclaimed from Vermont barns and painted the place ... duh ... green.
Another attraction was the rent, which Hassenberg figures is a third of what he'd pay for a similarly sized store on the Church Street Marketplace. The savings may not prove all that great, since he's making heavy investments in advertising to lure members of a target demographic group composed mainly of women in the 30-to-45 age range. So far, though, customers have ranged from college students "looking for hip, new products" to "grandmothers buying something for their grandkids," he says.
Anjali Budreski, owner of Yoga Mountain Center in Montpelier, stopped in with a friend near closing time last Friday. Budreski said she was drawn by one of the Hassenbergs' advertisements and welcomed the opportunity to support "a business with an ecological consciousness." Examining a bamboo bowl, she suggested that "the integrity of products is better" at a store like the Green Life.
Home Ecology carries some of the same sorts of products as the Green Life, but, Taylor says, "We're more of a general store, while they're more boutique-y."
Hassenberg doesn't disagree. He describes his own store as "gifty and focused on women's accessories and high-end furniture." High end, and how. He offers that summary of his inventory while seated on a beige linen sectional sofa that sells for $6750.
To be fair, it's the most expensive item in the store — by thousands of dollars. And there are reasons for the elevated prices. Unlike conventional furniture that's sprayed with fire-retardant chemicals, the seating pieces and mattresses featured at the Green Life rely on wool's natural properties to prevent fires from erupting, Hassenberg explains. He points to a crib that might appeal to new parents who are worried, as he and Shannon were, about the health effects of commercially manufactured bedding. "Some say the chemicals in crib mattresses may be linked to SIDS" — Sudden Infant Death Syndrome — he notes.
While the Hassenbergs offer home furnishings, the Shelburne store focuses on the food cycle. Home Ecology's wares include High Mowing seeds, canned and packaged goods from Vermont suppliers, juicers and other energy-efficient appliances, redone dishes, containers made of sugar-cane fiber, and the handmade compost bins sold under Holly Rae Taylor's Maven Vermont brand. Both stores also offer what might be termed eco-novelty items, such as a clock made from bike gears and a solar-panel backpack for recharging cellphones and laptops. The latter goes for $249 at the Green Life.
Some of the products are imported from developing countries. Mike Hassen-berg says many of his are certified Fair Trade. Anne Taylor says she was told by the importer of a line of juicers made in China and sold at Home Ecology that the workers in that particular factory are not subject to sweatshop conditions. "That's a big concern of ours," she says. "I looked down an alleyway when I was in Bali and saw young children working at machines. It was a horrible, horrible sight."
Before becoming a partner in Home Ecology, Taylor worked as a midwife and as a chef at the Ethan Allen Club and The Daily Planet. She says she jumped at Holly Rae Taylor's invitation to become a co-owner. "I'm an impulsive person. I do things on a whim. But I also knew this would be a smart decision," Taylor says. "This is a niche that's going to keep getting bigger."