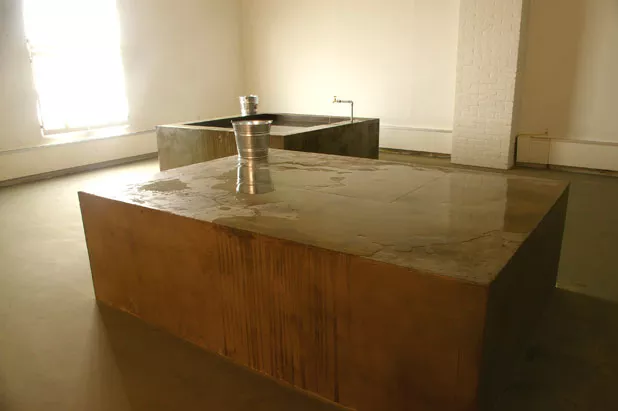 "Mighaisil" ("Morgue") by Wafaa Bilal
If you haven't yet made it to Stowe's Helen Day Art Center to see "Wafaa Bilal: Agent Intellect," you've still got another month, and the powerful installation by the Iraqi-born artist is well worth a visit. But next Monday and Tuesday, you could also watch Bilal — via webcast — get tattooed.
Like, a lot: He'll get a borderless map of Iraq on his back and a dot for every person killed in the war so far. It's yet another piece of performance art from a guy who's already subjected himself to attack by paintball shooters via the Internet. A facsimile of the room in which Bilal did this, in 2007, is one of the installations at the Helen Day. The gallery's executive director, Nathan Suter, explains that the computer in this installation will be "borrowed" for the day so on-site viewers can watch the webcast.
The tattoo project, which will run 24 hours, is aptly titled "…and Counting." The number of deaths in the Iraq war to date is 5000 Americans and 100,000 Iraqis. Bilal's brother, Haji, was one of the latter, killed by a drone-controlled missile near their hometown of Kufa in 2004. Though Bilal says he feels the pain of families on both sides of the war, as a U.S. resident now, he realizes that the Iraqi casualties are invisible to most Americans. To convey this double standard, he will have the "American dots" tattooed in red ink, the Iraqi ones in green UV ink — visible only under a black light. During the performance, which will take place at the Elizabeth Foundation for the Arts in New York City, individuals "from all walks of life" will recite the names of the dead.
Bilal is also asking each viewer to contribute $1, which he'll donate to Rally for Iraq, a nonprofit that funds scholarships for impoverished Iraqi youths who have lost a parent in the war.
Freshly tattooed, Bilal will make another trip to Stowe on March 20 for a panel discussion with Vermont journalist Christina Asquith, author of the recent book Sisters in War. That same day, the gallery will screen the film Iraq in Fragments and host a fundraising dinner for the Vermont Refugee Resettlement Program.