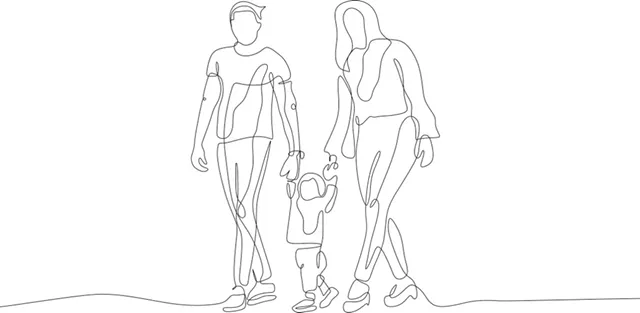 I stood at the kitchen sink, slowly washing and drying the pile of dishes in front of me. Our toddler was finally asleep, and the nightly ritual of getting everything ready for the following day could commence. Prior to the birth of our daughter, my partner, Stephanie, and I ended most days snuggling on the couch, enjoying a drink while watching television. But by the time I stood at the sink, 18 months into parenthood, evenings like that were few and far between.
Stephanie entered the kitchen as I continued my chore. "Hey, the next time you trim your beard in the bathroom, could you try and do a better job of cleaning up?" she said. "There are tiny little hairs everywhere, and I just cleaned the bathroom the other day."
I could feel my temperature rise as my defensiveness kicked in. "Sorry. I cleaned a lot of it up. It's hard to get all of them," I told her. Believing this was a criticism on how much I helped around the house, I felt the need to make it clear that I did my share. "You know, it would be really helpful if you could help out with cooking more next week. I feel like I've been doing it a lot," I added.
"I was talking about the bathroom. This has nothing to do with cooking meals. Why are you bringing that up now?" Stephanie questioned.
"When am I supposed to bring it up?" I asked. "I'm feeling stressed and just sharing what I'm thinking."
By this point, I had stopped doing the dishes, and we began a 20-minute detour into relational conflict. One that would inevitably leave us both stewing in a cocktail of emotions including anger, shame, guilt, frustration and resentment. One that would prevent us from talking to each other for nearly 24 hours. One that was becoming all too familiar.
It's the sort of conflict that becomes quite common in marriages after children enter the picture. According to psychologist John Gottman, who is renowned for his work in marriage stability and divorce prediction, "67 percent of married couples experienced a precipitous decline in relationship satisfaction in the first three years of the baby's life." The combination of exhaustion, lack of free time, increased social isolation and less financial flexibility all contribute to a troubling reality for parents.
To be fair, research also shows that most relationships experience a decline in satisfaction during the first few years of marriage, even in the absence of kids. But a study published in the Journal of Personality and Social Psychology by Brian Doss and others indicates that this decline in marital satisfaction is "nearly twice as steep for couples who have children than for childless couples." So if you catch yourself thinking, "My partner and I used to be happier," chances are, you're right. Bottom line: Maintaining a healthy, positive relationship with your partner after having kids isn't easy. And that is normal.
That doesn't mean you should consider every conflict "normal" and just succumb to the belief that parents are destined to have unhappy marriages. But creating a happy and healthy relationship with your partner requires commitment, prioritization and effort. The work yields a pretty good payoff, though. Researchers from the American Psychological Association say that happy couples live longer, healthier lives. And parents' relationship quality affects a child's behavior and development, according to research published in the Journal of Marriage and Family.
In January 2018, shortly after the dishes incident, Stephanie and I recognized that we wanted help and started going to therapy for individual and joint sessions, which turned out to be one of the best decisions of our lives. Two years later, we're still seeing the same therapist on a weekly basis. At the end of every session, our therapist asks, "So what are you taking home with you today?" The following advice has helped the most:
Take care of yourself. Exercise, eat well and sleep when you can. Even if just one of you is well rested, your joint capacity for resolving conflicts increases tremendously.
Hug more. It's easy and creates an instant physical and emotional connection. According to our therapist, couples should hug at least twice daily and each hug should last as long as it takes for both bodies to feel completely relaxed and comforted.
Be intentional about scheduling time together. Date nights are important, but quality time can also just mean just sitting side by side on the couch.
Make time regularly to connect. This includes intentionally checking in with each other every night and sending text messages to each other throughout the day. Smartphone apps like Marco Polo make it possible to have a "face-to-face" conversation while you're both at work.
Create a plan for when someone is triggered. In our marriage, we try to use language like, "Hey, I'm feeling triggered and can't talk about this right now. Can we pause this topic and commit to revisiting it tonight before bed?" Once emotions start to escalate, rational conversations are nearly impossible. Giving each other space and revisiting touchy topics later can make a big difference.
These certainly aren't all of the answers, but they've helped our marriage. Over the past two years, Stephanie and I have made huge strides in how we communicate with one another, but the work is certainly ongoing and requires commitment, honesty and patience from both of us. That, and cleaning up the bathroom after I trim my beard. No one should have to squeeze toothpaste from a tube covered in whiskers.
Keegan Albaugh is founder of Dad Guild, a nonprofit support network for new fathers. He is the Fatherhood program coordinator at Janet S. Munt Family Room parent-child center in Burlington.