In our August issue, we asked kids to tell us about their dream garden. Below, find the winning entries. Margo and Saylor each receive a $25 gift certificate to Crow Bookshop in Burlington.

Margo Cannella, 8
East Montpelier

The entrance of the garden of my dreams is a big gate and an archway made out of clovers. Birds fly in and out. There would also be flowers in the entryway. There would be a lot of flowers and some tropical fruits. In the middle of my garden, there would be a pond with lily pads and fish in it. In the middle of the pond, there would be a statue of a frog with water coming out of it like a fountain. There would also be an island next to the frog. There would be a ring of flowers around it. There would be some trees on the island making some shade. In the garden, there would also be some vegetables. That is my dream garden.

Saylor Hemond, 9
West Burke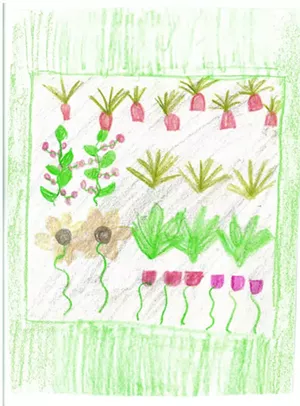 In my garden of dreams, I would plant strawberries, carrots, watermelons, tomatoes, radishes, pink roses, red roses, lilies, sunflowers, squash, zucchini, cucumber and eggplant. After I pick all the fruits and vegetables, I would give them to poor people that can't afford them!

Find the latest writing prompt in our September Back to School Issue. The deadline to enter is September 15. Happy writing!