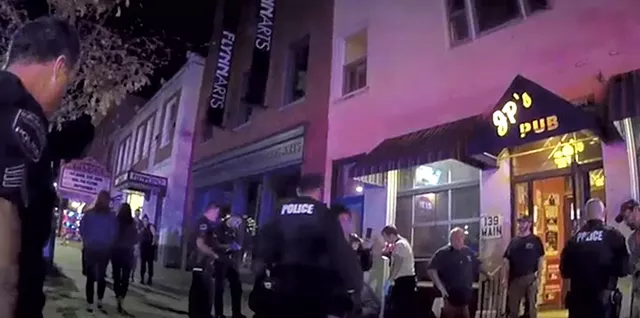 Still From Bodycam Footage
Burlington police at the scene of the incident involving the Meli brothers
The Meli brothers were born in the Democratic Republic of the Congo, but they've always considered Burlington home. Albin, 26, Jérémie, 25, and Charlie, 22, were children when their parents immigrated to Vermont in 2004. The adults left behind professional jobs in Kinshasa, Congo's capital, so their kids could have better opportunities in the United States.
In Burlington, their mom, Beatrice Kambere, worked two jobs, learned English and enrolled in college classes while she and her husband raised five sons and a daughter. Her children did not want to disappoint her: They tried to stay out of trouble, graduated from Rice Memorial High School and pursued college degrees — Albin in electrical engineering, Jérémie in holistic medicine and Charlie in marketing.
They were young black men in a mostly white city, yet they felt welcomed. Their family lived in the Old North End, a few blocks from police headquarters, yet they did not fear being targeted by law enforcement. Their mom knew local cops to be guardians who sometimes kept an eye on her when she walked home from late-night shifts as a housekeeper at the hospital. Officers once gave her a ride to church when her friend's car broke down.
Sgt. Jason Bellavance didn't know any of that when he stepped out of his patrol car on Main Street on a busy Saturday night last September. Bellavance, a police shift supervisor, followed an employee of What Ales You, who pointed out a man who had allegedly punched him during an altercation inside the bar.
Bodycam footage shows what happened next.
"This guy right here in the blue?" Bellavance asked.
"No," the employee said. "This guy in the flannel coming back right now, with the blue backpack."
Bellavance, without a further word, approached Jérémie and shoved him with both hands. An unsuspecting Jérémie, who had been arguing loudly with another bar staffer in slurred speech, tumbled over. His head hit a wall outside JP's Pub, and he collapsed like a rag doll.
Derek Brower
Charlie Meli
Albin and Charlie, plus Charlie's fiancée, Kelley Wassick, saw Jérémie go limp and fall. They protested loudly — and the brothers got arrested, too.
"I was very shocked," Charlie told Seven Days. "A part of me was like, 'My trust in the police department is pretty much gone right now.' That was something I took pride about in Burlington. Stuff like this doesn't happen [here]."
The Melis' attorneys released police bodycam video of the incident last Friday as they filed a civil lawsuit in federal court accusing Burlington police of using excessive force. The same attorneys also filed suit and released footage related to another downtown incident that took place the night before, in which a different cop slammed Mabior Jok to the ground while responding to a sidewalk scuffle. Jok was taken directly to the hospital by ambulance for his injuries, accompanied by the cop who injured him. Jérémie was booked at the police station before being taken to the emergency room, where he was "briefly evaluated" and then transported to jail, his civil complaint alleges.
The lawsuits were filed as the Burlington Police Department was already facing scrutiny over a violent March confrontation involving Officer Cory Campbell. The state medical examiner found that punches Campbell landed contributed to the death of a 54-year-old physically disabled man, Douglas Kilburn.
Last Friday, Burlington Police Chief Brandon del Pozo broke with what he described as long-standing city policy around personnel issues to tell reporters that Bellavance had been suspended without pay after an internal investigation using outside experts who found that the sergeant had used unnecessary force against Jérémie.
The chief did not specify the length of Bellavance's suspension but said it was fewer than three weeks. The Chittenden County state's attorney determined that the officer's actions were not criminal, del Pozo also noted.
The state's attorney's office did attempt to prosecute the Meli brothers for their actions that night, though the cases were eventually dropped. Jérémie was charged with assaulting the What Ales You staffer, while Charlie and Albin were charged for their actions after their brother was knocked to the ground.
The police affidavit filed with the case accused Charlie of disorderly conduct for "waving his clenched fists in the air" and trying to push past an officer as he yelled, "That's my brother! That's not OK!"
"It should be noted that Charlie's actions were contributing to an increased disturbance on Main St and was preventing the situation from deescalating," the officer wrote.
Beatrice Kambere (in green) with the Meli children and a nephew at Kambere's college graduation in 2018
Charlie declined to answer Seven Days' questions about the earlier altercation at What Ales You upon the advice of his attorney, Evan Chadwick of Chadwick and Spensley, but he recalled that an officer handcuffed him while Jérémie was on the ground and escorted him to the back seat of a cruiser to calm him down. Officers drove him to the police station, then to the Chittenden Regional Correctional Facility in South Burlington, where Wassick picked him up.
Del Pozo has pledged to review the department's use-of-force policy, which was last updated in 2013, before the chief came to Burlington. At a press conference last Friday, he stressed ongoing efforts to improve training and departmental culture.
The chief has been vague about what policy changes might be necessary. He told city councilors while answering questions about the Kilburn case that the use-of-force policy has occasionally prevented him from disciplining officers whose actions don't meet expectations, but he did not cite a specific example. The officer who performed a takedown on Jok last September, Joseph Corrow, did not face discipline for his use of force because he was trying to break up a fight, the chief said.
Legal action brought the downtown incidents to public light. But, the chief told reporters, they had been addressed internally through a "proactive" investigation.
In fact, it was a bystander who first raised the alarm to the department about Bellavance's actions. Nate Bradbury told Seven Days he was so disturbed by what he saw while smoking a cigarette outside JP's Pub that he filed a citizen complaint online as soon as he got home; his screenshot of the submittal form reads 1:49 a.m. He left his mother an early morning voicemail to demonstrate, if needed, that he was sober and lucid when he witnessed the events.
Bradbury said two weeks went by before he heard from the department. By then, the Melis' attorneys had already tracked him down and taken his affidavit. He read that statement to Deputy Chief Jan Wright, then gave an interview a couple of weeks later to New Hampshire private investigator William Burgess, whom the police department hired for its probe.
Del Pozo said the internal investigation was conducted in consultation with a citizen panel of appointed police commissioners, who review all allegations of misconduct and give input on disciplinary measures. The police commission's power is largely advisory, and personnel discussions are made behind closed doors. But the process gives commissioners a window into internal problems.
Commissioner Randall Harp, an associate professor of philosophy at the University of Vermont, declined to speak specifically about the department's handling of the September 2018 incidents but said he expressed concerns about how the officers approached those situations. He encouraged del Pozo to address it going forward, and the chief seemed to take his input seriously, Harp said.
"The proof of that, of course, is in the pudding," he said.
Derek Brower
Shireen Hart, Brandon del Pozo and Jan Wright discussing use-of-force incidents
In 2017, the department released a detailed analysis of incidents in which officers used force during arrests. The data showed that officers did so against people of color at a higher rate than against white people.
When Kambere heard how police had treated her sons, she said, she went straight to the police station to demand an explanation — and to ask if race had played a role.
"'You did this because they were black?' That's the question I asked the supervisor," she said.
Last Friday, del Pozo didn't rule out that implicit bias could have played a role in the September incidents, both of which involved black men of African descent. Burlington cops underwent a department-wide bias training in spring 2018 with a renowned national expert.
It's unclear whether the force-first approach used by officers in the September incidents is indicative of a broader pattern. Del Pozo said the department's commitment to its policing values is tested when the bars empty at closing time. Departmental data show that's when officers most frequently use force, he said.
The department has fended off two other excessive force lawsuits that stemmed from downtown disturbances during the last decade, including one that named Bellavance. The Melis' lawsuit also names Campbell, who allegedly took Albin to the ground after Albin touched him while objecting to his brother's treatment.
Harp said most of the significant cases of questionable officer conduct he's been asked to review privately since being appointed to the commission last July have come into public view one way or another. He declined to elaborate, given the confidential nature of the board's work.
Even one instance of violent policing can leave a deep impression on a community. In the Melis' case, some of the consequences were physical. Albin had torn ligaments in his thumb after officers tackled him; Jérémie said he suffers from lingering effects of his head injury, including headaches and difficulty concentrating.
More than that, the Meli brothers said, they've felt less comfortable walking downtown at night since the run-in and are more sensitive to the risks of interacting with police as black men.
Downtown Burlington had been Jérémie's stage, where he performed as a DJ in local bars. It's now the scene of a painful memory — one he finds difficult to relive.
"It makes me feel very hollow inside," he said of watching the bodycam video. "It gives me this weird feeling."
Jérémie has since moved to California, where he plans to enroll in a graduate college to study acupuncture in the fall. But he hopes the public airing of the event will spur change within the police department back home, so officers are less quick to turn to force, especially when interacting with people of color.
Charlie is finishing up his bachelor's degree at UVM. He's worked for years at the city marina as a supervisor — and met his fiancée there. Charlie recently picked up a new job working security for the downtown bar Rí Rá. He said he applied because he wanted to help handle raucous bar situations in more effective and safer ways.
"If something like that happened," Charlie said, referring to last September's confrontation with police, "I'm going to pull you all to the side, try to calm down and try to get to the bottom of it before escalating — before blowing up the situation further."
Kambere said that's a lesson every Burlington police officer needs to learn.
"My kids, they are not aggressive kids. They are very friendly, they love people, and they are very happy to live in Burlington," she said. "I don't like my kids to have a fear now. I like them to be treated equally, and to respect them as a human being."