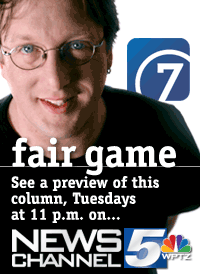 Officials in Burlington City Hall weren't the only ones breathing easier last week when Chittenden County State's Attorney T.J. Donovan announced he wouldn't file "neglect of duty" charges as a result of his probe into the Burlington Telecom financing fiasco.
Attorneys at the politically connected law firm of McNeil Leddy & Sheahan had to be seriously relieved, too.
That's because Joe McNeil wrote the 2007 memo to CitiCapital that launched a thousand investigations. OK, at least one. But that led to another, which led to … well, you get the picture.
It was early 2010 when the Department of Public Service discovered McNeil's memo, which was penned in support of the city's $33.5 million lease deal with CitiCapital. In it, McNeil noted there was "no prohibition of utilizing general fund revenues of the city to fund telecommunications activities."
That raised some eyebrows at DPS because McNeil failed to mention the city had to repay any public money within 60 days — a provision of BT's certificate of public good from the Vermont Public Service Board. McNeil did clearly note taxpayers could be forced to pay off BT's losses, however.
Then-DPS Commissioner David O'Brien sent McNeil's memo to Attorney General Bill Sorrell. Once at the AG's office, Janet Murnane, a deputy attorney general, and Sorrell decided neither of them could evaluate the memo because both had worked for McNeil's firm. Sorrell was a partner there from 1978 to early 1989.
Sorrell asked Orleans County State's Attorney Keith Flynn to lead what became the first criminal probe of BT.
"We knew there would be at least an appearance of a conflict of interest and we shouldn't look into the matter," Sorrell told "Fair Game." "Since T.J. Donovan's uncle is a partner in that firm, we felt that it was best to refer it to a state's attorney with no connection to any of the involved parties."
Donovan's uncle is John T. Leddy, principal in McNeil Leddy & Sheahan. Sorrell didn't confer with Donovan before handing the case to Flynn.
After the November 2010 election, Flynn was appointed commissioner of the Vermont Department of Public Safety. On December 18, Flynn asked Donovan to take on the case, and the Chittenden County state's attorney accepted.
Given his political ties to the city, Donovan hired his predecessor Robert Simpson to head up the BT investigation.
We don't know what Simpson recommended, because Donovan won't say. But Donovan decided not to bring a "neglect of duty" charge against city officials, saying it would be too hard to prove with so many people involved in running up $16.9 million in charges to the "cash pool" without proper authority from state regulators.
Donovan also noted that "neglect of duty" conviction would yield a maximum fine of $1000 and up to one year in jail.
"An unsuccessful prosecution," Donovan added, "would severely damage and scar the city of Burlington for the foreseeable future. I am not willing to risk that possibility."
On May 18, Donovan asked Addison County State's Attorney David Fenster — appointed by Republican Gov. Jim Douglas — to make the final decision about a "false claims" charge associated with the CitiCapital lease. Fenster recommended against bringing charges.
The end? Not quite. Burlington's pitchfork-wielding taxpayers will be happy to know officials aren't out of the woods yet. A lawsuit that seeks immediate repayment of $16.9 million is still winding its way through Vermont Superior Court and may be taxpayers' best chance to replenish the cash pool. In it, former Burlington CAO Jonathan Leopold is named as a defendant, which means he could personally be on the hook for some of the money.
Then there's CitiCapital: No word on whether it will sue the city or seize BT's assets to recoup its $33.5 million loan loss.
Finally, there's an ongoing federal investigation. Donovan said he turned over investigative materials to the "appropriate federal agency for their review." He wouldn't name the federal agency or describe which materials are involved.
My guess is the "materials" have to do with potentially misleading CitiCapital. In these United States of America you're more likely to go to jail for lying to Wall Street than to Main Street.
U.S. Attorney Tristram Coffin won't comment on the status of his agency's BT probe. "Standard policy," he told "Fair Game."
Given the political and financial anxiety caused by Burlington Telecom, would his office consider following Donovan's lead and publicly announce that charges aren't being filed, if they're not?
Coffin paused, and then offered this concession, which is rare for a federal prosecutor: "We typically don't, but there are times when we might make a decision to do otherwise. This might be one of those times."
Sounds like the scales of justice may keep tipping BT's way.
Crime and Punishment — Not!
For State's Attorney T.J. Donovan, the decision to prosecute, or not, was a risky political move. No matter which side he chose, he was going to upset some Burlington voters.
Asked if his decision was politically motivated, Donovan responded: If it were, he would have called the media to Burlington City Hall to witness officials being escorted out, handcuffed and dragged to court to face misdemeanor charges. Maybe a little tar and feathering, too, for good measure.
"My decision not to prosecute should not be misunderstood as excusing or condoning anyone's behavior," said Donovan, who is being pressured by some Democrats to run for mayor in 2012.
Donovan then listed the "crimes" committed by BT and city officials. "To be clear, mismanagement, lack of oversight, lack of accountability, lack of communication, ignorance, arrogance and bad judgment all contributed to the current state of BT. The city of Burlington should publicly acknowledge its errors and continue to work to correct them in a transparent manner that inspires trust and confidence."
Trust and confidence? Good luck with that one, given the Queen City's current political and financial climate.
Mayor Bob Kiss demurred when "Fair Game" asked if he should apologize for his administration's mistakes and lack of transparency.
"We made a statement in 2009 that we were out of compliance and have been transparent by bringing it to the Public Service Board's attention," Kiss said. "We have been working hard since then to correct these issues."
Give Him a Break!
Gov. Peter Shumlin was one of only a few statewide pols to march in Bristol's annual Fourth of July parade — the longest-running such fete in Vermont.
In near 90-degree heat, Shumlin dashed from one side of the street to the other, shaking hands and getting his picture taken with kids. Two state police security guards followed his every move as he made his way along the parade route.
Two volunteers holding a "Peter Shumlin for Governor" sign marched amid a throng of Addison County Democrats roughly 50 feet in front of the governor. His official, state-police-driven vehicle trailed right behind him.
After a long weekend shaking hands, kissing babies and marching in holiday parades, Shumlin is planning yet another vacation.
Shumlin will travel to Nova Scotia this week to attend a conference of New England governors and Eastern Canadian premiers.
The "official" meeting in Nova Scotia runs Sunday through Tuesday, giving him five days to kick up his heels at his Cape Breton vacation home. He returns to work on July 14.
For those keeping track: Shumlin has taken three vacations since he was sworn in less than eight months ago. That might be more time off than Gov. Jim Douglas took during his eight years in office.
Money Maker
Treasurer Beth Pearce was the only other statewide pol marching in Bristol's Fourth of July parade with Gov. Peter Shumlin.
If you're thinking, Beth who? it is exactly why Democrats want Pearce out stumping this summer and fall, well in advance of the 2012 election season. She's the party's candidate for treasurer next year. For more than seven years, Pearce served as deputy treasurer under her predecessor, Jeb Spaulding.
When Spaulding resigned to be Shumlin's secretary of administration earlier this year, Pearce got his job. An appointment.
There hasn't been a Republican in the treasurer's office since Jim Douglas left in 2002 to run for governor. Sen. Randy Brock (R-Franklin), a former state auditor, could be a potential challenger.
Unlike Pearce, Brock has run, and won, statewide office.
Powell's Power
Gov. Peter Shumlin seems to have taken sides in the bidding war between rival Canadian firms vying to buy Central Vermont Public Service.
Shumlin was cool to Fortis' $703 million offer, issuing a bland, three-sentence statement saying his administration would "carefully review the deal" blah, blah, blah. Gaz Métro's $710 million offer elicited a gushing five paragraphs. Gaz Métro already owns Green Mountain Power and Vermont Gas Systems.
"At first glance, I believe this proposal has value for Vermonters and for job creation," Shumlin said of the Gaz Métro offer, which would create one giant Vermont utility. CVPS is Vermont's largest utility; GMP is the second largest. A merged utility would serve almost two-thirds of the state.
I'm sure it's a coincidence that GMP's CEO Mary Powell is the face of Gaz Métro's offer.
Powell chaired Shumlin's inaugural ball that raised nearly $190,000 from private and corporate sponsors; she also attended the $5000-per-plate presidential fundraiser last week on Burlington's waterfront. In other words, she's a political player.
Months after Powell organized Shumlin's inaugural ball, he endorsed GMP's massive wind-power project on Lowell Mountain. The gov said Powell's fundraising efforts had absolutely no bearing on his enthusiasm for wind power.
And I'm sure Shumlin's ga-ga response to the GMP offer was pure coincidence.