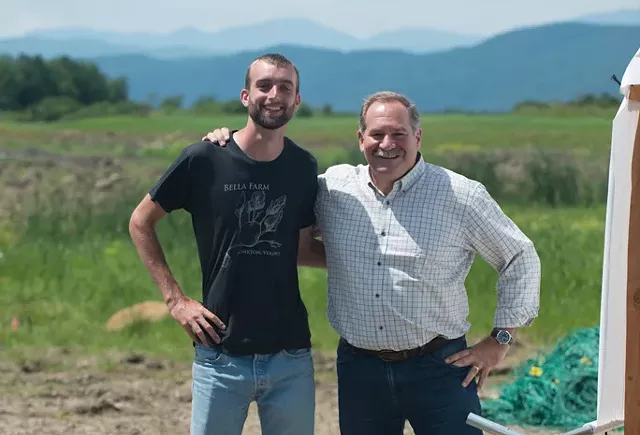 CaLeb Kenna
Julian Post (left) and Peter Briggs at Mt. Philo Hops
In a former hayfield off Route 7 in Charlotte, mammoth tractors have been churning up the earth in recent days, digging drainage ditches and irrigation ponds. Property owner Peter Briggs will soon install 18-foot-tall trellises and seed the first two acres of hops, the flowery climbing plant used to flavor beer. It's time, he said, to infuse Vermont's exploding craft beer industry with a key ingredient that's locally grown.
First, though, the entrepreneur faces challenges that come with creating a brand-new farm, one that — should Briggs reach his goal of 35 cultivated acres — would be the largest hops-growing operation in the state. The weather, wetter than normal this summer, was already vexing his nascent Mt. Philo Hops business. Some days, the soil was too wet for the tractors.
"This year was a washout," said Briggs, who bought the 58 acres from local farmer Clark Hinsdale this spring for $245,000.
Perhaps as daunting as the weather: the vehement objections of neighbors who are unnerved by the plans. They're worried that the hops farm will affect their water supply, their crops, the health of their children, and the scenic corridor between Mount Philo and the Adirondack Mountains.
Starting a farm doesn't necessarily require a permit in Vermont, so it is unclear what recourse residents have if Briggs doesn't assuage their fears.
Linda Samter lives on Big Oak Lane, a quiet subdivision just across East Thompsons Point Road from one of the fields where Briggs plans to grow hops.
"The issue we are facing is, there has been no information coming at us," said Samter, an architect who has collected a folder full of documents related to neighbors' concerns.
She and her husband, Tom Hengelsberg, wrote to town officials on neighbors' behalf but were told Charlotte lacks jurisdiction over farms. Samter said neighbors will insist that the town regulate the farm however possible, including through zoning regulations that determine how far buildings must be set back from the road.
Some 20 households on both sides of East Thompsons Point Road could be affected by the project. Residents are concerned in part because hops, which are prone to mildew, need to be sprayed regularly to prevent and treat fungus.
The fungicides stand out as the top concern, Samter said, noting that school buses stop for neighborhood kids just feet from the fields. "There's not a single family that has not expressed that," the mother of a 9-year-old said. "The area has a lot of young families."
Peter Demick, who raises bees and grows organic wheat and grapes on 77 acres next to the hops farm, sees his new neighbor as a lethal threat to his operation.
"I see the fungicide killing the bees," said Demick, who is also worried it'll cost him the organic certification of his wheat crop.
On Saturday, Briggs met with about 15 worried neighbors. Samter and Demick said the meeting did nothing to allay their concerns.
Part of the problem is that Briggs has been slow to share information, they said. Demick said he knew nothing about the plans until Briggs approached him in June, shortly before the field work started. Demick alerted other residents. Samter said she heard nothing from Briggs until she wrote to the town about her concerns.
Briggs had intended to wait until his plans were more fleshed out before talking to all the neighbors, he said last week.
"This is unprecedented, so we don't have all the answers to everything," Briggs said. "If we were a little bit late, it's only because we're making some of this up as we go."
"Is this something that should just happen without a more thoughtful process?" Samter asked.
Briggs, a financial services manager, worked for many years for Citibank in hops-growing Germany and the Czech Republic. He spoke to Seven Days last week by phone from London, where he often works for the management-consulting firm Alvarez & Marsal.
He also has Vermont ties. His maternal grandparents had a farm in Reading when he was growing up. The 1979 Middlebury College grad lives part time in Cornwall (and part time in New York City) and has a summer home on Thompson's Point in Charlotte.
The hops farm is something of a hobby, one that he acknowledged involves a significant financial investment. "So far, Mrs. Briggs is letting me do this," he said of his wife, adding, "I'd never hear the end of it were I not an ecologically sensitive farmer."
His years in Europe — and the realization that Vermont has world-class beer but scarcely any locally grown hops — spurred his interest. He consulted in recent years with Heather Darby, an agronomist at the University of Vermont Extension who oversees a hops research program in Alburgh.
There, he met Julian Post, who worked on the UVM project. Briggs hired Post to manage Mt. Philo Hops.
"It's an amazing opportunity," said 28-year-old Post, who is overseeing preparation of the fields while consulting with hops farmers in Michigan about how to construct the poles that plants will climb.
Post expects to set up the first trellises this summer and to harvest the first crop in the fall of 2018. The farm will take three years to reach full commercial production.
The state's beer makers use the equivalent of an estimated 300 acres of hops, yet Vermont farmers grow only about 20 acres, Briggs said. Most brewers buy their supply from Washington State.
Darby said Post and Briggs have their work cut out for them, as hops are difficult and expensive to cultivate. Vermont has only a dozen small hops growers, so a 35-acre farm represents a substantial increase, she said.
"I have my fingers crossed," she said. "I'm excited to see it happen."
Post said Briggs chose the Route 7 location to attract attention. "We wanted to be close to Burlington and in a visible spot," he said. "We're hoping to be a catalyst for other hops farms in Vermont."
"I am very confident we are going to build a farming operation that people are going to be proud to show off," Briggs said.
Darby and Post said the neighbors' fungicide concerns can be addressed. Darby said fungicides come with varying toxicity levels, including some that don't pose a risk to bees or to the health of nearby children. Post said he expects to employ practices to minimize spraying, such as managing soil moisture and choosing disease-resistant plants. He promised to provide neighbors with a list of chemicals the farm uses.
During Hinsdale's ownership, the Charlotte property was placed under a conservation easement with the Vermont Land Trust, which allows the land to be farmed but not developed.
Elise Annes, vice president for community relations at the Vermont Land Trust, said the organization is enthusiastic about the land being farmed. "For agriculture to be viable in Vermont, it's going to evolve," she said. "We produce some of the best beer in the world, so hops is critical to that."
Neighbors worry, though, that the 18-foot-tall poles draped with hops will obstruct local views. Just last month, the state Public Utility Commission rejected a 145-kilowatt solar array across Route 7 from the hops farm. That plan to install 650 solar panels nine feet off the ground would have marred the view from Mount Philo State Park, the commission ruled.
East Thompsons Point Road has no telephone poles, specifically to protect the aesthetics, Demick noted. "It just seems a tragedy that you lose a view," he said.
According to Stephanie Smith, chief policy enforcement officer at the Agency of Agriculture, Food & Markets, no permits are required to grow hops, though the business will have to follow Vermont's required agriculture practices regarding water quality.
Briggs said he'll create larger buffer zones to limit the encroachment on neighbors' views, he said.
"We will leave the highest ground open," he said. "We're doing that to be good neighbors."
Nearby residents are worried about sounds as well as sights, particularly from a planned hops-processing facility. Briggs said people incorrectly expect an industrial operation. He's taken to calling the facility a "harvest barn." Hops processing, which involves drying the flowers, grinding them up and compressing them into pellets, is done within a few weeks each August, he said.
"It doesn't make a lot of noise," Briggs said. "We'll probably spend a few extra bucks to make sure it's attractive."
Post said he hopes to process hops for other farms, but the facility would mainly be used for Mt. Philo Hops — meaning no permit would be needed.
Nearly every aspect of the operation triggers concerns for neighbors. Samter said Briggs initially allowed heavy equipment onto the property without regard to the damage it could do to neighborhood septic mounds, protected by deed. Briggs promised to be more careful.
Neighbors also worry that the hops farm will drain their well-water supply, which, for some homeowners, is already marginal, Samter said. Post responded that they are installing two ponds that can hold more than a million gallons of water to irrigate the hops. But he conceded after Saturday's meeting, "Our water needs are not completely clear."
Demick's wheat field is close to one of the two ponds Briggs has dug. "I'm really unhappy about it," he said. "There's a pond within 10 feet of my property line. There wasn't a lot of respect given to the people who live here."
After running through the litany of neighbors' complaints, Briggs said he sympathized. "I know they're concerned, and they have a right to be. I would be, too," he said. "Going forward, we are going to be very transparent."
Correction, August 2, 2017: A previous version of this story misstated the size of the solar array near the hops farm.