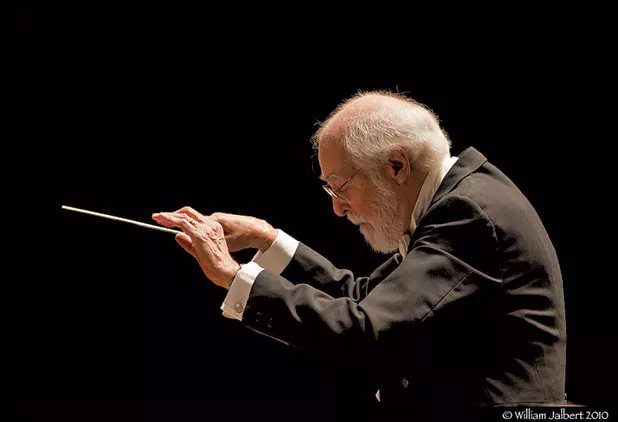 When outgoing choral conductor Robert De Cormier was considering which two pieces to program for his final concert next week with the Vermont Symphony Orchestra Chorus, he knew one had to be Leonard Bernstein's Chichester Psalms. The 92-year-old choral conductor and the group he founded 20 years ago performed the work at their first concert, and 17 of those who sang it that day are still members.
The other piece, however, De Cormier left to a vote. The 102 singers voted against his first choice — British composer Michael Tippett's A Child of Our Time, a secular oratorio written in response to Kristallnacht and first performed in 1944 — and instead chose another of the conductor's favorites, Brahms' Requiem.
De Cormier's open, democratic approach is no surprise to those who have known this beloved, renowned musician, a full-time Vermont resident since 1977. His passion for social justice is the unifying thread of his long, fearless life.
In fact, he recalls during a birthday phone call from his home in Belmont, "I thought I might be a labor organizer." The idea formed when, as a World War II veteran recovering in a Staten Island hospital, De Cormier began singing in the nascent Congress of Industrial Organizations' labor chorus. "But the director took me out after a rehearsal and said, 'Don't be stupid. Apply to Juilliard.'"
De Cormier went on to earn his bachelor's and master's degrees at the conservatory and became a prolific composer-arranger in styles ranging from Broadway to classical to African. He directed the folk group Peter, Paul and Mary and arranged and composed for Harry Belafonte. He scored a ballet for the Alvin Ailey American Dance Theater that's still in the group's active repertoire; directed the New York Choral Society for 17 years; and founded Vermont's only professional singing group, Counterpoint, among other highlights.
Through it all, De Cormier found ways to raise social awareness through music. He collaborated with the likes of Pete Seeger and Woody Guthrie, directed the Jewish Young Folksingers and specialized in music of the oppressed, such as African American spirituals, as an "attempt to make the world better," as he puts it.
"His passion, his love for the music, his causes — the Holocaust, slavery, bullying — are all of a piece," says Eleanor Long, the VSO's manager.
So, too, was De Cormier's choice to commute practically the length of Vermont to teach a class at Saint Michael's College called "Songs of Resistance: Music in Struggle" at the age of 86. "The students didn't know anything at all about the subject matter," he recalls. "It was really good to teach them."
A sense of social justice also underlay his decision to found Counterpoint in 2007. Recognizing that many of the singers who had joined the all-volunteer VSO Chorus were highly trained and deserved to be paid, De Cormier lobbied the VSO for years to establish a professional group from its ranks. The money was lacking, however, so De Cormier started his own group. The director made sure to split Counterpoint's small profits evenly: "Everybody got the same amount, including me. It's a principle I really believe in."
The VSO Chorus had been born in 1993, when then VSO director Kate Tamarkin and executive director Tom Philion approached De Cormier. "We put out the word for a conductor," Long recalls, "but everybody in Vermont knew that Bob was the one."
Before then, the orchestra had included choral works only rarely in performance, using the local choruses of the towns it visited. Under De Cormier's direction, the VSO Chorus has performed at least one memorable concert a year, alternating between a Masterworks and a Holiday Pops concert.
De Cormier is so enthusiastic about the VSO Chorus' upcoming performance, it's hard to believe it will be his last. Describing the 13-year-old boy who will solo in the Bernstein, Vermonter Justin Murray, De Cormier says he's "just beautiful, with an angelic face surrounded by a head of brown curls. The audience is going to fall in love with him." And the Brahms is the kind of music that, with careful listening, "can reach your soul. I guess we all have that," he adds.
The storied musician plans to focus on playing classical guitar for personal enjoyment after he steps down from the VSO podium. "I'd love to not say that this will be the final concert," De Cormier says, "but I just thought it's time."
Vermont Symphony Orchestra Masterworks concert with the VSO Chorus. Saturday, January 25, 8 p.m. at Flynn MainStage, Burlington. $16-61. The concert is one of four being offered during the week of January 18 to 26 that make up "A Classical Celebration of Community." lccmf.org, bcovt.org, vyo.org, flynntix.org