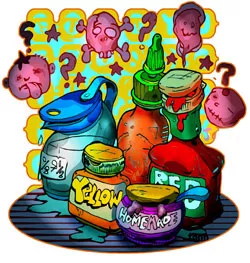 A condiment revolution is happening in restaurants across the nation. Instead of settling for Heinz and Hellman's, chefs are simmering their own ketchup and stirring unusual herbs or spices into housemade mayo. In some places, the goods are dispensed in portions just big enough to moisten a sandwich or drizzle over an entrée. In others, larger containers — such as glass pickling jars — give a rustic, community feel to the meal.
But for some consumers, the latter approach brings up concerns. It may be cozy and communal, but they fear sharing the Dijon means swapping spit with strangers. You might never plunge your frites straight into a jar of housemade ketchup, or swipe a spoonful of raspberry jam across your already buttered toast and drop the utensil back in the jar. But do you trust your fellow diners not to?
"I've seen people dipping right into the jars," notes a foodie who goes by the handle "dtp123" on the Seven Days food forum.
While a second commenter was "grossed out" by the thought that restos might pass condiments from one table to another, TonyO, a food industry veteran, has a more measured response. "It is fairly obvious to me that the jar will be reused, and I have no issue with that," he says. "But I think individual ramekins might be a better idea to curb double dipping."
Single-serving style is how they do it at the Daily Planet, where Chef Michael Clauss is a stickler about food safety. "We don't reuse anything," he says. If something goes out into the dining room and isn't consumed, it's discarded. That policy is applied to everything from seemingly untouched pats of housemade butter to the measured portions of condiments served to diners with their burgers and fries.
Al Burns, sanitarian supervisor for the Vermont Department of Health, would approve. "Of course we recommend that [restaurants] use individual servings, but it's not required," he says. "Anybody that makes their own condiments should put them in whatever container they put them in, use them up, clean the container and make new. We do allow [homemade versions] as long as they have a safe process for doing that."
According to the rules, only containers that don't admit grubby fingers and soiled silverware — such as squeeze bottles with tops — should be passed from table to table.
Sara Verdery, pastry chef and line cook at The Scuffer Steak & Ale House, says staffers at the casual, family-friendly spot are sticklers for food safety. Because it's the law, "single-use" containers, such as mustard jars, are recycled once empty. However, refillable ketchup containers are washed, sanitized and filled with new product from a bulk bag.
Burns says that tactic is just fine, provided you're using the right containers. "If you buy the plastic squeeze bottles that are made to be refilled, we allow that," he explains. As counterintuitive as it seems, the easy-to-clean glass versions aren't considered reusable. And the practice of "marrying" ketchup bottles at the end of each day, which results in remnants from numerous bottles going in one? "That should not happen," Burns says gruffly.
When it comes to homemade dressings and sauces at The Scuffer, says Verdery, "They stay in the refrigerator unless they're in your hand to dress the plate." When it's extra busy, squeeze bottles of salad dressings and other sauces are kept on ice, and the cubes are changed every hour. "We're really health conscious," Verdery notes, but says she's worked at Burlington-area restaurants that weren't. "With seafood and red meat, you can't mess around," she says.
Freshly made aioli is the name of the game at The Farmhouse Tap & Grill, where eaters go through up to 25 gallons of the stuff per week. "We make five-gallon batches about every two days," says Jed Davis. For now, the Farmhouse crew is buying ketchup and mustard, but they eventually plan to make those, too. What happens to leavings at the end of the night? "We dump them all," Davis says.
Chef Aaron Josinsky of Bluebird Tavern, one of the first local restaurants to start making nearly everything from scratch, says his team prides itself on cleanliness in their kitchen. "Food safety is obviously very important," he notes. That's why jars of aioli and ketchup come out cold. "Every table that orders something that requires those condiments receives a fresh, cold jar from the wait station," Josinsky assures.
Keeping condiments safe, in short, means sometimes sending carefully crafted foods into the trash or compost bucket. But Josinsky says making them in-house is still worth it: "We could be buying Hellman's or Heinz, but we think we can make a better product."
Given the number of people enthusiastically spooning up freshly made condiments from jars at local restaurants, it seems as if the customers agree.