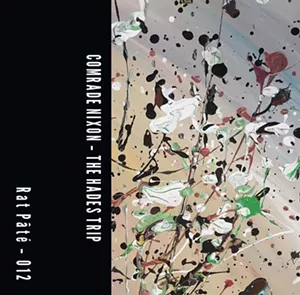 Comrade Nixon, The Hades Trip
(Rat Pâté Records, digital download)
Comrade Nixon are a punk act that emerged from the scrappy music scene of Plattsburgh, N.Y. Since 2014, the center of the band's sound has been the bedroom studio explorations of guitarist and singer Andrew Wilson. He initially linked up with drummer "Antwon Levee" — a pseudonym for tireless Lake City scenester Matthew Hall. On recent projects, multi-instrumentalist Sam Egan has taken over on the kit.
Comrade Nixon's latest effort, The Hades Trip, offers much broader horizons than previous projects. Several songs here are complete departures from the guitar-and-drums thrash fests that characterized the band's early work. Some of that sonic expansion might be due to the presence of bassist Philly Joe Hagen. The new songs are noticeably longer, too. (One track, "Tabula Rasa," actually breaks the five-minute mark.)
Album opener "Ex Nihilo" fades into a wash of jangly guitars and ... Jesus Christ, is that piano? Yes, yes, it is. Confounding expectations even further, the song opens up into a genuinely nice little ballad.
The album closes on a surprising note, too, with the demented organ-vamp storytelling of "Wrong Turn Into Grotto" and the polished shoegaze experiment "How We Became the Omega."
Despite those innovative bookends, the bulk of the album's 12 tracks are rooted in Comrade Nixon's typical approach: a meaty wall of impenetrable thrash noise. Sometimes that sound is infused with psychobilly swing ("Questions Answered With Beatings"), and sometimes the band showcases absolutely frantic guitar solos ("Action Jackson"). Mostly, though, The Hades Trip is about three lunatics bashing away as fast as their chops will allow.
Which is not to peg the record as some kind of mindless punk-rock atavism. Indeed, like so many aesthetic terrorists before him, front person Wilson is far smarter than his shtick. Comrade Nixon's songwriting has always been archly literate, sarcastic and smart.
Of course, when it's time to perform or record these songs, most of that lyricism gets washed into overdrive oblivion and drowned out by cymbals. In the thick of it, Wilson's vocals are more of a howling counterpoint than a lead instrument. As a pure thrash unit, Comrade Nixon have grown tighter with time, packing a more articulated punch than in their early efforts.
Despite the stylistic detours, the album strikes a consistent sound, thanks to producer Todd Whitehead. That sound is a hot mess and a blast from the past — perhaps a lost demo tape from the early days of New York City's protean punk scene. Whether that's timeless or tired will depend upon your tolerance for lo-fi sonic assault.
Overall, The Hades Trip showcases an interesting mix of artistic growth and uncompromising attitude. Fans who want their punk as raw as possible will find a lot to love. Yet the most compelling thing about this album is the tension between pummeling excess and more melodic moments. The record, then, is a prelude to something wonderful and weird. What rough beast, its hour come round at last, slouches towards Plattsburgh to be born?
The Hades Trip is available at comradenixon.bandcamp.com.