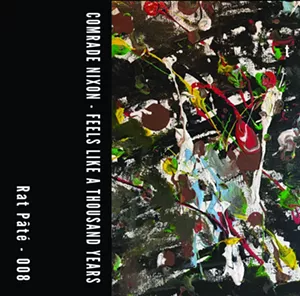 Comrade Nixon, Feels Like a Thousand Years
(Rat Pâté Records, digital download)
Authenticity and punk rock are strange bedfellows. I don't know what "real" punk is anymore — if I ever did. I know just enough not to believe anyone who tells me what it is, unless they can prove it. More than any other genre, punk has to feel like itself.
Feels Like a Thousand Years, the new release from Comrade Nixon, absolutely feels like a punk record in every sense of the word. It's abrasive, political, raw and, occasionally, just straight-up sloppy — the last of which somehow comes across as charming. Fronted by vocalist and guitarist Andrew Wilson — who also runs Rat Pâté Records, which released the album — the Plattsburgh-based band is all energy and froth. Matt Hall, of fellow Lake City punks Marco Polio, handles most of the drums. There's no bass guitar, just Wilson playing like someone slipped Dick Dale acid and told him that there is no God. Hall viciously pummels his kit throughout, pushing the tempo right to the red line. The pace doesn't let up once Sam Egan takes over on the skins for the last four tracks.
Feels Like a Thousand Years is essentially a live record, tracked in a single day at Robot Dog Studio. Producer Ryan Cohen treats the material the way one should. The record is so warts-and-all that after the song "Great Satan" wraps, Hall can be heard admitting, "That was shoddy in some spaces, we're gonna re-do it." They don't, and that's perfect.
Thirteen tracks fly by in a half hour. With no letup in pace, some songs sort of smoosh together like marshmallows — but there are plenty of high points. "Andrew's Black Book" has a sinister, Fugazi-esque drive. Wilson sounds positively deranged as he screams, "Burn the witch, burn the witch, cast your spell upon the world!" He sings with a breathless desperation that lends power and urgency to his songs. He sometimes eschews melody for bombast, but rarely to the music's detriment.
Perhaps the following statement could be considered a brand of recency bias, but listening to this record while Charlottesville, Va., descended into chaos and the president was tweeting about nuclear weapons as one might discuss lunch options gives Feels Like a Thousand Years an added layer of primacy. A thick crust of dread, of impending violence, hangs over the songs. That's not to say the record isn't fun — it's just a sort of nihilistic abandonment kind of fun.
Comrade Nixon haven't changed much since last year's full-length debut, Wine and Circuses; the bullet points are generally the same. A tad more surf punk slips in, as evinced by the frenetic "Kaputt." But, by and large, the band is all about blistering, seething speed and barely controlled bursts of fury.
Feels Like a Thousand Years by Comrade Nixon is available at comradenixon.bandcamp.com. Check out the band next on September 14 at the Monopole in Plattsburgh, with Hill Haints.