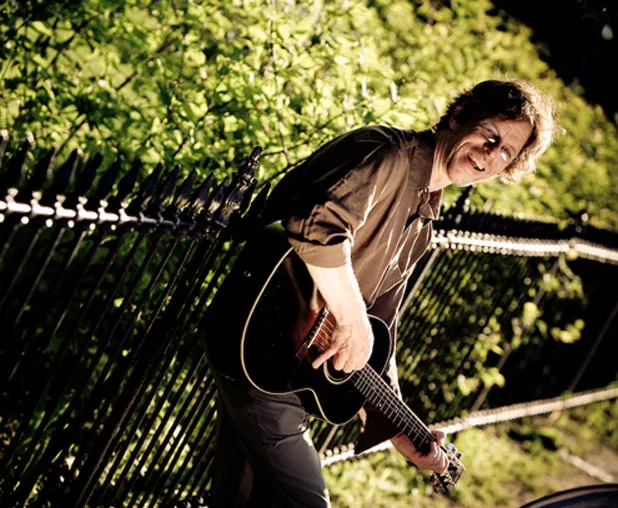 "You know that story about Bon Iver?" asks Michael Chorney, tending to a dented, flame-scorched stove-top percolator in the kitchen of his Lincoln home. "About how he [singer-songwriter Justin Vernon] went to a cabin in the woods for three months and recorded that album [For Emma, Forever Ago]? Well, I was talking to a friend of mine recently who pointed out that that's what I've been doing for, like, the last 15 years." Chorney chuckles as he turns off the gas stove and pours the coffee into a pair of chipped mugs. "And I guess I have," he muses.
Chorney shuffles over to the corner of the room and places the mugs on a table beside several scattered piles of sheet music — all handwritten. Outside, visible through two floor-to-ceiling windows framing the table, a handmade wooden footbridge spans a stream that cuts through his heavily wooded backyard behind the far wall of the patchwork house — a cabin, really. Given the rustic surroundings, it's not hard to imagine Chorney huddled over this very table into the wee hours, intently crafting his next piece — maybe by the light of an oil lamp? — and oblivious to the outside world. But, unlike Justin Vernon, Michael Chorney works and lives this way all the time. Simply. I mean, dude doesn't even have a cellphone.
Chorney, 49, is among Vermont's most prolific and innovative musicians — he's a performer (on saxophone and "prepared" guitar), composer and arranger. Since the dissolution of his pioneering local acid-jazz ensemble viperHouse nearly a decade ago — and a stint with his short-lived but acclaimed follow-up, Orchid — he has produced a dizzying volume of work in, or for, various ensembles. Whether offering cosmic tributes to Sun Ra and others with chamber-jazz sextet Magic City, howling at the moon with mountain-blues auteur Seth Eames, exploring the outer limits of improv with Ensemble V, or crafting suites based on the work of such luminaries as Kurt Weill and Paul Bowles, Chorney leaves a distinctive mark on everything he touches. Yet he rarely, if ever, claims the spotlight for himself.
That all changes this Friday when he unveils his latest creation, the Michael Chorney Sextet, at the FlynnSpace. It's the first of Chorney's numerous ensembles to bear his name. The group comprises a number of old friends — bassist Rob Morse, drummer PJ Davidian, trumpeter Brian Boyes and cellist Polly Vanderputten — as well as a fresh face, violinist Sonia Hsieh. Hsieh is a student of Chorney's at Middlebury College, where he is the music director of the school's dance program. The FlynnSpace performance will introduce 11 new compositions created over the last nine months. The project was financed with a new works grant from the Vermont Community Foundation.
Few musicians are as intimately familiar with the scope of Chorney's work as Vanderputten, who collaborated with him on a variety of projects, including Ensemble V, Magic City and Anaïs Mitchell's folk opera Hadestown. "Michael's personality always comes through very strongly in his work," she says. "He has a gentle quality in his music."
Vanderputten describes Chorney's latest venture simply, but reverentially, as "lyrical." And she notes a couple of influences that may surprise: 1960s Italian cinema and 1970s Neil Young.
"But all of it is colored by his own inventiveness," Vanderputten says. "I think he's brilliant."
Now seated at the table by the window, the mild-mannered Chorney grows visibly excited when talking about his new project. He just can't define it, exactly.
"My friends are asking me what kind of music this is," he says, taking a sip of coffee. "But I don't know what to tell them. I don't know, either. It's just … music."
Chorney began to develop the idea for his latest material while wrapping up his work arranging and recording the score for Hadestown. (That star-studded disc — which includes Vernon of the aforementioned Bon Iver — will be released early next year on Righteous Babe Records.) The project occupied Chorney for more than two years, along with his interpretations of Weill, Bowles and others. It had been several years, he realized, since he'd directed his energy toward creating his own original music. And he hadn't written without a specific concept in mind for just as long.
Which poses the question: Just what is the concept for his new work?
"The concept is that there is no concept," Chorney says with a grin.
"I've been trying to do the same thing for years," he continues, noting that writing without a particular goal has been liberating. "When I'm writing instrumental music, I set out to see if I can write music that can evoke some of the quality of song, but without words," he explains — sort of.
To illustrate his point, Chorney moves to the stereo and cuts short Karen Dalton's anguished croon — "Lately I've had a thing for tragic female singers from the 1970s," he notes — to play a few cuts from the Hadestown sessions. He then puts on a rough recording of the new sextet from a recent rehearsal.
It sounds … rather like Hadestown.
"And it should!" Chorney says, beaming.
He gleaned a lot from the Hadestown experience, he says, particularly with regard to voicing horns and strings. It also left the guitarist "enamored" of improvised material using acoustic instruments. He makes no bones about the fact that the new material evokes shades of Mitchell's folk opera. But perceptive listeners will also notice touches of Weill, Bowles and Sun Ra. And maybe Neil Young.
Oh, and Michael Chorney.
While these new pieces are unquestionably a product of his recent experiences, Chorney says they've given him the freedom to, well, be himself. Rather than shying away from themes explored in earlier efforts, he embraces them, indulging ideas from previous projects that he either left on the cutting-room floor because they didn't fit, or never fully realized. Almost paradoxically, given the prominence of themes from Chorney's collaborative work, the Michael Chorney Sextet may be his most personal expression yet.
Or, as he puts it with typical understatement, "There's really no epic story here. This is just music I wrote."