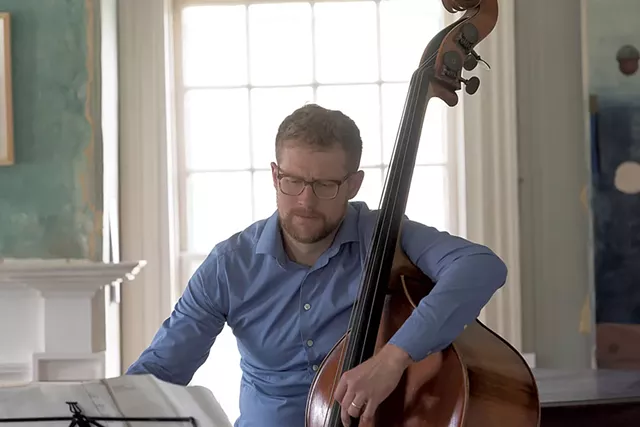 Courtesy Of Rob Spring
Evan Premo
The U.S. Department of Labor counts 70 "music directors and composers" in Vermont, which is probably an underestimate. One benefit? Locals are often the first to hear their new music.
Among recent premieres was Waterbury composer Matt LaRocca's score for New York City-based filmmaker Robin Starbuck's short film "How We See Water." The Vermont Symphony Orchestra played the work to screenings at the Middlebury New Filmmakers Festival in August and during the VSO's Made in Vermont statewide tour this fall.
If audiences missed LaRocca's piece, they can look forward to three more new works in the next few weeks. The three-town premiere of Brookfield composer Erik Nielsen's first composition for piano quartet began last weekend in Newport and continues this weekend in Montpelier and Richmond. Colchester composer Kyle Saulnier's "a foundation of sand," for violin, viola, cello, bass, flute, bass clarinet, guitar, percussion and voice, has its public premiere in Burlington on November 1, followed by a Stowe performance the next day. And Marshfield composer Evan Premo's first string quartet comes to Shelburne, Montpelier and Warren the following weekend.
These works run the musical gamut. Nielsen's is a jazz-inflected six-movement piano quartet. Saulnier's rhythmically intense and through-composed piece includes a wordless soprano part. Premo's more meditative quartet elaborates, in one of its four movements, on the tune "This Little Light of Mine." (Seven Days heard Nielsen's work on computer-generated files derived from his music-notation program Sibelius, saw video of a rehearsal of Saulnier's work and read a score of Premo's.)
Nielsen composed Quartet No. 1 for Piano and Strings specifically for the musicians of the Northern Third Piano Quartet, who commissioned the work: pianist Alison Cerutti, violinist Sofia Hirsch, violist Elizabeth Reid and cellist John Dunlop.
"They have all played my music extensively," says Nielsen, who won a Vermont Community Foundation grant to fund the project. VSO musicians Hirsch, Reid and Dunlop played his symphony-commissioned Fanfare; and Cerutti, Reid and Dunlop played in the pit for Nielsen's opera A Fleeting Animal, among other collaborations.
Courtesy Of Gulnara Khamatova
Kyle Saulnier
While three of the six movements are written for all four instruments, one is a duet for piano and violin, and the others are solos for cello and viola. Says Nielsen of the structure, "It's kind of like being in society: You balance the needs of individual musicians with those of the ensemble."
Cellist Dunlop describes the work as having a "clashing intensity" as well as some "recognizably grief-felt moments" — the work is dedicated to Nielsen's late brother. But, Dunlop adds, it also has "more swinging jazz lines than Fleeting," including a walking bass line in his solo.
Saulnier moved to Vermont from New York City three years ago with his wife, VSO violinist Brooke Quiggins Saulnier. He teaches at Quinnipiac University in Connecticut, a job he says has somewhat hampered his involvement in Vermont's music scene. "[A] foundation of sand" will be his second composition to be played in the state; the first was a string quartet performed by Waterbury-based TURNmusic last year.
Like Nielsen, Saulnier counts jazz among his influences: He earned a doctoral degree from New England Conservatory of Music in Boston in jazz studies with an emphasis in composition. A musician with both classical and improvisatory training, Saulnier plays acoustic and electric bass and baritone sax.
TURNmusic will premiere "a foundation of sand." Director Anne Decker commissioned an earlier version of the work, written for sextet, for the group to perform at a new-music conference in Boston in May. For the public premiere of the new work for nine instruments, Saulnier will play acoustic bass. Among the other ensemble members, Quiggins will play violin and Stefanie Weigand will sing the scat-like, language-free soprano part.
"I always kind of like more — big bands, large ensembles," says Saulnier. He describes the eight-and-a-half-minute composition as evincing "a feeling of acceleration throughout," culminating in "a moment of convergence" of all the instruments.
Courtesy Of Erik Nielsen
Erik Nielsen
Decker, who typically programs genre-straddling music, says she appreciates Saulnier's "shared sensibility with regard to groove and line in music. When his influences from jazz or funk or R&B intersect with a classical style, that really interests me."
Premo's premiere happens on November 8, 9 and 10. The double bassist and his wife, soprano Mary Bonhag, run Scrag Mountain Music, a classical series they bring to atypical venues for whatever audience members can afford to pay. Now in its ninth season, the series has earned the loyalty of the communities it reaches.
Premo's String Quartet No. 1, subtitled "Deeply Known," is the result of an ideal commission. Braintree organist and composer Kathy Wonson Eddy and her husband, photographer Bob Eddy, gave Premo the money with no strings attached.
"What an amazing gift," comments Premo. "The first thing I thought about was Who are the best musicians I know?" The New York City-based all-female Aizuri Quartet, whose members are regular Scrag performers, came to mind. So Premo set about the daunting task of writing his first work in chamber music's most popular form.
Aizuri, the 2017-18 string quartet-in-residence at the Metropolitan Museum of Art, has won a rash of prizes recently, including first prize at the 2017 Osaka International Chamber Music Competition & Fest in Japan.
Premo can talk at length about the impetus behind each of his work's four movements. ("I'm a share-y person," he jokes.) In brief, the quartet explores vulnerability, a condition that isn't "rewarded or lauded" in our society, he says, despite being a prerequisite for deep connection with others. Notes to his score include quotes from Ernest Hemingway, Jesus, Rumi and vulnerability researcher Brené Brown.
Premo's second movement addresses his realization, in the #MeToo era, that vulnerability "isn't necessarily equally available to all people. As a straight white male, I have the privilege of feeling that way by choice," he says. As a whole, the work simultaneously explores the vulnerability that a quartet of musicians needs to experience to make great music together.
Correction: October 17, 2018: An earlier version of this story misstated the number of seasons Scrag Mountain Music has been in operation. It is in its ninth season.