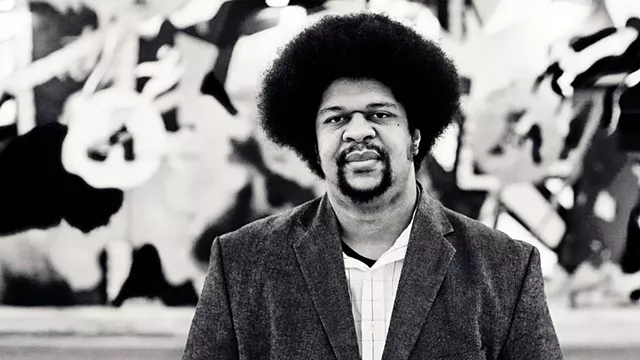 Courtesy of Kate Baumwell
Matthew Evan Taylor
For multi-instrumentalist and composer Matthew Evan Taylor, only music could sufficiently express his reaction to the recent deaths of George Floyd, Breonna Taylor and Ahmaud Arbery and the subsequent worldwide protests. The Middlebury College assistant professor of music decided to process his multitude of thoughts and feelings in a series of free jazz improvisations. Seven of them comprise his new album, Say Their Names.
The title nods to popular rhetoric associated with the ongoing killing of unarmed Black Americans at the hands of police.
At first, Taylor didn't watch the highly circulated video of Floyd's death under the knee of a Minneapolis cop, nor did he initially think it would spark the kind of outrage that has ensued. But, as he saw the protests take root and "reach a fever pitch," he felt his "anger was building up," he said.
"This is one way I can find to support people who are putting their lives on the line," Taylor told Seven Days by phone, noting that he's donating sales of the album, as well as a personal matching contribution, to Black Lives Matter.
The origin of Say Their Names began in December 2019, when Taylor launched an ongoing musical social media challenge dubbed Project 39. Having just turned 39 himself, he pledged to post a daily improvisation at least 39 seconds in length. But as he watched the coverage of Floyd's death, and as new details emerged about Breonna Taylor and Arbery, he decided to focus his improv sessions solely on the resulting unrest.
"Most of the time, as a musician, you don't get to comment on events as they're happening," Taylor said. "As far as the intention of the music, it's documentation. It's my attempt at journalism."
Taylor began posting his reflections on May 29 and decided to release them as an album by the fifth day of updates. He says the tracks, composed of layers and layers of live loops, express many things: encouragement, outrage and — in "The Yellow-Haired Coward Goes to Church" — ridicule. (The piece refers to President Donald Trump's much-criticized photo op, in which protesters were cleared out with tear gas so that he could brandish a Bible in front of a church in Washington, D.C.)
Taylor plays flute, clarinet, saxophone and hulusi, an instrument of East Asian origin also known as the cucurbit flute. The album has minimal postproduction and is largely expressionistic. Taylor wields his instruments with incredible dynamic range, drawing out sounds in beautiful crescendos and curtailing them with sharply punctuated squalls.
"I tend to avoid having a narrative that's meant for the audience," he said about his work.
However, Taylor explained that some sounds and techniques he used in Say Their Names have more literal interpretations, such as the breathy sounds at the beginning of "Why Can't We Breathe." And on "Footfalls for Justice," staccato blasts of his horn coupled with siren-like squeals conjure images of protesters marching against a heavy police presence.
"I Only Have Two Cheeks" begins with a sample of podcaster and radio host Danielle Moodie — the only sound that Taylor did not create. She castigates those who took more offense at the riots' destruction than at what motivated them.
"If you are more concerned with the fire of a fucking Target than you are that you sat and watched on video for over eight minutes a white police officer kneel on the neck of a Black man like he was a fucking dog, then you are the problem," she says in an episode, titled "Palpable Pain," on the podcast "In the Thick With Maria & Julio" "I only have two cheeks. How many times am I supposed to turn them?"
As Moodie's words begin to overlap and swirl together, Taylor's horn slides in. The two begin a sort of conversation that spins and spirals into oblivion.
Taylor plans to continue producing music in this way "until things become 'normal,'" he said.
"It's a model for still producing music [during a pandemic], but also [responding] to this incredible historical moment," Taylor continued, "where there seems to be actionable change happening due to people's outrage over the mistreatment of people like me, of Black Americans."