Courtesy Of Luke Awtry Photography
Christopher Hawthorn at his studio in Burlington
Christopher Hawthorn writes movie scores for films that don't exist. That's one way of looking at the Burlington-based producer's work, one with which he'd largely agree. Another is that he's an experimental musician who creates breathtaking, evocative instrumental compositions, and any filmmaker would be lucky to have his work accompany their moving pictures. His latest album, Homesick, is no exception.
Hawthorn's work hasn't yet been featured on the silver screen. Though the 31-year-old musician would love the opportunity, he's mostly focused on making records, as well as producing the work of Vermont-based artists and making them sound exceptional.
Recently, Hawthorn coproduced Make It Better, the hotly anticipated new album from singer-songwriter Francesca Blanchard, released in June. Much of the record's buzz involved Blanchard's significant stylistic shift. She pivoted from the placid folk and francophone music of her 2015 release, Deux Visions, to a more current pop-soul sound — a transition developed through her close working relationship with Hawthorn.
Others have benefited from his meticulous touch, too, such as capital-P pop singer-songwriter Isaac French, folk-rock singer-songwriter Troy Millette and bluesy trio Nina's Brew. Though Hawthorn's creep has been slow, he's solidified his niche in the local music community as a thoughtful producer with a keen ear for intimate, contemporary sounds.
"I want to make records I don't get to do normally," he says. "I'm looking to explore more electronic, high-energy music. We'll see what that ends up looking like."
Hawthorn is as calm and deliberate as his compositions. Meeting a reporter for a socially distanced interview, he's dressed unassumingly, mostly in black. He has an air of mystery made more curious by his ponderous speech — he obviously thinks a great deal before speaking.
That same calculated, intentional quality comes through on Homesick. Twinkling arpeggios abut honeyed samples of orchestral strings on tracks such as "Connecting the Dots" and "Sacred Ground," while brooding cuts "Formless Shapes" and "The Ancients" impart a sense of wholeness despite having a less defined, synth-rich architecture.
"I'm in the daydreaming phase for what my next [release] will be," Hawthorn says, noting that he may put out something completely different from his first two albums, perhaps under a different moniker.
Originally from Philadelphia, Hawthorn was raised in a musical, highly studious and religious family. His parents were both music educators, and Hawthorn was homeschooled all the way through high school. He first arrived in Vermont in 2011 "on a whim," as he puts it, to work at Lions Gate Farm in Huntington. As happens with many who make a snap decision to move to the Green Mountains, he fell in love and made them his home.
Shortly thereafter, Hawthorn set up shop in a little-used recording studio at 150 Cherry Street in Burlington. The multipurpose space centers on "community initiatives, creative collaboration and spiritual renewal," according to its website. Though Hawthorn does not currently identify with any specific faith, his core values, born out of a religious upbringing, align with that of the facility.
"I hold a lot of values and broad morals that I learned through [religion]," he says. "My process has been separating those ideologies and that specific worldview and learning to be more open-minded and challenge things more critically in myself."
For many years, Hawthorn was primarily known in the Vermont music scene as a trumpet player, although lately he's gravitated more toward keys in the live setting. He's gigged with an array of outfits, such as cumbia band Mal Maiz and modern rock group Matthew Mercury.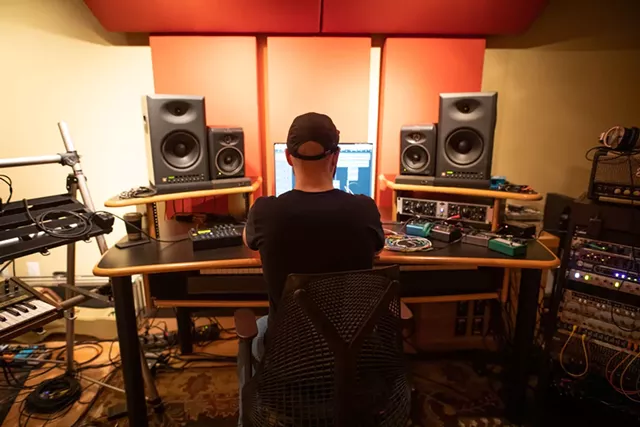 Courtesy Of Luke Awtry Photography
Christopher Hawthorn at his studio in Burlington
In 2017, Hawthorn and Blanchard, who were roommates at the time, worked together to bring to life "Free," a new song of hers. It was the first track the pair created, and the lead single to the eventual release of Make It Better.
"It was the first time someone had given me permission to think outside the box or outside of what my audience would expect from me, given my repertoire," Blanchard says.
She credits Hawthorn's encouragement for beginning to take more ownership of her work than ever before.
"I loved every individual who worked on [Deux Visions], but I was in a room filled with men with big opinions," Blanchard says. "I did not know how to speak up or say, 'No, I don't want that on the song.'
"Chris has always been an ally in that," she continues. "It's always putting the song first, focusing on the music, zero ego."
Hawthorn has a strong ability to listen to his clients and process their goals while also bringing his own touches to the music.
"I said in the beginning, my voice is my primary instrument," says French. Hawthorn produced his 2018 album Human Being, as well as two singles released in 2020, "Ready to Be Loved" and "All I Need." Indeed, French's silky voice is crisp, clear and dominant across his Hawthorn-augmented work.
"He's super professional but also doesn't make it seem that way," French says. "You're there to work, but it's more fun than work."
Both Blanchard and French note that because Hawthorn's studio is quite small, it's perfect for recording intimate, electronically driven pop as opposed to the music of big rock bands that might better benefit from more physical space to create and record. Homesick, as well as his 2019 debut, Awake, perfectly exemplify that it's not the size of the studio that matters in terms of creating a rich sound.
"The way I've approached writing is searching for a tone or a mood or a color ... versus a more proper approach to composing where you have a strong theme," Hawthorn explains.
He notes that for Homesick he explored modular synths rather than the standard analog synths with which he had more experience and that are generally more user-friendly and predictable. Due to the way modular synths process signals, they can be unwieldy, "almost like a living thing," according to Hawthorn.
Homesick also differs from Awake in its boldness. Both records are pristine and captivating, but the 2019 album is a bit like the first act of a film. It lays a foundation of neo-classical sensibilities and primes listeners for the bigger swings heard on Homesick.
Hawthorn says that he's still evolving his process, learning as he goes.
"It's super easy to get bogged [down] into that kind of intellectual, conceptual phase before I start," he says. "I have to force myself to start making something. I have to figure out what it is after it's made. Otherwise, I wouldn't make any music."