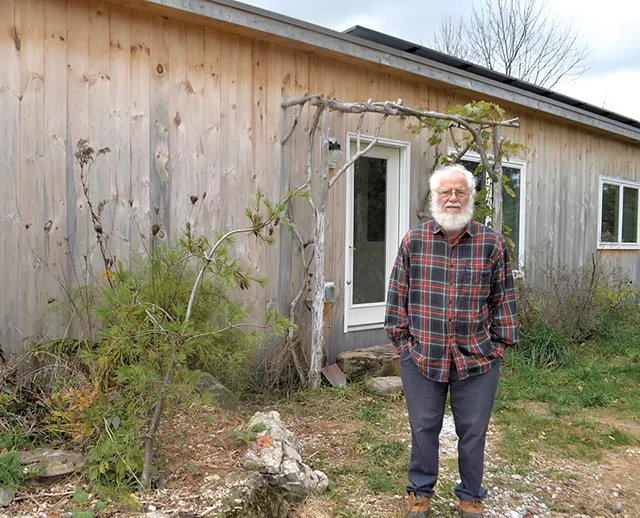 Molly Walsh
Tim Fisher
Tim Fisher purchased a Vermod ultra-energy-efficient modular home in 2017 for his disabled adult son and a live-in caretaker. He wanted an "instant house" that would be affordable, environmentally friendly and better looking than a typical factory-made home.
But the Cornwall artist says the $134,000 shelter underperformed, and so did the Wilder-based company that sold it to him. By Fisher's account, windows cracked and doors were hung incorrectly. The heat pump system could not get his son's bedroom above 50 degrees in the winter. A solar panel nearly fell off the roof. And six months after the house was delivered, Fisher was sitting in the living room visiting with his son when he noticed a potentially bigger problem.
"I looked up and saw that the Sheetrock had cracked, and then I looked down and saw that the floor had sunk," Fisher said.
Vermod executives disagree with Fisher's contention about the quality of the home he bought and defend their company's product and service. "We build a high-performance home. That is the only thing we do here in this company," said Steve Davis, Vermod's founder and owner. He and his team point to the accolades the company has received for its innovative product, which combines affordably priced housing with a minimal carbon footprint. Vermod launched in 2013 with support from Efficiency Vermont, a utility ratepayer-funded nonprofit that has funneled nearly $1 million in subsidies to Vermod buyers.
But as the 6-year-old business prepares to finish its 100th home of the future, Fisher isn't the only customer who is griping. Three others have complained to the Vermont Attorney General's Office about the company. And in interviews with a half dozen additional Vermod owners and renters, concerns about sagging floors, cracking drywall and moisture problems cropped up repeatedly.
"I would not buy another one," said Jeff Bushey, a retired school custodian who lives with his wife in a 5-year-old Vermod at the Otter Creek Mobile Home Park in Vergennes. The couple purchased the home from its original owner in 2017 with subsidies and incentives that brought the price down from about $145,000 to $68,000.
With its solar panels, heat pump and triple-pane windows, the Vermod is advertised as a net-zero home that generates all the power it needs to function. It hasn't quite delivered on that, Bushey said, but it's come close: Last year, utilities, including heat and electricity, totaled $150 — for the year, Bushey said. In that regard, "it's unbelievable," he allowed.
But the modular home has been a maintenance headache, Bushey continued. The couple has spent $8,000 of their own money to replace the flooring, joists, foundation sill and a rear door after moisture problems led to rot and sagging.
Vermod counters that the previous owner created the problem by having a deck installed without proper flashing, allowing rain and melting snow to collect and seep. Further, Bushey failed to do a home inspection before the purchase, which might have alerted him to the problem, said Vermod general manager Kristen Connors, the company founder's niece. She said the business has been responsive to Bushey's complaints but that, ultimately, most of them were not Vermod's fault, and the one-year warranty that comes with a home purchase had already expired.
Bushey says he lived in a mobile home for eight years "that had zero issues" before he moved to the Vermod, "where we're having all kinds of issues." He worries about resale value when "all the neighbors are watching the contractors constantly put this place back together."
Most owners buy directly from the small Vermod factory in Wilder. They choose from several designs and pay their own contractor to put up a foundation, which can cost anywhere from $10,000 to $30,000 if it includes a full basement. Vermod delivers the home on a truck and uses a crane to set it on the foundation. It then does finish work to make the house move-in ready. The one-year warranty covers drywall repair, defects in flooring or cabinetry, and some other fixes.
Because modular homes are trucked to their sites, they have to be stiff enough to resist twisting or bending on the road. As a result, they're less flexible than traditional homes in responding to normal settling and seasonal shifts. "You're never going to have a modular home without Sheetrock cracking," but it's typically nothing more than a cosmetic problem, said Vermod home ownership adviser Ashley Andreas.
Complaints lodged with the Attorney General's Office show that's not the only issue consumers have raised. An Indiana man said that the company agreed and then later declined to sell and deliver a Vermod to his out-of-state parcel. LuAnne Rotax claimed the company was slow in finishing the roof of her North Ferrisburgh home, creating the possibility of water damage. And Pennie Wetzel told the AG's Office in 2014 that the ceiling and walls were cracking in her Vermod, also located in North Ferrisburgh. The floor was sagging so much that "my home is caving in in the center," she wrote.
Ourtesy Of Willow O'feral
A model Vermod at last year's Vermont Tiny House Fest
Connors, Davis and Andreas say there was no structural problem at Wetzel's house. "It's unfortunate that she's not happy," Andreas said.
They forwarded Seven Days a 2017 report from an employee at Artisan Engineering who conducted a site visit with Davis at Wetzel's home. The report noted "no structural" concerns with the floor system. However, it included the disclaimer that a "detailed structural analysis was not performed," and no finishes were removed to see the underlying framing.
Vermod has patched and painted minor cracking but not much else, Wetzel told Seven Days last week. Her daughter now lives in her Vermod, where the company installed a support brace under the hot water heater. Wetzel thinks the home needs three or four support beams, and she wants Vermod to install them — but the company has refused, she said.
The other problems have continued, too, Wetzel said. "Is my house OK? No. My house is cracking," said the part-time UPS employee. "The floors are separating. It's pretty much junk, and I pay for it every month."
Outside of Vergennes, a 14-unit Vermod modular home park opened in 2016. It was the first of its kind in the state, with 10 two-bedroom, two three-bedroom and two one-bedroom units. It replaced a derelict mobile home park and today is an attractive neighborhood with green space, decks and energy-efficient Vermods.
But at least two homes have had significant moisture and mold issues that required flooring and walls to be replaced. Further, many of the units at the affordable housing development, known as McKnight Lane, have cracking in the drywall, said Elise Shanbacker, executive director of the Addison County Community Trust, the nonprofit that owns and rents the units.
While she confirmed the issues, Shanbacker does not view them as major. In fact, she says the trust would do another Vermod project.
"We definitely had some cracking and settling. That was sort of the biggest issue after they were delivered. But it was purely cosmetic and, for the most part, has been addressed," Shanbacker said. "Some of the finish work that was done on-site, we've had a few problems that we feel like we've been able to adequately address," she continued.
When a Seven Days reporter visited the park in late October, several residents cited the cracking drywall problem and, in one case, the moisture problem.
Andreas, at Vermod, said installation errors caused the moisture issues. "We took full responsibility," she said. "If we make a mistake, we correct it." Although both problems cropped up after the one-year warranty, Vermod covered all costs on one repair, according to Andreas, and a subcontractor's insurance paid for the other, she said. Vermod also repaired cracks that occurred within the one-year warranty period.
Despite the problems, three residents told Seven Days that they like the development and their Vermods. That's a sentiment Shanbacker echoed.
"We have a lot of demand for them and not a lot of trouble leasing them," Shanbacker said. "They've been pretty much occupied straight through since they were placed in service." There's a wait list and one vacancy that Shanbacker expects to fill soon.
Vermod backers such as Efficiency Vermont remain fans of the company. It's given at least $823,500 in subsidies to Vermod buyers. Incentives to low-income buyers average $12,409 over the past five years.
The subsidy flows under Efficiency Vermont's Zero Energy Modular program to incentivize low-cost, energy-efficient housing.
"There's more and more of a demand for small, energy-efficient, healthy, affordable homes," said Peter Schneider, a senior consultant at Efficiency Vermont. "So we are working really hard to support these collaborations."
Fisher, the Vermod owner in Cornwall, doesn't think the company should be receiving what are essentially public funds.
"I don't know who, if anybody, Efficiency Vermont is accountable to," he said.
Vermod says it has been accountable to its customers and has made changes in response to some complaints. After windows broke in a few homes, the company switched to a different window maker. Vermod also changed the roof design because the early version may have contributed to floor problems.
The company has also responded to individual customers, including Fisher. Vermod visited his Cornwall home several times to make fixes, according to Connors. Fisher acknowledged some of those repairs, saying the company paid to add a convection heater and corrected various problems with lighting and fixtures.
Both sides also acknowledge a payment dispute. Fisher says he's withholding $9,000 or so because the company still hasn't delivered on the house as he ordered it; Connors says the balance is closer to $14,000. But, she added, the company has basically given up and told Fisher, whom she called "unreasonable," to keep his money.
Despite the growing pains, the company of 17 employees says it plans to keep innovating as it begins building the next 100 Vermods. Connors is gradually taking over ownership from her uncle, Davis, and the goal is to expand the promise of affordable, super-efficient homes. As Andreas put it, "We want to continue to provide this type of home for everybody."