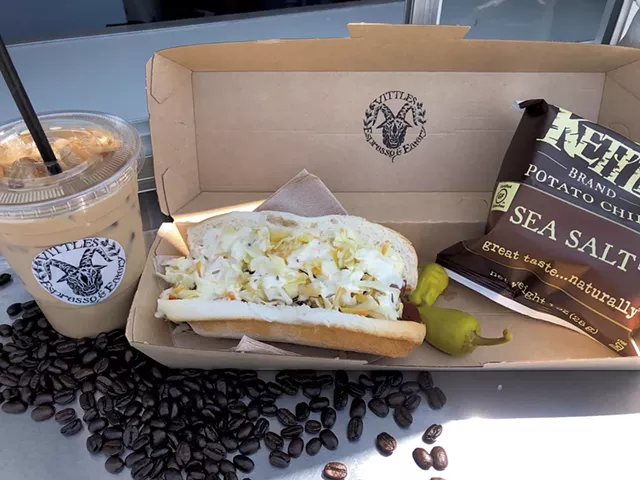 Iced latte and Belafonte hot dog (with mayo, barbecue sauce and slaw) at Vittles Espresso & Eatery
A drive-through food business launched in Bradford last week when Kendall Gendron opened Vittles Espresso & Eatery. Like a mobile version of a fast-food window, the food truck is designed for customers to navigate from the driver's seat. Gendron takes orders from her window, then gives the food to the drivers as they wait in their cars.
Parked by the intersection of Routes 5 and 25, Gendron serves coffee and espresso drinks made from organic, fair-trade beans she roasts at her house in Corinth. The baked goods, including English muffins and bagels, come from South Corinth bakery Marilyn's Kitchen. Gendron herself bakes doughnuts daily, including gluten-free options.
At 11 a.m., Gendron switches to lunch, serving up five varieties of hot dogs. These include a dog dressed with chili, cheddar cheese and jalapeños; and the Mount Rainier (named for Gendron's home state of Washington), with cream cheese, caramelized onions, garlic-Sriracha sauce and jalapeños.
Gendron, 30, has more than a decade of experience in the food and coffee industry, including having worked as bar manager at the Skinny Pancake in Hanover, N.H.
Opening her own business is a longtime goal, she said: "This has been a dream, finally conquered."
Vittles Espresso & Eatery will be open on summer weekdays from 6 a.m. to 2:30 p.m. to give Gendron some flexibility for special events. In the winter, she expects to extend her hours to six days a week.
"This has been the most exciting, gratifying week of my life," she told Seven Days last Friday, after wrapping up her first week of business. "I've had an outpouring of support and appreciation and excitement from all of my new customers. It's been the most positive experience."