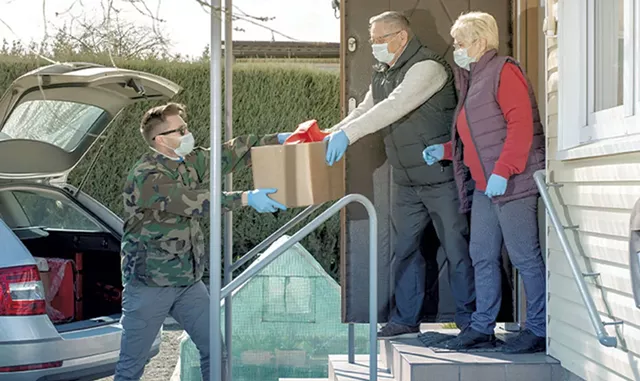 Courtesy of The United Way of Northwest Vermont
In mid-March, as it became clear that the novel coronavirus and its economic fallout were going to hit Vermont hard, the leaders of the state's social service agencies began to sound the alarm.
On Monday, March 16, Feeding Chittenden, which runs Vermont's largest food shelf, distributed groceries to 282 people — a sudden 30 percent spike in demand. Afterward, director Rob Meehan told Seven Days reporter Kevin McCallum that the organization was "not OK."
"We're trying to figure out how we're going to meet the growing need," said Meehan. "We were already facing a deficit and, when this happened, we went, 'Oh, my God. We need to ask for help financially.'"
A week later, help was on the way. The United Way of Northwest Vermont started a COVID-19 United Response Fund to raise the funds needed to support organizations like Feeding Chittenden. Burlington Mayor Miro Weinberger reached out to local philanthropists and secured $85,000 in donations from major donors, including the Pomerleau family.
Courtesy of The United Way of Northwest Vermont
The collaboration kicked off a fundraising push that has so far raised more than $220,000 from local companies, philanthropists and everyday people looking for a way to help. The beneficiaries: organizations serving the area's most vulnerable residents. Jesse Bridges, CEO of the United Way of Northwest Vermont, has emphasized the importance of "getting dollars in the hands of people on the ground doing the work."
Grant recipients so far have included Feeding Chittenden and Age Well, which operates Vermont's largest Meals on Wheels program. The service delivers nutritious meals to homebound seniors. In a statement announcing the fund's first round of grants, Bridges pointed out that "these organizations already have great readiness for rapid scaling and adjusting to the new demands of service in a time of social distancing and great uncertainty."
The news isn't all bad. For example, when more than 100 Meals on Wheels volunteers — many of them seniors themselves — stepped down because of the pandemic, Age Well, in partnership with the United Way, was able to recruit 300 new volunteers to help manage the increase in demand for services.
Chris Moldovan of Age Well, who oversees the Meals on Wheels program, appeared in Eva Sollberger's recent video "Stuck in Vermont: Communities Come Together in the Pandemic." "There's absolutely a silver lining," she told Sollberger. "People do love each other and are taking care of each other and want to do what's right."
That said, Bridges of the United Way stressed that what these organizations really need right now is financial support. "We know a lot of people want to volunteer," he said. "But giving now is incredibly important."
How to Help
Give to the United Way's COVID-19 Response Fund, and learn more about how to give — and get — assistance at unitedwaynwvt.org/covid19-community-response.
All contributions to the fund will be matched dollar for dollar (up to $25,000), thanks to a second gift from the Pomerleau family.
Courtesy of The United Way of Northwest Vermont
Local Needs, By the Numbers
From Feeding Chittenden:
600:
That's how many boxes of groceries Feeding Chittenden's Food Shelf is boxing up for curbside pickup each week.
50: That's how many to-go breakfasts Feeding Chittenden's Morning Meal Program currently serves daily.
250: This many households get grocery deliveries each month from the Homebound Delivery Program.
1,200: That's how many nutritious meals the Community Kitchen Academy is preparing daily for those experiencing homelessness.


From Age Well/Meals on Wheels:
451: The number of new Meals on Wheels clients who have enrolled since March 10 — a 25 percent increase.
1,200+: That's how many Meals on Wheels clients rely on daily delivery of nutritious food. The number includes 156 veterans.
40%: That's the size of the increase in Meals on Wheels services forecast to be needed over the next six months.
$638K: That's how much it will cost to provide additional meal production, delivery and storage to new Meals on Wheels clients.
COVID-19 Response Fund Recipients
Food and Food Access
Age Well/Meals on Wheels
CIDER (Champlain Islanders Developing Essential Resources)
CVOEO (Champlain Valley Office of Economic Opportunity)/Feeding Chittenden/Franklin Northwest Foods
Outreach
Champlain Community Services
Franklin County Home Health and Hospice
University of Vermont Home Health and Hospice
Housing
Chittenden County Homeless Alliance
Franklin County Continuum of Care
Shelter
ANEW Place
COTS (Committee on Temporary Shelter)
Samaritan House
Spectrum
Parent Child Centers
Family Room
LUND
Milton Family Community Center
Northwestern Counseling and Support Services

This article was commissioned and paid for by Pomerleau Real Estate.