Cooper Qua doing a frontside Indy at Talent's former location
Reid Hathaway was in kindergarten the first time he visited the now-defunct Talent Skatepark in South Burlington.
"I remember dropping him off the first time for a lesson and thinking, Wow! This is an awesome place and an awesome community!" recalled his mother, Melissa Hathaway. "He immediately took to it."
When Reid was 8, Hathaway wasn't sure whether it was OK to leave him alone at Talent to skateboard for an open session until other parents reassured her that he would be fine. Talent, they told her, was a place where kids were taught to be "respectful, responsible and safe" on their skateboards. Helmets were mandatory, and the park's skateboard coaches, aka "skoaches," made sure that younger skateboarders didn't get run over by older and more experienced riders.
Soon, Hathaway's son was skateboarding at Talent as often as he could. Reid quickly took to it and became a "board-sport kid." The skills he learned there translated to other board sports, such as snowboarding and kiteboarding, in which Reid, now 13, similarly excels. "This is what fills his heart," said Hathaway.
But in the summer of 2018, Talent cofounders David Wood and Hannah Deene Wood announced that the skate park and shop, which had operated for 17 years as the Burlington area's only year-round skateboard facility — and the largest in northern New England — was closing for good on August 5.
Or so they thought. Vermont's skateboarding community, with the help of Burton Snowboards, has resurrected the beloved skate park as a nonprofit organization. The newly reborn Talent, which is expected to open on Burton's Burlington campus by January, is emblematic of how much the skate park meant to the lives of local skateboarders and their families.
File: Sam Simon
From left: Kyle Buck, Jasper Cleary, Juni Cleary, Henry Meunier, Hannah Deene Wood, David Wood, Arthur Lea, Creston Lea-Simons, Liam Kelley and Evelyn Santillo at Talent's new Burlington location
"Talent was really like a second home," said Emily Brooks, 22, of Shelburne, who started skating there when she was 7 years old and later became a Talent skoach. Brooks, whose parents, Kathy and Mark Brooks, are members of the new nonprofit's board, described it as a place where she found not just an extracurricular activity but a sense of belonging. "Even if I didn't want to skate, I'd still go just to hang out with everyone," she said.
Talent first opened its doors in December 2001 as a 12,000-square-foot indoor facility on Williston Road. It operated 360 days a year and offered lessons, clinics, summer camps and demos by professional skateboarders. In fact, Deene Wood, a Colchester native, nearly gave her life for the business. During its initial construction, she fell off a ladder and fractured her skull, which put her in a coma. In the days after her accident, it wasn't clear whether she would even survive.
Nevertheless, Talent opened for business as originally scheduled, and in its first seven years, it grew steadily and developed a loyal client base. Although the park never had a million-dollar year, Deene Wood said, "When I wrote the business plan, the retail shop carried the entire business. The park was ... just the cherry on top."
But beginning in 2008, Deene Wood noticed that customers were coming into the skate shop and scanning the bar codes on her products with their smartphones but not buying anything. "I was like, What the hell is going on? This is ridiculous!" She soon realized what was happening: People were checking out her products in person, then purchasing them online for less, usually through Amazon. "That's when things really took a turn for the worse," she recalled.
Wood and Deene Wood managed to keep Talent afloat for another decade with its skate clinics and 13 weeks of summer camp annually. But as Wood recalled, he often found himself working all day and only seeing a few customers. "It was like, What am I doing with my life?"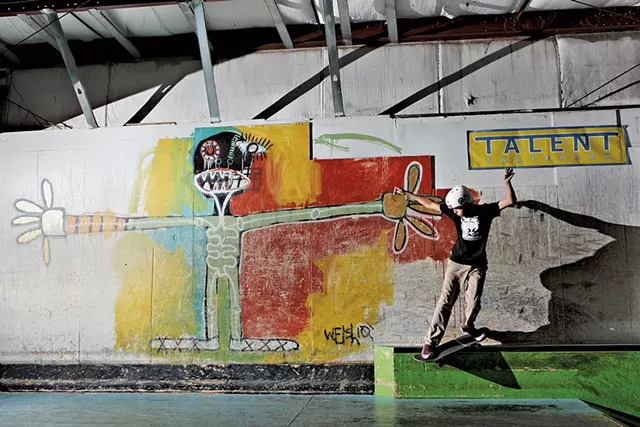 File: Sam Simon
Myles Rossi doing a backside Smith grind at Talent's former South Burlington location
Ultimately, the decline proved unsustainable. By 2018, their accountant warned the couple that if they continued to stay open, they'd go bankrupt. Though some people suggested that Talent venture into online retail sales, Deene Wood said that they had neither the inventory nor storage space to do so. Finally, when their rent went up, the couple called it quits.
After Talent closed, many local skaters felt as though they'd lost part of themselves. When Hathaway broke the news to Reid on the drive home from a skateboarding camp last summer, he was distraught. He wasn't the only one.
"I was devastated," Deene Wood recalled. "It was my life. It was my identity. It was everything."
But within weeks, a group of local skateboarders and their families began gathering to discuss how they could resurrect Talent, perhaps as a nonprofit organization. Early on, Wood admitted that he was deeply skeptical of the idea.
"When you own a business that operates 360 days a year, it's this giant monkey on your back," he said. "We went out of business for a reason, and it wasn't because we were too busy. But I think the community [realized] what they had and what they lost."
This community included Pamela Moreau, whose son Kyle Buck skateboarded on and off for a few years. Then, in June 2018, when Kyle was 10, she signed him up for a one-week summer camp that Talent hosted at the Andy A_Dog Williams Skatepark on Burlington's waterfront.
"I could see how the experience, in just one week, helped build his confidence and self-esteem," Moreau recalled in an email. "I went to Talent's website to sign him up for additional weeks and saw that Talent was closing in August. I was heartbroken because I could see the impact it had on Kyle and on other kids."
A Burlington attorney, Moreau agreed to provide her legal services pro bono to incorporate the new nonprofit and secure its federal tax-exempt status, which makes the new Talent eligible to receive grants.
On a warm day in early September, Wood and Deene Wood met Hathaway, Brooks and several other skateboard enthusiasts at Talent's new home on the south end of Burton's Burlington campus. The newly vacant space is smaller than the original Talent — only about 7,400 square feet. But according to Justin Worthley, Burton's senior vice president of human resources who also oversees facility operations, the snowboard company has agreed to cover many of Talent's common-area expenses, such as maintenance of the bathrooms and parking lot.
In fact, Burton made a "pretty significant investment" in the building itself even before the nonprofit's lease was signed. According to Worthley, Burton erected new separation walls, repaired the floors, and installed a new heating, ventilation and air-conditioning system.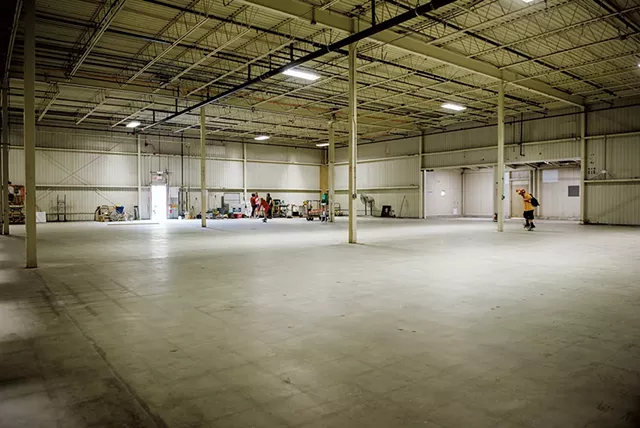 File: Sam Simon
Talent's new space at Burton's Burlington campus
In many ways, Talent's new home on Burton's campus is a natural fit. Burton's own nonprofit arm, the Chill Foundation — a free youth-development program that uses board sports to teach life skills to underserved youth ages 10 to 18 — has had a long relationship with Talent. The Chill Foundation is also headquartered in the building, as is Burton's prototype facility, research-and-development lab, testing facility, and photo studio for their product catalogs. Finally, Burton's own skate bowls, which are free for Burton employees as well as the public, are directly across the parking lot.
"We are passively and actively cheering them on as they reincarnate in their new nonprofit form and helping them out in any way we can," Worthley said.
Deene Wood, who currently works for the Howard Center in Burlington, was hired as Talent's new executive director. Wood, who built the original Talent Skatepark, as well as the Burton ramps and skate parks in Essex, Williston and Colchester, doesn't plan to have a formal role in its ongoing operations but has agreed to construct the new indoor park and its skate features. As for what the terrain will look like, Wood said he'd like to see it take shape over time.
"I think it'll have some old Talent essence," he said, "but some new stuff, too, because skating evolves."
That said, Deene Wood insisted that there's one aspect of the old Talent that won't change: Because of her own experiences with a traumatic brain injury, helmets will still be mandatory.
Deene Wood is still amazed at how many people in Vermont's skateboarding world were on board to make this a reality. Moreau, her pro bono attorney, agreed.
"I'm doing this as a special gift to my son Kyle ... and his brother Liam," she said, "to show them that regular people, working together, can be proactive and create something positive for our community."