lAmBEg © PHiliPP RATHmER/BRigETTE
Evelyn Glennie
What happens when schools and communities collaborate on art projects? Usually, it's a one-off event: Artists, orchestras or other community arts groups visit the local school to introduce students to their specialty through a performance or workshop. Then they leave.
That works to a point, according to Paul Gambill of Montpelier. But the former orchestra conductor is convinced that a more sustained model — one that involves students in the process of creation — can help foster connections between schools and their communities.
COuRTESy OF COmmuniTy EngAgEmEnT lAB
Paul Gambill
That's the aim of the Community Engagement Lab. Gambill and Eric Booth, a New York-based arts consultant who facilitates educational art projects around the world, colaunched the nonprofit two years ago as the Orchestra Engagement Lab. During those first two years, the Lab engaged Montpelier and Randolph schools in orchestra-centered projects that had a lot of moving parts.
Last year's project, for example, called "My Hometown: A Celebration of Place," culminated this past April with the performance of several pieces by a community-sourced orchestra and chorus. One work was collaboratively composed by resident composer and cellist Evan Premo and seventh and eighth graders at Main Street Middle School in Montpelier. The work set to music poems that the students had composed on the themes of poverty and income inequality in their hometown. It was performed in front of sets the students designed with another resident artist, sculptor and painter Gowri Savoor.
Gambill and Booth later rechristened their effort Community Engagement Lab to free it from an emphasis on orchestras. Until recently, Gambill, who moved to Vermont from Nashville, Tenn., in 2011, conducted the Montpelier Chamber Orchestra and the Champlain Philharmonic. He left both jobs to concentrate on CEL full time.
That's because CEL's new program, launched in collaboration with St. Johnsbury's Catamount Arts and called the Vermont Creative Schools Initiative, is on a much larger scale. Eventually intended to go statewide, the arts integration initiative will take form this year in five Vermont counties. Twenty-three high school teachers from seven schools will work with five teaching artists. VCSI will also last longer than previous CEL projects: from a five-day planning intensive in early August until the end of the school year, when schools will launch their culminating shows and events.
"It's a big project, and it's got a lot of legs," says Gambill. "The end goal is to infuse creative learning into the core curriculum."
If ordinary folks don't normally keep up with art projects in the schools, this one merits widespread attention for two reasons.
The first is that this year's resident artist is the internationally famous Evelyn Glennie. The Scottish-born musician is a jaw-dropping solo percussionist, a teaching artist and a motivational speaker who travels the world showing people how to listen. She also has profound, though not total, hearing loss. While Glennie prefers not to draw attention to that condition, it's integral to understanding how she arrived at her life's focus. Her TED Talk on YouTube, which has been viewed more than 3 million times, offers a taste of her modus operandi.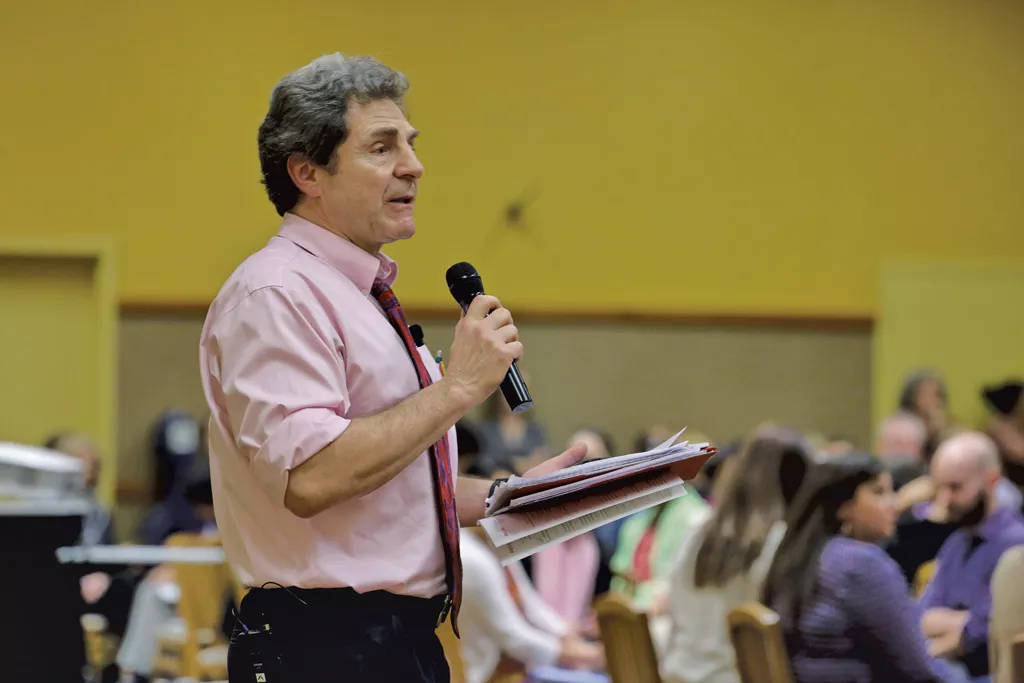 COuRTESy OF COmmuniTy EngAgEmEnT lAB
Eric Booth
Glennie will give a public performance talk at Saint Michael's College on August 4. Her appearance is part of the planning intensive for the teachers and their teaching artists, who will draw up plans on how to incorporate Glennie's approach into their various subject areas. In April, Glennie will return to Vermont for four performances with full orchestra.
Savoor, who grew up in the United Kingdom and is one of VCSI's five teaching artists this year, is thrilled at the prospect. "I've been a fan of Evelyn Glennie my whole life; I grew up seeing her on TV and hearing her radio interviews," she says. "In the UK and Europe, she is beloved. To work with Dame Evelyn Glennie directly — she has been knighted — and to learn about her process is a gift."
Community Engagement Lab's program is worth following for a second reason: It could become a national model for arts integration in the schools, according to Booth.
"You'll find [arts education] in every city — things like the symphony performing for the elementary school. Community Engagement Lab is distinctive," he notes. "It's ambitious for envisioning growth across an entire state, it develops deep relationships between the school and arts personnel, and it engages high-end artists."
Booth has an unusually comprehensive perspective on the national picture. A kind of teacher of teaching artists, he has developed arts-learning programs at the Juilliard School, the John F. Kennedy Center for the Performing Arts, Lincoln Center for the Performing Arts and a host of other institutions. In May, he won Americans for the Arts' 2015 Arts Education Award, the most prestigious prize in U.S. arts education.
Booth predicts that CEL may eventually attract national funding. For now, the nonprofit is funded by a $50,000 grant from Jane's Trust (named for the late Boston-based Dow Jones heiress Jane B. Cook), $20,000 from the Vermont Community Foundation, private donors and other sources.
As with all education-related initiatives, the success of that investment will be monitored — particularly as VCSI proposes to fulfill last year's mandates from the Vermont legislature on "education quality standards." But, assessments aside, Booth says the best indicators of success will be less quantifiable — indeed, more artsy. What really matters, he says, is whether the "quality of the students' attention has been sharpened" and whether the program develops a "really authentic connection between the community and the school."