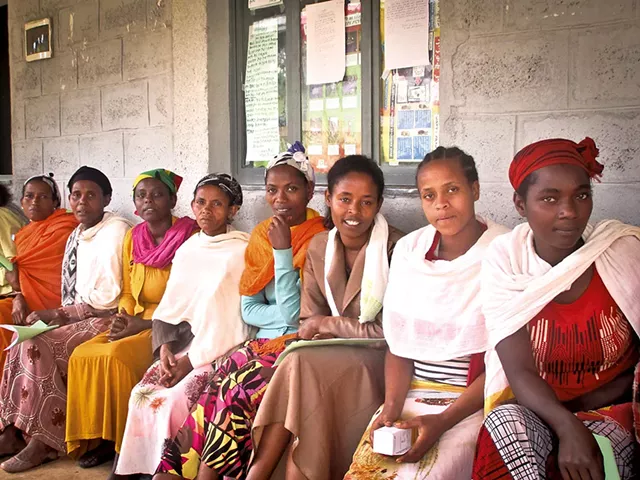 Courtesy Of Grounds For Health
Wo men waiting to be screened in Ethiopia
In June 2012, nurse practitioner Ellen Starr arrived at the foothills of the Mount Kilimanjaro region in Tanzania, exhausted after a bumpy, two-hour car ride. She and a colleague from Williston-based Grounds for Health were supposed to supervise a local health care provider they had trained to perform cervical precancer screenings.
But no "patients" showed up, and the visitors were perplexed. Another individual — a local health promoter — later told them why.
Other Vermont nonprofits working for global change
Starr recounted: "Word got out in the community that a woman would go in, lie down on the table, spread her legs, the nurse would ... insert her hand in her vagina, take hold of her uterus, pull it out, treat it or test it, and shove it back again."
The health promoter and a priest quickly spread the word that none of those rumors was true. Soon enough, women began arriving for tests.
Starr said the incident illustrates the crucial role that community leaders play in aiding the mission of Grounds for Health, which aims to reduce cervical cancer among women in the developing world. It works closely with public health authorities and coffee cooperatives to train local doctors, nurses and community health promoters. The nonprofit coordinates screening and treatment services in areas where the disease is prevalent.
One of the original employees at Green Mountain Coffee Roasters — now Keurig Green Mountain — founded the organization, as a result of a shrewd observation in the field. Daniel Cox was visiting a Mexican coffee cooperative in 1995 and had brought along a friend. Retired obstetrician-gynecologist Dr. Francis Fote noted that the women there were dying of cervical cancer at an alarming rate.
Caused by the sexually transmitted HPV virus, cervical is the second most common cancer in women living in less developed regions, according to the World Health Organization. Since the women lack access to screening, cervical cancer often escapes detection until it has advanced and women are exhibiting symptoms. By then, their chances of getting proper treatment for the late-stage disease are poor — hence the high fatality rate: Nearly a quarter-million women in low-income countries die of cervical cancer every year, compared to 35,514 everywhere else, according to the WHO's ICO Information Centre on HPV and Cancer.
Fote urged his younger friend to start a screening clinic.
"Doc, I'm a coffee guy," Cox said he replied.
Fote told him: "Well, you have contacts."
GMCR and Ben & Jerry's were among the first to front funds for Grounds for Health when it started in 1996. Spanish-speaking volunteer clinicians from the U.S. provided training to local health professionals and read the screening tests.
About four years in, Cox hit a wall. We've either got to expand and hire someone full time, or we ought to close shop, he remembered thinking in 1999, after he'd left GMCR and started his own business, Coffee Enterprises. Cox went with the former option, and Grounds for Health hired its first executive director.
Its third, Guy Stallworthy, joined the nonprofit in mid-2014, bringing more than 30 years of experience in health and development.
Courtesy Of Grounds For Health
Ellen Starr and Mesfin Wana in Ethiopia
Today, the organization operates in Ethiopia, Kenya and Peru. The group has worked in Mexico, Nicaragua and Tanzania, too. It has screened more than 70,000 women and treated about 5,000 of them. It has also trained nearly 460 health care providers.
Stallworthy said it makes financial sense to keep the number of U.S.-based staff small — it's currently five — and to train on-site health providers to do the screenings. "It's all about having greater impact and building capacity," said Stallworthy. He noted that projected expenditures for this fiscal year are approximately $700,000.
Starr, who is the project's clinical director, agreed with his assessment. "This is not missionary work. This is not the great white hope coming into Africa and saying, 'Here, let us provide you services,'" she said. "The [local health] ministries need to be on board, both philosophically and financially."
Grounds for Health now focuses on sub-Saharan Africa because the need there is great. And it's able to start "from more of a clean slate," said Starr. The African countries where it's working either don't have cervical cancer prevention programs or have nascent ones that align closely with the nonprofit's.
Primarily serving women ages 30 to 49, the group uses a visual inspection program. A health care provider rests a cotton swab soaked in vinegar on the cervix for about two minutes. He or she then removes it and evaluates the cervix, looking for white spots that have been made visible by the vinegar. Many U.S. health care providers use the same simple technique.
If a woman tests positive, she can be treated with cryotherapy. This involves freezing potentially precancerous cells with carbon dioxide. Both the screening and cryotherapy are done on the same day, so the woman is tested and treated in one visit.
That makes it more convenient for the cooperatives, which are "wonderful champions" of the work that the nonprofit does and often provide transportation for the patients, Starr noted.
"They want their workers to stay healthy," she pointed out.
At Stallworthy's urging, the organization is looking to move into other agricultural industries such as flowers, cocoa and tea, as well as garment factories. Workers in those industries are usually women with limited access to health care, he noted.
"Living in a globalized world, we're all benefiting from access to products at a cheap price," said Stallworthy. "It is incumbent on us to realize the inequities that lie behind them as consumers and companies." In this case, that's in the realm of women's health.
"We're not done until every woman in our target age group has actually been screened," Starr promised.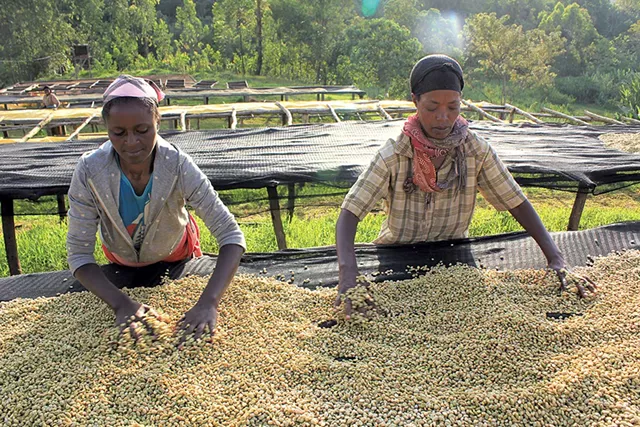 Courtesy Of Grounds For Health | © Adam Pesce
Coffee workers
Innovation is also a priority for Grounds for Health. Since spring 2015, the organization has been using a handheld cervicography device developed by Tel Aviv-based startup MobileODT. In-country coordinators take pictures of a cervix with the device and upload the images to a cloud system. From her office in Williston, Starr reviews the images and gives her assessment to colleagues in the field. But Wi-Fi connectivity in sub-Saharan Africa can be unreliable, so it doesn't always work.
Today Cox, 67, lives in Shelburne and sits on the nonprofit's board of directors. His main job, he said, is to support the organization by leveraging his contacts in the coffee industry, which continues to be its main source of funding. Grounds for Health has since received some aid from the U.S. government and gets corporate support, too.
Looking back, Cox is amazed by how much the organization has achieved. "I had a little piece in doing the right thing, and it feels pretty good," he said.