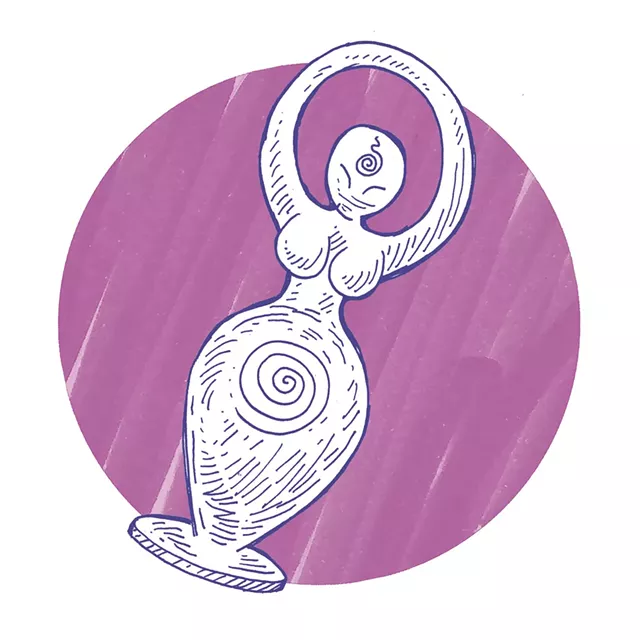 How many times have you started a sentence with "If money were no object..."? Never? Huh. Well, we did, when contemplating the opportunities of the brand-new year before us. And the rest of our sentence is this: "We would commission a bunch of Vermonters to do a bunch of cool things." Or something like that.
Not having the money at our fingertips hasn't stopped us from imagining our dream commissions in tantalizing detail. Besides boosting the economy in WPA-like fashion, these projects would collectively promote Vermont pride in its innovative citizenry, while no doubt landing the state on yet another top-10 list. Even if the Vermont Community Foundation or the Vermont Arts Council or a benevolent millionaire doesn't see fit to fund our commissions (hint, hint), just know that we woulda if we coulda.
Global Goddess
A new Ceres sculpture has been installed on the Vermont Statehouse to great acclaim. But sculptors Jerry Williams and Chris Miller can't rest on their laurels — they're artists and thus at risk of starving. Our commission for the pair: to capitalize on "the future is female" ethos by manufacturing a line of figures to be called Global Goddess. We're not just talking Greek; these will be fashioned after lady deities from cultures around the world and throughout herstory. They'll be available in sizes and materials suitable for fancy lawn sculptures, coffee-table décor and pocket talismans. Prices, of course, will vary — and, for an exorbitant additional fee, goddesses can be customized to resemble any modern-day badass gal. Ten percent of profits will go toward Gov. Phil Scott's fund for enticing all of them to move to Vermont.
— Pamela Polston
Friendlier Fingers
Westford resident Ted Pelkey was in the news recently for commissioning a $4,000 sculpture of a giant hand. Cool, right? Thing is, the hand is flipping the bird at Westford town officials, reportedly for preventing Pelkey from moving his truck repair and recycling business onto his own property. While his F-U fury may be justified, it's not exactly Vermont-y.
Influenced by the spirit of the season, and maybe by too much eggnog, we pondered a kinder message to send using behemoth digits. We decided to commission sculptor Jim Sardonis, who created those whale tails ("Reverence") near Interstate 89 in South Burlington, to design two hand sculptures. Located on Vermont's borders with New Hampshire and New York, these fingers would appear to be handing a lit joint to our neighbors. Titled "Puff, Puff, Pass," the work would encourage those states to expand New England's green corridor and legalize cannabis. (Granite State, if you're not going to smoke that, pass it over to Massachusetts or Maine, K?)
— Ken Picard
Dog's Life (and Death)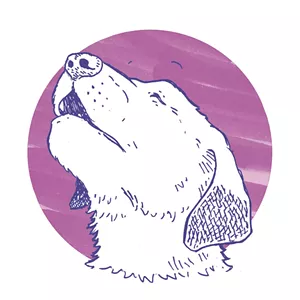 Anaïs Mitchell's acclaimed musical Hadestown, based on the Greek myth of Orpheus and Eurydice, debuted at the Barre Opera House in 2007. Mitchell refers to the work as a "folk opera," so we're commissioning the Vermont songwriter to pen an actual opera based on another tragic tail, er, tale: Mr. Cheeseface. We're talking about the ill-fated dog who appeared with a gun to his head on a 1973 National Lampoon cover with the headline "If You Don't Buy This Magazine, We'll Kill This Dog." The cover was a gag, of course. But three years later, in Vermont's Northeast Kingdom, someone did shoot poor Mr. Cheeseface.
Equal parts murder mystery and oddball love story, the saga of Mr. Cheeseface is hilarious and heartwarming, despite its sad and twisted end. In short, the story has all the hyper-dramatic highs and lows that opera demands.
Mitchell might be a bit busy preparing Hadestown for its 2019 Broadway debut, so we're co-commissioning Vermont-born composer Nico Muhly. He knows a thing or two about dark, offbeat operas — his Marnie was performed at the Metropolitan Opera earlier this year. Finally, because of the story's NEK roots, National Lampoon's Mr. Cheeseface: The Opera will open at the Hyde Park Opera House.
— Dan Bolles
Festive Flick
As Molly Walsh explored in a Seven Days story last week, Hallmark movies are a huge cultural phenomenon, and Vermont appears to be their spiritual home. Witness titles such as Falling for Vermont, Moonlight in Vermont (both 2017) and Last Vermont Christmas (2018). Yet not since Moonlight and Mistletoe (2008) has one of these things actually been made in Vermont. (Why? Other states and Canada lure filmmakers with tax incentives.)
To remedy this strange discrepancy, we'd like to commission our own authentically Vermont heart-warming holiday flick. Directed by Rutland's David Giancola (Time Chasers, Illegal Aliens), it'll star Ezra Miller, the current Hollywood "it" boy who plays DC Comics' the Flash. Miller recently told GQ Style and the Hollywood Reporter all about the Vermont farm where he lives with a bunch of polyamorous, pot-smoking friends and some goats. Throw in a plucky urbanite heroine who needs to loosen up, and we've already written half the plot of Falling for Moonlight and Marijuana This Christmas in Vermont.
— Margot Harrison
High-Voltage Moves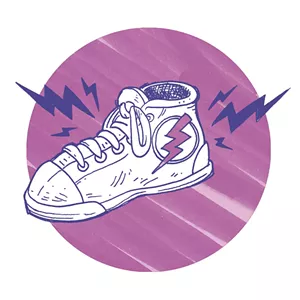 Green Mountain social dancers get their groove on every night of the week. In studios, barns and town halls, they contra, swing, salsa, tango, waltz, improvise and more. And when they do, they not only have fun but also generate a lot of kinetic energy. Why let it go to waste? We'd commission electrical aircraft and battery storage innovator Beta Technologies and 2018 Daysies best vintage clothing store winner Old Gold to create attire and accessories that look great and charge up the dance floor — literally. Shirts, skirts, belts and bracelets would be fashioned with sensors connected to a wireless network of converters and batteries so that every spin, shimmy, hop and pop would generate and store electrical energy. Eventually, every citizen could have some sort of voltaic accoutrement. Want some toast? Do a few pirouettes. Nissan Leaf running low? Jitterbug, skank or Nae Nae for an hour. Our motto: Be the charge you want to see in the world.
— Elizabeth M. Seyler
Ethan Femme
The village of White River Junction may be small — population 2,286 — but it has more than its share of creative talent. We propose bringing some of those peeps — Northern Stage, African American theater company JAG Productions and the Center for Cartoon Studies — together for a collaboration that will really put the town on the map. The commission: to create and stage a musical about "Ethel Allen and the Green Mountain Girls." Sure, it's a shameless rip-off of Hamilton, but with a twist: All the central characters are women of color. The circa 1775 costumes for our militia misses will be dope; we suggest consultation with those clever upcyclers over at (aptly named!) Revolution clothing boutique. As for the all-important music, we'll recommend the WRJ crew call on northern Vermont power couple Dwight & Nicole. Ethel! is sure to be a hit — especially at Fort Ticonderoga.
— P.P.
Leafing the Queen City
The planned 2019 remodel of Burlington's City Hall Park was announced to mixed reviews earlier this year. That's largely because the proposed renovation would strip the downtown green space of most of its trees. Already reeling from the deforestation required for the Cambrian Rise development along North Avenue, Queen City environmentalists have had a tough 2018. So we're tagging Vermont- and Austin, Texas-based sculptor David Stromeyer to construct a grove of tree sculptures for the park (which hosted several of his metal sculptures a few years ago). Like the works at Stromeyer's Cold Hollow Sculpture Park in Enosburg Falls, these pieces will be massive and majestic — kind of like the live trees they'll replace. They'll provide shade in the summer and, best of all, won't drop leaves to rake in the fall.
Finally, the trunk of each tree will be smooth and contoured, for maximum huggability.
—D.B.
Tourist Trap
Throughout 2018, Vermont implemented new initiatives designed to attract young workers to the Green Mountain State. The state has become increasingly creative and ambitious in its attempts to bolster its shrinking tax base, which range from offering remote workers up to $10,000 in grants to providing tourists with exclusive networking opportunities.
Unfortunately, these efforts have fallen short of the mark. That's why we're commissioning the Vermont Fish & Wildlife Department to construct the largest nonlethal (and non-painful!) human trap in recorded history. The trap will be deployed during peak leaf season to ensure a maximum return. Tourists who become caught will be treated to an endless playlist of Barry White and Teddy Pendergrass in an overt effort to pump up Vermont's plummeting birth rates. The trap is designed to free only those who have signed a long-term rental agreement in the state.
— Bryan Parmelee
Additional Intelligence
Vermont's changing demographics mean we need to keep up with the Atems, Diazes, Lees, Mohameds and Rais. And we're going to make goofs because of our limited knowledge of the etiquette of cultures outside our own. The commission: bring University of Vermont robotics guru Josh Bongard and Silicon Valley-based tech powerhouse Emotiv together to design a pocket-size robot that offers real-time language translation and cultural know-how. Sure, there are language apps and Google Translate, but not all languages have a written alphabet. Emotiv's technology, which has already enabled a paraplegic to drive a Formula One car, will help users process and apply the new cultural information.
The robot will give users the equivalent of their own cadre of interpreters and collection of Lonely Planet travel guides 24-7. Those who want a more authentic experience can select the accent their robot will use to talk to them.
— Kymelya Sari
Dykes to Stay Out For
It's no secret that Burlington is basically Cherry Grove, but, for some reason, we can't seem to get a queer bar to stick around. Are we too coy? Too obsessed with our cats? Over-Netflixed and undersocialized? A modest proposal for Vermont cartoonist laureate and introvert-in-residence Alison Bechdel: open a queer-women-centric bar — called, obviously, Dykes to Stay Out For — that will mitigate the horrors of unscripted human contact.
We suggest throwing in some conversation-starter cards for the chronically tongue-tied, with categories such as "Grains I Buy in Bulk," "Moon and Rising Signs" and the ever-popular "What Position Did You Play in Softball?" Need a more tactile diversion? Play "Pin the Carabiner on the Carhartts." (For extra fun, leave the blindfold on and pretend no one can see you!) Palms too sweaty for fine-motor tasks? Just BYOB — bring your own book.
— Chelsea Edgar